Every entrepreneur has a story of what inspired them to build their dream, and for some, the passion is in their bloodlines. For Hispanic Heritage Month, meet the formidable Diana Lopez-Obaldo, Director of External Affairs at 1871 and former local bar owner.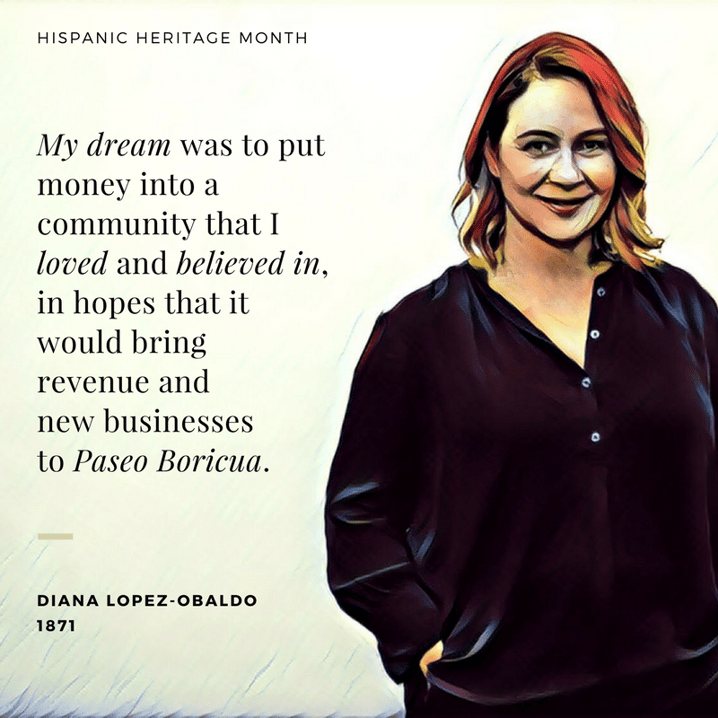 Diana Says...
Back in the early years, before my husband, two kids, and a pitbull pup, I went to Columbia College and took an entrepreneurship class. I had no desire to be an entrepreneur, but it just so happened that it fit within my schedule and I was able to get credit towards graduation. This annoying (at the time) teacher, Professor Berger gave us a project that would take us the entire semester to finish -- to build a business plan. I had no idea what type of business I wanted to build. Professor Berger said that we should look inside ourselves and find something that we enjoy that would make the world a better place. "So stupid!" I thought.
Being one of six children, born and raised in Humboldt Park, I loved my crazy family! Looking back now, we didn't have much growing up, but we had each other and we all turned out relatively normal. I remember bringing friends home and they were always treated like family. We were one big happy family even if we didn't have the same bloodlines. Random celebrations were common. In fact, we celebrated every chance we got. Passed your test? Time to salsa dance! Won your school championship? Time to salsa dance! My parents today still dance salsa to any musical genre. When you would enter our home and there was never a lack of affection, you would get a warm hug and kiss from everyone, even if it's the first time meeting everyone...and you better come hungry. Not hungry?! Too bad, you still have to eat! Everyone who enters leaves with a belly full of delicious homemade Puerto Rican food. There was always enough food for everyone.
I'm happy to say that these traditions have continued in my adult life. My oldest sister Lily's house is our main headquarters where most of the family gatherings happen, while my sister Cindy perfects my grandmother's arroz con dulce as delicious as we remember. Cheesy as it may sound, my dysfunctional, loud, crazy loving family made the world a better place, so I used my family as a way to build my business plan for Professor Berger. I decided that my business plan would be an authentic Puerto Rican restaurant, with old-school salsa bands playing live music and great food where everyone would welcome you like family.
Years and years later, I did make this happen with a few tweaks here and there. I opened a burger bar in the heart of Humboldt Park. We were located in between the iconic Puerto Rican flags that anchor Paseo Boricua on Division St. My dream was to put money into a community that I loved and believed in, in hopes that it would bring revenue and new businesses to Paseo Boricua. My family was extremely supportive of me, a place for friends and family to come and hang out, listen to great music, and eat good food. After five years, I was able to successfully sell the business and move on. I learned a lot about myself during that time and couldn't have done it without the loving support of my family. I was able to successfully sell the business and start my new journey at 1871, where I'm surrounded by amazing entrepreneurs who are changing the world.
Want to hear more voices at 1871? Check out Community to meet more of our amazing members, partners, and supporters.