"Just put one foot in front of the other." If you're building a business, you've probably heard this line more than once. However, Matthew Thor, a software engineer at Screencastify, takes the saying a bit more literally than his peers. As a runner who once came in 84th place at the Chicago Marathon (out of an estimated 45,000 participants), Thor is no stranger to endurance, initiative, and hustle. In this post, he talks about the importance of focus, balance, and competition.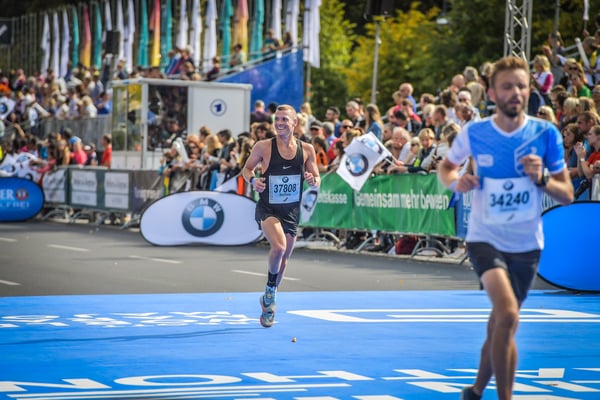 For most people, noon on a workday is a time to take a breather and grab lunch. For Matthew Thor, noon represents one hour of solid running. While some might feast on ham sandwich or chicken burrito, Thor is fed by a good 8-mile run. And though the weather outside might present rain, snow, or a very humid Chicago summer, Thor is usually seen wearing a big smile before jogging out the door.
"Running is a huge part of my life. I started running after college where I played soccer, and I quickly found that it helped me in every aspect of my life. I think people get the sense that it's great for you physically, which it is, but it also teaches you a lot about who you are, what your limits are and, for me, pushed me to be a healthier person both mentally and physically."
For Thor, the sport of running also mirrors his professional endeavors. Thor is a software engineer at Screencastify -- a free Chrome extension that provides users with the ability to record, narrate, annotate, and edit high-definition screen and webcam videos -- and he's always looking for new ways to turn good into great.
"When I'm running, I'm always trying to improve. Whether that's by getting faster, getting healthier or developing friendships with the people I run with -- you're always achieving something. Even on the days that just feel like a grind, I'm still out there pursuing something I'm passionate about. I apply that same philosophy to my profession as well."
Thor's commitment to continuous improvement is one of the reasons why Screencastify has been so successful in a number of industries -- particularly in the education space. In fact, Screencastify was one of this year's Top Picks for Learning for Common Sense Education. That should come as no surprise as the extension has tremendous benefits for both teachers and students. Educators can use Screencastify to record themselves, demonstrate actions, explain concepts, recap lessons, and provide video feedback for students' work.
What's more, students can also use Screencastify in a number of ways as well. By using the extension, students can demonstrate what they've learned, provide presentations, catch up on important lessons, and more.
"A lot of the problems we solve are problems that people didn't know existed until we provided a solution and showed it to them. Today, a lot of schools actually have Chromebooks and Screencastify can provide them with new ways of teaching and learning. We help simplify screen recordings so that a third-grade class can use it, and since it's an extension, it's easy to use - there are no complex passwords or anything like that."
Though Screencastify is easy to use, it does take bit more focus to build -- even so, Thor says that he enjoys the challenge.
"I'm part of a small team, but I'm in a unique position where I have tremendous input in what we're doing. My goal is to just continue to act like a founder and grow into the organization as a leader."
And though Thor says he's always focused on improving Screencastify, he also believes that, from time to time, it's important to stop for a second and take a step back.
"It's good to be invested in what you do, but you also need to have balance. For me, running is an escape. It's the one time of day when I don't have my phone or computer, and for a little while, I'm not thinking about anything and that really helps me refresh. A lot of people think that you have to work constantly if you want to build something great, but I think we're all more productive if we take a break or two."
And speaking of running, there's a concept there that drives Thor. It's the feeling you get when you're on a jog, see another runner in front of you and suddenly, you have an urge pass them up. That's competition and Thor thrives on it. We often think of competition as a contest between two parties, but Thor has a different -- and perhaps better -- perspective.
"For most people in a marathon, you're not really competing with the person on your left and right. You're competing with yourself. I think you can apply that to your professional endeavors as well. Focus on making a good product and try to make it better every day. Today, you're competing with yourself from yesterday. Tomorrow, you'll be competing with yourself from today."

1871 provides work space, education, resources, and curated connections to help Chicago's entrepreneurs build and scale their business.