Garry Cooper, CEO and Co-founder of Rheaply, is helping researchers around the nation share, collaborate, and optimize their resources and ideas.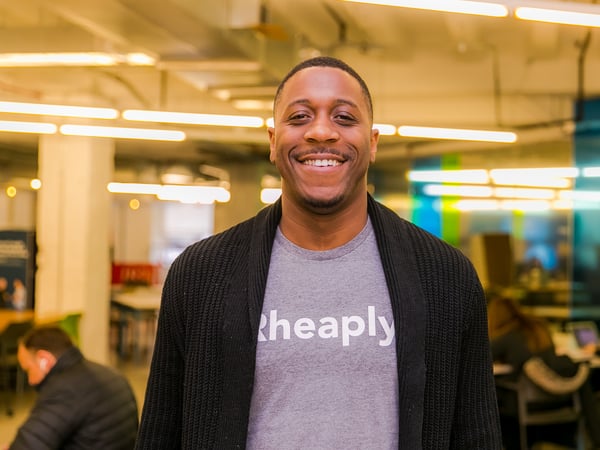 As a scientist, Garry Cooper was used to solving problems, but what he wasn't prepared for was the massive amount of waste that occured in the the research industry.
"We were cleaning out a freezer and just throwing everything out. This wasn't waste -- these were chemicals that we could reuse, that could last for dozens of years, that were very, very expensive and we were just throwing them away."
Hearing Cooper talk about the waste, one might be tempted to think of the old adage that 'one man's trash is another man's treasure.' But when it comes to the current state of science, it's a statement that grows more accurate each and every day. Cooper, who has his PhD in neuroscience from Northwestern University, knows first-hand how difficult it is for scientists to secure funding.
"It's like pulling teeth. I've been conducting research for 14 years, and I can say without a doubt that the biggest threat to scientific research is a lack of resources. Grants that were given 10 years ago don't have the same purchasing power today because of inflation, and the NIH (National Institutes of Health) budget, which supplies a lot of researchers, continues to get cut by Congress."
So Cooper experimented with a new idea -- what if he could build an online marketplace where scientists could share resources? What if research institutions and organizations could source and trade items internally? How much time and money would that save? Cooper put his hypothesis to the test by forming Rheaply, a platform that gives scientists the ability to transact excess supplies or make requests for the supplies that they need.
"We looked outside of the way researchers were traditionally doing things and found that most other industries saw greater productivity when they found ways to share and collaborate. We applied that same kind of thinking here so that users can trade or receive a significant discount for the supplies that they need. Additionally, users can even use our platform to request assistance and support with their experiments."
As one of Built In Chicago's '50 startups to watch in 2018,' Rheaply found initial success and now Cooper wanted to expand its offerings. However, Rheaply wasn't an early-stage company,and he struggled to find a specialized program that could accommodate his particular needs and challenges.
"We're not a company that's just starting out, but we're also not at the series level and so when I heard about 1871's Advanced Member Program, I knew it was a perfect opportunity for companies at our stage. It's a phenomenal program for companies who are already beyond the necessary building blocks, but still need the right mentors, the right connections, and the right knowledge to take their mission to a more scalable level."
1871's Advanced Member Program, or AMP for short, is a six-month program geared toward scaling, later-stage companies. The program was created as a direct response to feedback from 1871's member community about the need for an advanced curriculum for later-stage companies. Cooper is part of the first AMP cohort, which will support its 12 participating companies with scaling, market expansion, and more.
"We're ready to grow our company and I think with the networks, mentorships, and infrastructure here at 1871, we can definitely achieve that. I'm really excited for the program, and I'm looking forward to growing our platform and our reach."
Cooper's ultimate objective is to connect major universities and non-academic institutions like the NIH to Rheaply's platform. Because of their size and resources, nationally syndicated institutions and organizations can offer millions of surplus items and greater benefits for researchers around the nation. He knows he's set the bar high -- but he's confident that he can reach it; after all, he's learned a number of important lessons throughout his entrepreneurial journey that have helped him get this far.
"I don't think we would have made it to where we're at without passion. You have to be a big believer in what you're doing, and the problem you're solving. Secondly, we covered a lot of ground by growing our network. Get to know 10 more angel investors or 10 more potential clients no matter how niche your market is because a solid network is key for execution. Lastly, we just launched. There are many barriers to entry, but you won't know where your strengths and weaknesses really are until you get started."
Learn more about the 1871 Advanced Member Program and the other other AMP companies of Cohort 1.