The current taxi and rideshare market is competitive to say the least. That's why brothers Joe and Jeff Talamantez built Cab Dash, an app that helps rideshare and taxi drivers locate their next fare quicker. In this post, they'll talk about why cab and rideshare drivers always feel the need for speed, conviction, and the importance of good mentorship.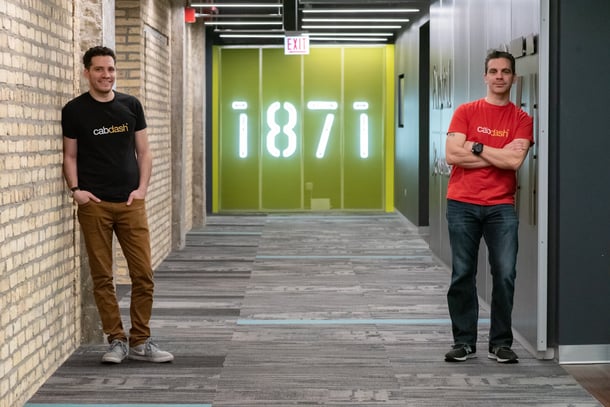 From Left to Right: Joe and Jeff Talamantez
Five years ago, Jeff Talamantez was living in Las Vegas and became a taxi driver. For Jeff, it seemed like a good way to earn money; after all, Vegas was the city of bright lights -- a 24-hour playground full of visitors and vacationers who didn't know their way around. Sounds like an easy job right?
"It was anything but easy. There are a lot of cabs in Las Vegas and as a driver, you could find yourself sitting in long taxi lines at a hotel. You also didn't know where all of the major events were, so you might miss the end of a show, where you'd have a lot of people looking for cabs afterwards. I remember thinking, 'what if I could have all the information about when and where people were coming and going?'"
Luckily, Jeff's brother, Joe Talamantez, was able to help solve that problem.
"Jeff came to me because I was a programmer at the time and asked me if there was any way I could help him build a program to identify where the fares were located at and quickly direct him to those locations. That could give him an advantage because speed is really important -- you want to get to where the fares are at before the competition."
So Joe built a platform that could piece together areas and locales where people were likely to be looking for a ride. As he would soon find out, the platform would completely transform the way his brother worked.
"Soon after using the program, Jeff became one of the top drivers at the taxi company he was working for -- that's when we realized we had a model we could scale. At the time, rideshare wasn't around yet so cabs were the only thing. We called our platform Cab Dash and the name really stuck."
And though it's called Cab Dash, don't let the title fool you; Jeff says that the service has as many applications for rideshare drivers as it does for cabbies.
"One thing that we hear from a lot of Uber and Lyft drivers is that they just don't earn enough money. They're running into a lot of the same issues that cab drivers have traditionally run into, and we found that Cab Dash could solve many of those problems."
Indeed it can -- in fact, Cab Dash has, on average, helped drivers find 30 percent more fares than they would have found on their own; that equates to about $16,000 a year or three more rides per day. Joe credits Cab Dash's model for driver success.
"We use available data and present it to drivers in order to show them where they are most likely to discover nearby fares. Maybe it's a nearby conference or a concert. What we're looking to do is predict where the fares are going to be so that we can direct drivers to places where they would have the most opportunity to find a customer."
To build out Cab Dash, the brothers came to 1871 and its Latinx Incubator, run in partnership with the Illinois Hispanic Chamber of Commerce (IHCC). As graduates of the fourth Latinx cohort, Jeff says the brothers are taking their business to new heights and have their sights set on even greater objectives.
"We're also learning more about this smart city initiative, and even though it wasn't our goal, we now realize that we're aligning with our objective more and more -- which is to make transportation better and more accessible in major cities."
Though Cab Dash has certainly grown and evolved since Jeff's days as a cab driver in Las Vegas, it hasn't always been easy.
"People told us 'no,' and I think that's pretty common if you're an entrepreneur. I would say that if you believe in something, there's going to be lots of people that will tell you 'no.' If you really believe in it though, you should keep going. Conviction is really important if you're going to start a business."
And though there's plenty to be said about why you should believe in your ideas, Joe says that one of the most important assets every entrepreneur should have is a strong roster of mentors.
"We were able to build out Cab Dash in part because of the people that we connected with -- particularly the mentorship. We sought areas where we were weak and looked for experts and mentors who taught us how to excel in those areas. If you're an entrepreneur, then it's worth it to identify your weak spots and look for experts who can help solve them."
1871 provides work space, education, resources, and curated connections to help Chicago's entrepreneurs build and scale their business. For those who are also interested in participating in the Latinx Cohort, applications for Cohort 5 are now live. You can apply for Cohort 5 here.