David Kelbaugh is the Founder of Tacklebox Brand Partners , which helps companies improve their brand strategy with qualitative and quantitative research, brand positioning, brand identity including logo design and naming, brand guidelines development, turnkey web site development, and media and influencer outreach.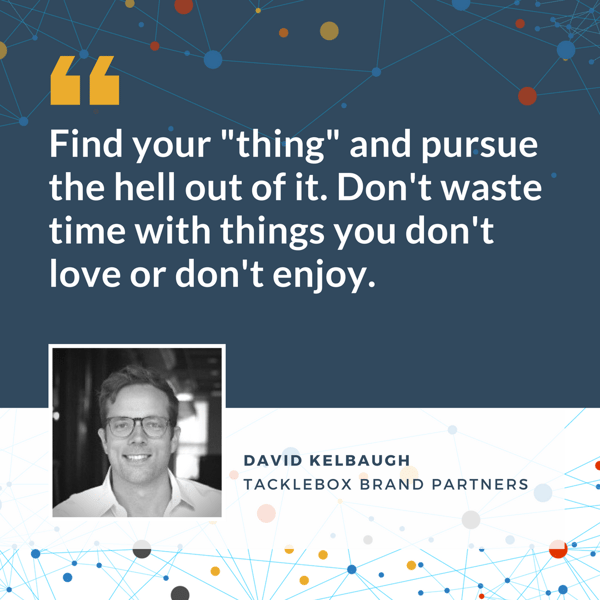 What do you consider your greatest success?
My greatest success is doing exactly what I love, in a city that I love, for companies that I love, with a family that I love.
What do you know today that you wish you would have known when you first got started in business?
I wish I knew how important it was to get really good at one particular thing early on in my career. Find your "thing" and pursue the hell out of it. Don't waste time with things you don't love or don't enjoy.
What skills do you think are the most important for an entrepreneur to have?
Honesty, persistence, confidence, and positivity.
What is one piece of advice you would give to a rising entrepreneur?
Listen to what people, investors, customers, consumers, and the media are telling you. Advice is always more valuable than money.
Now for the fun stuff...
What is your daily ritual?

Coffee, shower, work, yoga, family, and sleep.

What song is the soundtrack to your life?

Someday by Cracker.

Where is your favorite spot in Chicago?

The Lakefront.

What do you like to do in your free time?

Hang out with my family and friends, build skateboards, and work on my house.
Follow David on Twitter at @Tacklebox_llc or connect with him on LinkedIn.
Are you interested in becoming a mentor or teaching a workshop at 1871? Learn more here.