Sales Assembly and 1871 are joining forces to enable VentureSCALE, the Midwest's first and only sales and revenue focused accelerator, which operates exclusively out of 1871. We're excited to announce that VentureSCALE's Fall cohort launched yesterday with six amazing companies, which we've highlighted below.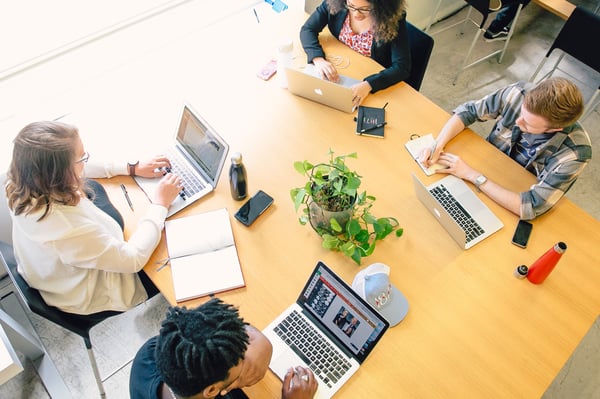 Launched in 2018 by Sales Assembly, VentureSCALE was created to provideFounders of early stage tech companies with the knowledge and resources to build an effective and scalable sales organization. Through in-person classroom sessions, learning lunches, and one-on-one work with a vast mentor network, each cohort is immersed into the most important aspects involved in building and growing a sustainable revenue program. Topics include metrics and forecasting, lead generation, and the creation of customer personas that are actionable for expansion of product lines among others.
With the cohort having recently launched, we're thrilled to highlight each of the participating companies:
Holberg Financial makes an online work benefit platform that employers can purchase to provide their employees with financial guidance. It helps users manage money and reach financial goals, whether that means paying off student loans or saving for a down payment on a home.
We built a powerful, integration-ready and consent-driven biometric network. So you can experience the ultimate level of convenience and security.
Keyo's mission is to improve the human experience by reinventing the way we use our identity. Behind Keyo stands a team tired of forgetting their wallets, losing their keys, rushing to print their tickets. We believe that being who we are is enough to access what is ours. So we dove deep into biometrics trying to find a modality that would respect privacy, be consent based and easy to use. This is how we ended up with palm-vein. Not only the fastest but also the most secure biometric in the market. So we've set out to build the first biometric ID network in the world.
Stokkup is a revolutionary program that will boost efficiencies and shop communication. The screen printing industry is complex, your shop management system doesn't have to be. From creating a work ticket, sourcing garments and sending artwork approvals to the dark room, scheduling work flow production is crucial to efficiencies and profits. If your shop is in need of workflow management and you're tired of the other bulky PC looking programs on the market, Stokkup is the new age answer to this classic issue.
Lucro extracts and structures real estate operating data using Machine Learning. Request a demo to learn more about their offerings for Asset Managers, Brokers, and Developers.
ThirdSpace's Journey Map empowers employees, their managers and peers to define and seek value in everything they do. Map a new employee's journey on their way to a productive career, and assist current employees with expanding their horizons.
Every year, billions of dollars are left on the table that have the opportunity to do good in the hands of groups that need it most. Through ShoppingGives, these marketing dollars are turned into foundation dollars, supporting a wide variety of local, national, and international nonprofits.
We're achieving this mission through our online platform, offering a free space for shoppers, stores, and fundraisers to connect. Our community engagement team works directly with nonprofits, teachers, parents, coaches, everyone and anyone looking to raise money for a cause that is important to them. By creating their fundraiser through ShoppingGives, these groups enable their supporters to give up to 40% back every time they shop at over 750 popular stores.
Shoppers benefit as well, saving while they give by having access to top deals and coupons from their favorite stores. Users choose from a number of nonprofits to receive their cash back donation every time they shop and can track their total impact through their supporter dashboard.
As ShoppingGives continues to grow and evolve, we look forward to working closely with nonprofits, stores, and shoppers to offer more innovative and impactful solutions.
To learn more about VentureSCALE's sales-focused accelerator at 1871, follow this link.
1871 provides work space, education, resources, and curated connections to help Chicago's entrepreneurs build and scale their business.