Through a partnership with VentureSCALE, the Midwest's first and only sales and revenue focused accelerator will operate exclusively out of 1871.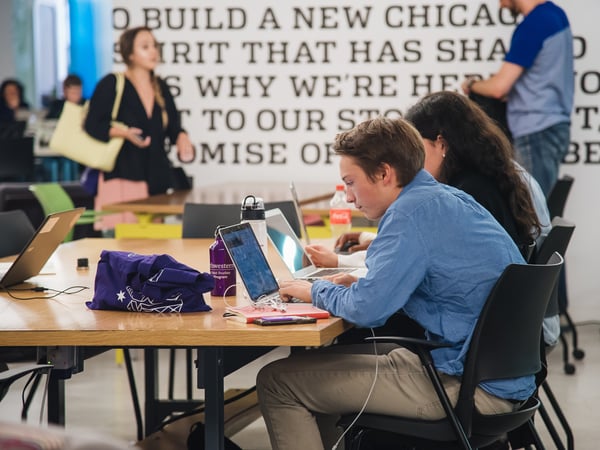 Sales Assembly and 1871 are joining forces to enable VentureSCALE, the Midwest's first and only sales and revenue focused accelerator, to operate exclusively out of 1871.
Launched in early 2018 by Sales Assembly, the number one sales resource for leading growth stage companies in Chicago, VentureSCALE was created to give Founders of early stage tech companies the knowledge and tools to build an effective and scalable sales organization. Through in-person classroom sessions, learning lunches, and one-on-one work with a vast mentor network, each cohort is immersed into the most important aspects involved in building and growing a sustainable revenue program. Topics include metrics and forecasting, lead generation, and the creation of customer personas that are actionable for expansion of product lines among others.
"Our first cohort was an amazing success. Companies graduated from our program with an understanding of strategic elements such as how to move opportunities through their pipeline quicker, an understanding of how to build a revenue-generating customer success team, and how to hire and manage a sales team among the many other components that create a sales foundation." – Matt Green, Co-Founder, VentureSCALE
Throughout the 6-month program, CEOs of early-stage companies will learn directly from industry and domain experts as well as the full roster of VentureSCALE's 70 participating sales, C-Suite, and investor mentors from across the Chicago venture community. Upon graduating out of VentureSCALE, cohort companies will leave with an actionable, sustainable growth strategy as they continue raising capital and driving revenue growth.
"We couldn't be more thrilled to be partnering with 1871. 1871 is the epicenter of all things tech not only in Chicago, but the Midwest as well. We know that our program will provide a tremendous amount of value to the 1871 network." – Jeff Rosset, Co-Founder, VentureSCALE
"We're proud to partner with VentureSCALE in our shared mission to equip early-stage companies with the tools they need to grow and thrive. One of the things that we hear from our early-stage members is that software is easy but sales is hard. Through this partnership, we're able to provide Chicago's startup community with the resources they need to build a scalable sales strategy and ensure consistent revenue growth. This collaboration is proof that by working together, both 1871 and our strategic partners can provide greater benefit for the city's tech ecosystem than we could alone." – Betsy Ziegler, CEO, 1871
VentureSCALE is sponsored leading companies such as Chase, Inspersity, CBRE and Deloitte. Additionally, over twenty VC firms, family offices and angel groups are involved as Community Partners.

Each cohort consists of 10-12 revenue generating tech companies. Companies interested in being a part of the Fall 2018 cohort must apply and be accepted. Applications open today and will close September 15th. For more information or to apply, visit http://www.venturescale.io.
Is your corporation interested in plugging in to our community? Learn about our Corporate Membership.