Risk is a concept that many founders are familiar with, but at the end of the day -- even if their business fails -- they can still land on their feet. However, entrepreneurs like 7QUBES CEO Chase Yeung often look for additional thrills outside of their profession. In the first post of our Entrepreneurs Do Everything series, Chase Yeung talks about why she courts danger -- and why everyone should try it at least once.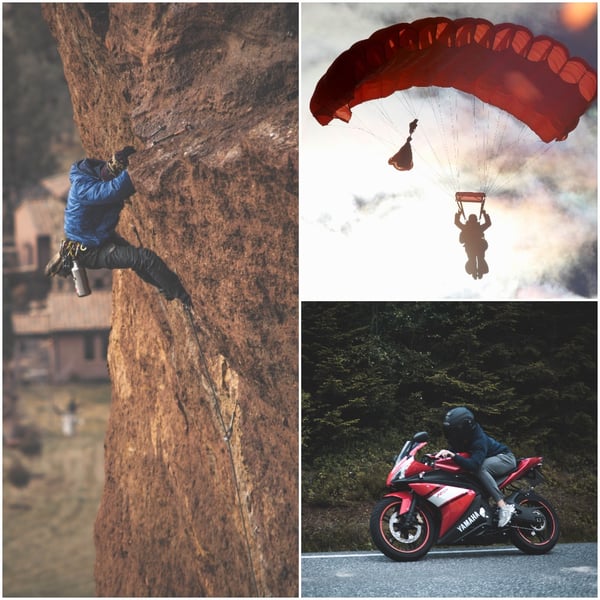 Cabo San Lucas
Chase Yeung thinks her life is about to end.
With the Mexican desert rushing towards her and a malfunctioning parachute, Yeung is down to seconds before she hits the ground. All the other jumpers had opened their chutes at least a thousand feet ago.
"Damn," she thinks to herself. "I think I forgot to tell my family where I was going."
Eyes closed and calm, Yeung tries to fix the malfunction as she holds her breath -- no point in wasting air; much like space, no one can hear you scream in Cabo San Lucas. At this elevation, Yeung can make out all of the terrain features underneath her. At this elevation, it's do or die.
It's do or die.
With just 700 meters left in a street race near Madison, Wisconsin, a college-aged Chase Yeung guns the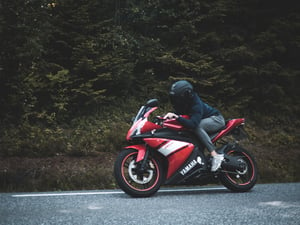 engine of her CBR street bike to overtake the Kawasaki Ninja on her right. Using her light weight to her advantage, Yeung curves a corner low -- coming in faster and smoother than some of her bigger, male-counterparts. As the only female in the race, Yeung can't help but think of the confused looks she'll receive once she takes off her helmet -- especially if she takes first place again.
At the moment, it's a big 'if.' There're still a few more turns up ahead and several racers are right next to Yeung, jockeying for first. Pushing ahead, Yeung takes the lead; she's bet money on herself and the only thing that stands between her and victory is one last turn in the road.
One treacherous turn.
Yeung takes the curve a hair too fast -- and loses control of her bike -- flipping and tumbling over the pavement, the last thing she sees before everything goes black is smoke coming from the parts of what used to be her bike.
Reflecting on the violent crash, it's clear that the near-death episode made a lasting impact on Yeung's life.
"That was so much fun! I totaled my bike and ended up really injuring myself, but I would do it again in a heartbeat. When you're going that fast on a bike, nothing else really compares; it's just really exciting."
Shortly after the crash, Yeung graduated from college and made her way to Chicago, where she learned how to flip houses through a unique combination of DIY Youtube videos, HGTV, and friendly advice. At the same time, she began attending the Booth School of Business at the University of Chicago; where she would walk into class with a backpack full of books -- and home improvement tools.
"I was flipping houses as a side hustle and my go-to place at the time was Home Depot. I was addicted to it, and I'd take my dog there and end up with all these tiles, mortar, paint, you name it. That was my hobby and passion."
Love at First Sight
Flipping houses remained her passion until 2014 -- when she found a random Groupon deal for skydiving. It was cheap and Yeung didn't have plans for that weekend, so she figured 'why not, I'll give it a try?'
It was love at first sight.
"Right after my first jump, I immediately went back for my second one and right after that, I decided to get my skydiving license. I was addicted to it, and I kept going back for more. At some point, I was making a dozen jumps in a single day."
Dozens quickly became hundreds and Yeung began to look for more varied skydiving opportunities; freefalling near the mountains in Italy? Check. Jumping over canyons and lakes in the Southwest? Check. Skydiving above the beaches in Cabo San Lucas?
Check. That thought kept played over and over in Yeung's mind as she continued to plummet towards the ground. Check your gear, check your altimeter, check your canopy, check your risers -- ahh, there's the problem -- they're completely twisted. Working to untangle the lines, she feels unusually, almost abnormally, calm.
"I was thinking 'if I die, I'm going to die doing something that I love.' You can't ask for more than that. You're falling thousands of feet to the ground so it's understandable to be scared in that situation, but this was something that I was obsessed with. I was scared yeah, but more than that I was just living the life that I want to live and if I went out skydiving, then so be it."
So imagine her surprise when her risers straightened out and her canopy opened wide, pulling her out of a rapid descent. Upon making a smooth last-second landing, Yeung was greeted by her fellow jumpers; who, now wide-eyed, were convinced that they were looking at a ghost. Dismissing their surprise, Yeung quickly looked over the stunned crowd and broke the silence.
"Who wants to go back up again?"
No Fear
Returning from her trip in Cabo San Lucas, she continued to push the scope of her activities; rotating through different interests like skydiving, BASE jumping, and scuba diving every week. Just a few months ago, she caught a documentary on climbing and camping in Durango, Colorado. Just weeks after, Yeung bought a ticket to Durango so she could -- you guessed it -- go climbing and camping.
"I took some classes and just decided to go for it. In a way it's kind of like entrepreneurship because you can prepare and plan ahead, but there are still a lot of unknowns. I don't know which came first for me; either I was a daredevil before I became an entrepreneur or vice-versa but I do know this -- by doing the activities that I do, by taking a risk once every now and then, you build a lot of confidence and that's important if you're running a business."
That confidence has helped Yeung grow as a person and as a professional over time; much like mountain climbing, skydiving, and street racing -- entrepreneurship can leave its scars as well. There is still, however, one major difference.
"My hobbies can kill me, but my business can't. The risk-taking aspect is the same, but the risks are different. At the end of the day though, you're taking a risk to make something happen and honestly, all the good things in life require risk. It sounds cliche' but it's true. You have to be willing to embrace things that are outside of your control and enjoy, or at least get comfortable with, uncertainty. If you wait for the perfect moment to do something, then your life or your business will fly right by you."
Speaking of a flyby, Yeung plans on attaining her pilot's license next. And why not? After all, it's not everyday you run into a business building, skydiving, street racing, mountain climbing, BASE jumping, house flipping pilot.

To learn more about Chase Yeung, visit 7QUBES.com or connect with her on LinkedIn.