If you have a spare moment today, make sure to stop by your Human Resources department -- and just say 'thank you.' You may not always see it, but these professionals are integral to your productivity and employee experience. But what happens if the HR department isn't providing an amazing employee experience? It may be because they have never felt an amazing work experience. That's the issue Daniel Vallejos, Founder of 360HRE, is working to solve. In this interview, Vallejos takes us into the HR revolution and talks about why curiosity -- though dangerous to cats -- is an entrepreneur's best resource.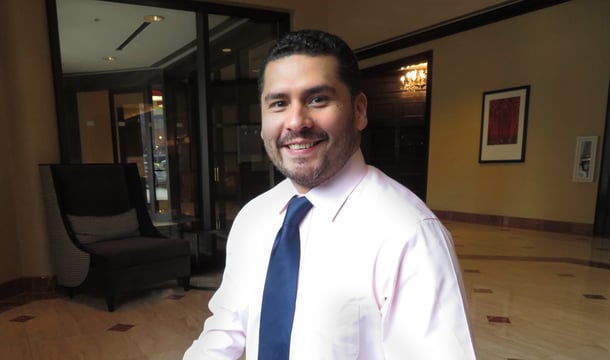 For the modern worker, an environment to do their best work is a valuable resource -- after all, who wants to work at an average company with an average experience? That's where Human Resources can help; whether its hiring, recruitment, onboarding, training, culture acclimation, wellness, or elevating daily moments -- the HR department is essential to ensuring that the employee experience provides the support staff need to flourish.
But what happens when the HR professionals themselves don't understand what a motivating employee experience is? Well, then they don't know how to create and provide an exceptional employee experience.
It's a problem Daniel Vallejos, Founder of 360HRE -- an employee experience design studio specializing in design, creation and implementation of experience learning projects for HR professionals -- is all too familiar with.
"I've been working in HR for 15 years and no matter who I meet – they all have an HR horror story. From misinformed HR staff, poor interactions, to confusing processes – the details of the story may vary, but the bottom line is always the same. In today's experience economy where HR technology exceeds the needs of HR, why are these poor experiences still happening?"
So Vallejos got to work. Using his professional experience, research ability and interest in design, he started by identifying the main reason why HR professionals are having difficulty providing the right employee experience to their organizations and employees.
"I found that HR technology has surpassed the skill level of many HR professionals and current training opportunities are not closing the gap. The HR profession deserves a better way to learn and experience the skills they need to design and implement incredible work experiences that include a combination of HR technology and human interaction."
And these include a number of unique capabilities.
"There continues to be a widening skills gap due to the speed of HR technology and lack of progressive capacity building. In fact, most professionals in this space are taught best practices around compliance, and not taught design, critical thinking, implementation, research techniques, data utilization, technology and creativity. These are skills that they'll need to maximize HR technology and create amazing work experiences."
To help HR professionals elevate the employee experience they provide, Vallejos has designed 360HRE to offer experience learning projects on key principles such as narrative storytelling, research, metric visualization, behavioral science, data and tech implementation. His product incorporates skill learning, based in work projects, and grounded in consumer experiences. This results in sustainable learning and project ownership. He says that these principles are intended to improve the ability of an HR professional to maximize their HR technology and create employee experiences with reliable outcomes.
"It's a matter of ensuring that HR professionals are up-skilled to optimize HR technology and truly add value by creating an employee experience that allows staff to do their best work. That includes HR professionals. HR has the technology, they just need the mindset and skill to fully realize the HR revolution."
As a career HR professional, Vallejos is in a unique position where he is, essentially, solving his own problem. But even though Vallejos has always been close to the HR world, he had to make quite the leap to start his own business. However, he says that he had a lot of preparation for his new role as an entrepreneur.
"I'm a father and being an entrepreneur is kind of like being a parent -- people can tell you what that's going to be like but you don't really get it until you're in it. You're learning as you go and hopefully getting better every day."
And though parenting experience can certainly help with entrepreneurship, Vallejos says that there's one trait that can significantly help founders even when times are tough.
"Curiosity is the key. There are so many things you need to know when starting a company, but you have to be curious to the point that you're always going to want to learn something new. That way, you're open to the idea of trying, failing, learning and starting again, and you have to be comfortable with that if you're going to build a business."
1871 provides work space, education, resources, and curated connections to help Chicago's entrepreneurs build and scale their business.