Global real estate services firm, Cushman & Wakefield announced today that they have renewed their partnership with 1871 for an additional three years. The partnership will provide Cushman & Wakefield with access to space, a branded classroom, and participation in both the advisory board and key events.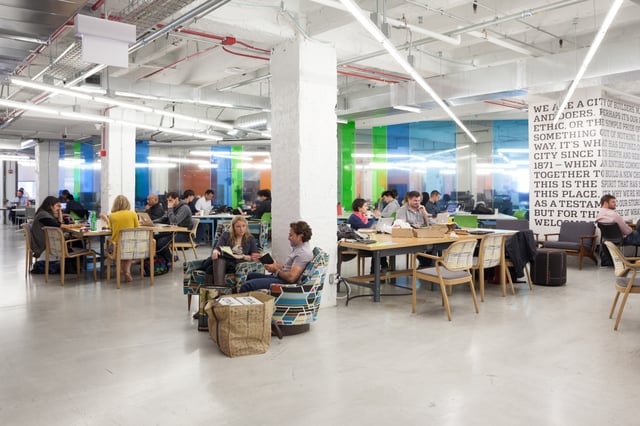 The continued partnership between the two organizations will provide Cushman & Wakefield with a a corporate membership to 1871, permitting interchangeable access for their employees, as well as the opportunity to attend 1871 workshops and events. In addition to access and Cushman & Wakefield's branded classroom, the corporation will also be recognized as a sponsor for certain events, including several TGIF Happy Hours -- a weekly networking event held at 1871 for the benefit of its members -- and the annual Momentum Awards Dinner.
Our corporate partners are a large part of why 1871 is able to provide the breadth and depth of resources to our member community. Our relationship with Cushman & Wakefield goes back to 2014, and their continued support has enabled us to better serve the city's entrepreneurs. — 1871 CEO Howard A. Tullman
Cushman & Wakefield's relationship with the 1871 community runs deep. The company uses 1871 alumni company CloudSpotter's instant photo delivery service to bolster attendee engagement at certain events and has also worked with 1871 member company EX3 Labs to transform a company publication, The Occupier Edge, into a 3D experience using the startup's virtual reality technology.
Our industry is growing rapidly and experiencing disruption in so many ways. We can look to startups to gain inspiration and a fresh outlook on existing models, and a large part of that depends on supporting the startup community and helping them drive innovation in all parts of the city. — Adam Stanley, CEC Board member and Global CIO/ Chief Digital Officer, Cushman & Wakefield
Alongside Cushman & Wakefield are over 100 other corporate, community, and education partners that power 1871 programming, events, inclusion efforts, and other activities and initiatives that enrich the member experience and establish roots throughout the Chicago business and technology community. Recent additions to 1871's partner roster include DyMnd Angels benefiting the WiSTEM program, Mesirow Financial benefitting a range of inclusion efforts and providing a 401k benefit exchange, and Trinity Christian College, the newest addition to 1871's University Row.
Is your corporation interested in plugging in to our community? Learn about our Corporate Membership.