What did you have for breakfast? Photographer and creator behind Instagram account "What Was Breakfast" Alan Epstein bets that he can get to know you through your first meal of the day. He sat down with Social Media Associate Lewis McKinney to talk inspiration, improv and what he learned by taking over our Instagram account.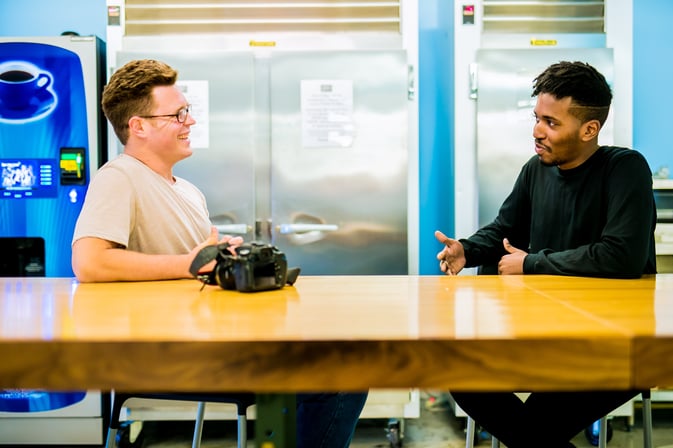 Lewis McKinney: For the record--what's your name and what do you do?
Alan Epstein: My name is Alan Epstein, I'm a guy who has a photo project that I started in my spare time called What Was Breakfast. I do small street interviews with people about what they had for breakfast and I post that with an accompanying photo.
LM: Why did you go the photo essay route? How did you decide on What Was Breakfast?
AE: I work in the restaurant industry and this actually started as kind of joke, a friend and coworker, Eric Reeves, asked me how I would like my breakfast done if I got the classic Van Doozer, which is the two of everything breakfast at the Chicago Athletic Association's Cherry Circle Room.
It's so silly and fun but you can kind of learn something about someone from their preferences.
I ended up doing a photo essay for the restaurant where I took photos of everyone who worked there. Back of the house, front of the house, cooks, servers, bartenders, everyone--and I just asked them, "How do you want your eggs? What kind of toast?" and at the end I'd let them talk about whatever they wanted to talk about. They'd print them all out and post them around the back of house and it was great. You'd get to know your co-worker through what they ate and that extra caption at the end.
Eventually I ran out of people to interview--I did the entire staff which was about 70 portraits and interviews. Even though it was over for this particular thing, it still felt fun and then the name of the project hit me -- What Was Breakfast
LM: Going from the familiarity of the workplace and then taking it to the streets of Chicago --what was the main difference?
AE: Having a background in improv helped. I started photography because I originally thought I would get a lot of creative energy out through improv. I took classes at Second City and IO, had a great time while I was there but I felt like that wasn't it. When I started What Was Breakfast, I was living on the South Side and taking improv classes in Andersonville, I just couldn't bring myself to take the train all the way out there. I was stressing myself out and not getting the creative release I wanted and I just thought -- why not focus on photo stuff instead?
What Was Breakfast is sustainable because I don't put a tremendous amount of effort into it. It augments my day instead of takes time away from it.
LM: What was your favorite thing about the takeover?
AE: Coming from a sales and promotions background -- I love the elevator pitch. After I asked everyone what they ate for breakfast, I asked them what they did. When you have a pitch you refine it, move words around, remove them -- it was just amazing to hear these excited, perfect pitches.
Everyone at 1871 is trying to do something. These are all people coming in here with basic ideas for how they want to change the world and they're coming in and crushing it -- some people even coming in on their days off and weekends! It's inspiring.
LM: Not only did you meet "hungry" people but you met "hungry" people.
AE: Oh, definitely man.
LM: What was one of the interesting stories you heard during your time here?
AE: Ashvin, man. When he was like "I'm building a small mall with restaurants that floats on Lake Michigan" I was blown away. He had the prototypes right there and when I left I told my wife "You'll never guess this big, big idea that I heard."
Ashvin Lad, Vice President and Co-Founder of Breakwater Chicago
LM: What are some projects that you're working on right now?
AE: The first thing I'm working on is the Breakfast Ball, it'll be at the Chicago Athletic Association in this very beautiful ballroom. I pitched the idea of a formal gala at night where only breakfast items are served. It's funny, it's fun. Adults don't have enough "fun" activities. All of the proceeds will go to a nutrition-based charity so the children at CPS are better fed with better foods. We're still deciding on the charity that will make the most sense. We want this money to be impactful so it's still in the decision phase.
I want the Breakfast Ball to be a thing that continues to grow and continues to help children.
Rebecca Sholiton, Co-Founder and CEO of Wiseapple
LM: Biggest lesson that doing what was breakfast has taught you?
AE: It taught me that people want to engage with other people. I learned that it opens people up. Maybe we don't talk to our neighbors a lot so it's nice to see people be open and receptive to a guy who just wants to hear something about your day.
LM: Last question--what did YOU have for breakfast?
AE: Oh man, my wife's been doing this thing where she makes overnight oats. She puts them in little tiny mason jars and just puts them in the fridge overnight. It's like, great because I wake up and don't have to think about anything. Sometimes having to worry about what that is puts a lot of mental energy on your plate. Have you seen the movie the Fly?
LM: Jeff Goldblum is the GOAT (Greatest of All Time). Of course!
AE: There's a scene where Geena Davis is at Jeff Goldblum's house, sees his closet full of multiple sets of the same exact suit, "Why do you have all these suits" and he said something like, "Albert Einstein wore the same thing everyday because it freed his brain up to worry about other things". Knowing that my breakfast is already prepped and not having to make that decision frees my brain up for other things.
Farah Alexander and Samantha Ginsburg of Return Runners
LM: That's real and is exactly why I wear black all the time.
AE: Whoa, you do wear all black every time I see you. I never put it together.
LM: I wake up, black jeans, black shirt, leave the house and never have to think about it.
AE: Decision fatigue is a real thing, this is a business place, people here know about it. The more decisions you don't have to make the more effective you can be about anything else that you have to do.
To more directly answer your question, my tiny mason jars of overnight oats consist of oats, almond milk, chia seeds, quinoa (but you can't taste it), and sliced bananas. Can't forget black coffee, I'm always drinking black coffee.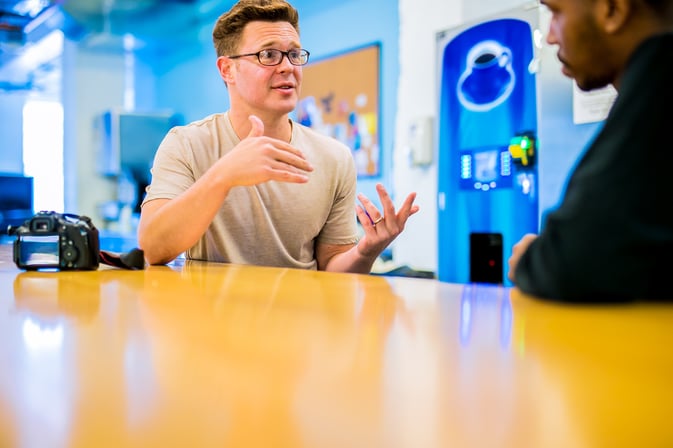 Relevant Links
What Was Breakfast: https://www.instagram.com/whatwasbreakfast
Chicago Athletic Hotel: http://www.chicagoathletichotel.com
Cherry Circle Room: http://www.lsdatcaa.com
Breakwater Chi: http://www.breakwaterchicago.com
WiseApple: https://www.getwiseapple.com
Return Runners: https://www.returnrunners.com