For most of us, rooting for the home team is a given; after all, it's easier to identify and support the city, town, or region that we're most familiar with. That support extends to what we eat as well -- and though everyone loves a good local farmers market -- that doesn't always help local food distributors. However, Christina Wing and Sam Eder of Big Wheelbarrow are hard at work ensuring that local farm vendors are reclaiming their place as hometown heroes.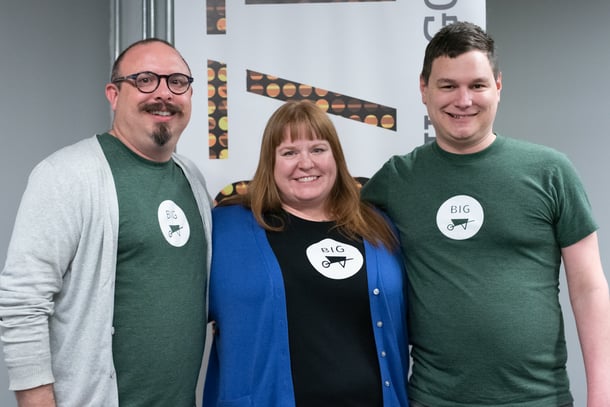 From L to R: Big Wheelbarrow Co-founders Sam Eder, Christina Wing, and Evan Alter
Farm-to-table is revolutionizing the world of food and there are two seasoned foodies -- who boast a combined background in non-profit, government, small business, and corporations -- that have always had their eye on the market.
With their passion for urban agriculture and focus on locally-sourced and seasonally-driven cuisine, Christina Wing and Sam Eder are reconstructing the exchanges between local providers and the national food distribution giants. Like many entrepreneurs, Wing and Eder started out by looking for a solution to their own problem.
"We were originally a marketplace sourcing for restaurants and noticed that there was a big issue getting local providers in front of large food retailers. There were a lot of barriers mostly because it takes a lot of resources for large buyers to manage those small, local vendors." – Christina Wing, Co-founder and COO, Big Wheelbarrow
It's a common issue in the food service and retail ecosystem, particularly because of the meteoric demand for locally-sourced food. In fact, the local food market in the United States jumped from $5 billion in 2008 to $12 billion in 2014 and this year, it's expected to grow to $20 billion.
"It's really no surprise that the local market is growing so fast. It's actually kind of funny because the local label has even surpassed the organic label in terms of consumer trust. At the end of the day, if your food is coming from a local area, it's riper. You're also getting it sooner than you would if you were getting it delivered from a region that's really far away. Lastly, there's the aspect of supporting your local community as well." – Sam Eder, Co-founder and CEO, Big Wheelbarrow
And though many large food retailers are certainly looking to buy more local, it's simply easier for them to buy from a larger distributor.
"One of the big factors is the time and effort it takes to manage a pool of local distributors and farms. As a result, your large food retailers will usually look to bigger, more well-known distributors and farms." – Sam Eder, Co-founder and CEO, Big Wheelbarrow
Armed with a unique and personal perspective on the market, Eder and Wing made a hard choice -- and moved away from their marketplace model in order to build a platform that could solve the distribution disconnect between large retailers and local suppliers.
"We were making a fundamental pivot that was huge. We went from being a marketplace to becoming a software company. It was a lot of work and after the pivot, it took even longer to get into the swing of things and make sure that all the roles we were assuming were the right roles for us." – Sam Eder, Co-founder and CEO, Big Wheelbarrow
And even with their extensive experience throughout multiple industries, both Eder and Wing agreed that there was still more to learn. It wasn't long before they heard about the Food Foundry, a 16-week accelerator program specifically designed to support, connect, and propel innovative startups with solutions across the foodservice value chain. Built in partnership with Gordon Food Service, Relish Works, and 1871, the Food Foundry offered Eder and Wing an opportunity to grow their services and gain key insights.
"At first, I swore that I would never do an accelerator. But then, I saw the mentor group that the Food Foundry was putting together along with the partnerships that they were putting together and really, it was just an opportunity that was too good to pass up." – Sam Eder, Co-founder and CEO, Big Wheelbarrow
"Gordon Food Service was a great resource. There were so many different things that we learned from them and I would say that their expertise and knowledge has been invaluable for us." – Christina Wing, Co-founder and COO, Big Wheelbarrow
For both Wing and Eder, the accelerator program has been tremendously helpful -- and that's important because the founders have their sights set pretty high.
"We want Big Wheelbarrow to connect as many local food distributors to large retailers as possible. We want to be the company to power the local food revolution." – Christina Wing, Co-founder and COO, Big Wheelbarrow
1871 provides work space, education, resources, and curated connections to help Chicago's entrepreneurs build and scale their business.