Our ChiBuys program supports minority and women-owned food vendors in the Chicagoland area and reflects 1871's wider efforts to promote greater diversity and inclusion in the community. We thought we'd interview some of our participating vendors to hear their stories and preview their delicious dishes. Today, we chat with Ana Vela, Co-founder of Amanecer, about family, culture, and community.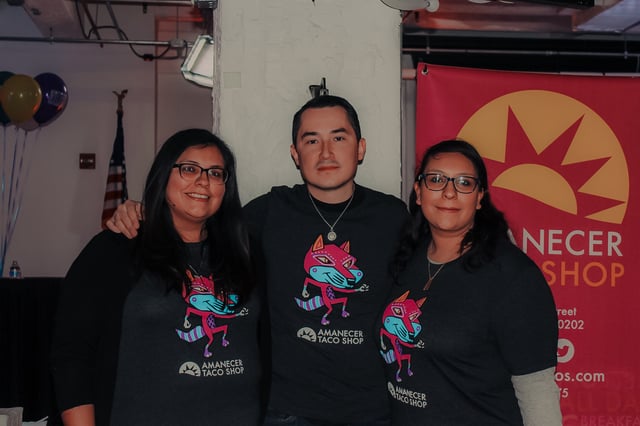 Ana Vela (pictured left), Co-founder of Amanecer, takes a photo with her team at 1871's ChiBuys Winter Tasting
What makes Chicago a great place to build a business?
I moved to Chicago seven years ago from San Antonio, TX. What I love about Chicago is that people want to be exposed to new foods -- especially ethnic foods that are rooted in traditions. I feel our product has been very well received in Chicago.
When was your greatest moment of doubt, and how did you push through?
My greatest moment of doubt came when I invested my savings into our brick and mortar taco shop, which we opened in November of 2017. The process was very complicated, and we were way behind our scheduled opening date and over our budget. Talking with other entrepreneurs and learning that everyone had these challenges in was helpful. It was also important to have the support of my husband, partners, and family and friends to get to the finish line.
How does community play a role in your business?
As a business owner, you naturally become a leader in your community. Through my work with Amanecer, I also became President of the Evanston Latinx Business Alliance. I am helping to build a community where Latinx businesses can learn from and support each other. It's also important for our youth to be exposed to -- and look up to -- successful, minority-owned businesses in their community.
What or who are your influences?
Both of my parents. My mother for her cooking and for her ability to make everything from scratch. My father for his entrepreneurial and innovative spirit. As immigrants, both of my parents have worked hard their entire lives, and they have passed those values onto me.
If you had one piece of advice for an entrepreneur just starting out, what would it be?
The desire to start everything right away is understandable, but my advice is to spend as much time as possible researching everything about the market and planning your business.
What's one cookbook that everyone should read?
All my recipes have come from my mother, grandmother, family, and friends. My mother and grandmother would tell me stories of where they learned the recipes that they were passing on to me, and those are experiences that I will never forget. Everyone should share an experience like that with someone they care about.
What's one thing on your menu we have to try?
Our carne guisada taco!
Through the ChiBuys initiative, we put our money where our mouth is – literally! Over the past year, we have developed relationships with dozens of local, minority and woman-owned caterers throughout the city in an effort to direct our purchasing power with intention and thoughtfulness.
Learn more about ChiBuys at www.1871.com/chibuys.