Deb Smolensky is the Co-founder and CFO of Global Women 4 Wellbeing and the VP and Global Practice Leader for Well-Being and Engagement at NFP, the ninth largest global benefits and insurance adviser, which services corporate clients of all sizes domestically and internationally.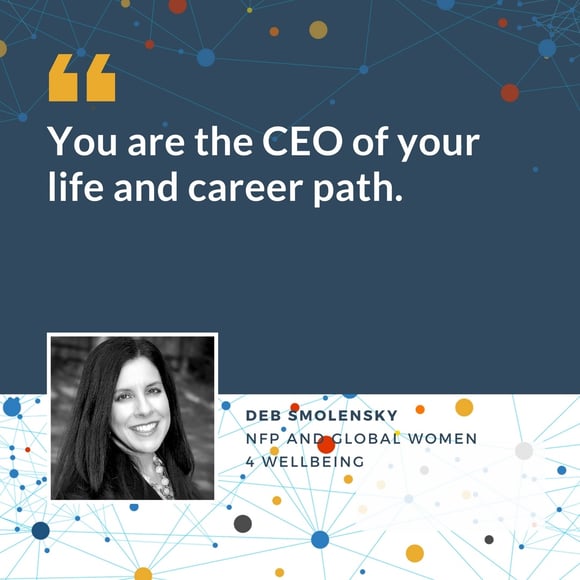 What did you have to learn the hard way in your professional life?
I learned that networking is the key to professional longevity, and that you are the CEO of your life and career path.
What skills do you think are the most important for an entrepreneur to have?
I think skills that are most important for entrepreneurs are communication, public speaking, compassion, mindful listening, business acumen, and a personal awareness of strengths, passions, gifts and talents.
What's your tech/startup prediction?
In my industry (HR and Corporate Wellness), tech will drive future solutions and growth. It's the only way; however, if done incorrectly, our space will literally experience mergers, consolidations, and exits from the industry.
Who was a role model to you when you were coming up in your field?
My first manager was a role model. She was a women leader in a mostly-male organization, and she wasn't afraid to speak her mind or question the status quo -- in the right way, of course.
Now for the fun stuff...
What hashtag best describes you?

#BetheChange

Which song is the soundtrack to your life? I love this question! It actually changes based on my day. When I need to make waves I listen to Rockstar by Pink, and when I'm having a really bad day I listen to Stronger by Kelly Clarkson. When I need inspiration, I'll pick I Lived by One Republic.

Where is your favorite spot in Chicago?

You'll find me anywhere that pampers my soul; beauty, good food, zoos, and gardens -- places like that.

What do you like to do in your free time?

Believe it or not, I actually like creating new businesses!
Connect with Deb on LinkedIn by following this link.
Are you interested in becoming a mentor or teaching a workshop at 1871? Learn more here.