One of the ways we have recently committed to growing entrepreneurship throughout the city while fostering diversity is through our purchasing power -- specifically through the money we spend on food. We're sitting down with local entrepreneurs we've worked with to find out more about their businesses and their journeys as small business owners. Here's our interview with Gaylor Voss, Owner of Gayle's Best Ever Grilled Cheese.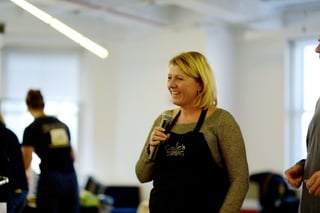 MW: How did you get your initial concept for the business?
GV: I was selling Prairie Pure Cheese at the Green City Farmer's Market, and thought that since I had the best cheese - and Bennison's Bakery was right next to me with amazing bread and Nordic Creamery was there with fresh butter - maybe I should make some grilled cheese.
MW: What was your mission at the onset?
GV: To help Prairie Pure Cheese grow and sustain the Aves 100-year old dairy farm in Belvidere, IL who provides all the milk for the cheese.
MW: What makes Chicago a great place to build a business?
GV: The people! So many of them and they have a desire to know where their food is coming from and we love great food here!
MW: When was your greatest moment of doubt, and how did you push through?
GV: When I first started nobody thought this would amount to much. I would go to bed so exhausted I would cry. I have always been full of ideas and my family just thought initially that this was just another idea. Once they started seeing my success they helped me grow the business. I couldn't do this without my husband Randy. He is incredible!
MW: What's one thing on your menu we have to try?
GV: The breakfast sandwiches – they are so delicious!
MW: If you had once piece of advice for an entrepreneur just starting out, what would it be?
GV: Believe in yourself, even when others do not. Take baby steps – don't rush it and get in a hole you won't be able to get out of. Work extremely hard and stay committed. Hard work does pay off.
Learn more at http://www.gaylesbestever.com