On April 9, students at Walter H. Dyett High School were smiling ear-to-ear as they donned virtual reality headsets and dove into new worlds and educational experiences. Brought together by a common cause, 1871 and Alight Solutions partnered with 1871 member company EX3 Labs in its mission to donate and equip South Side schools such as Dyett with state-of-the-art technology.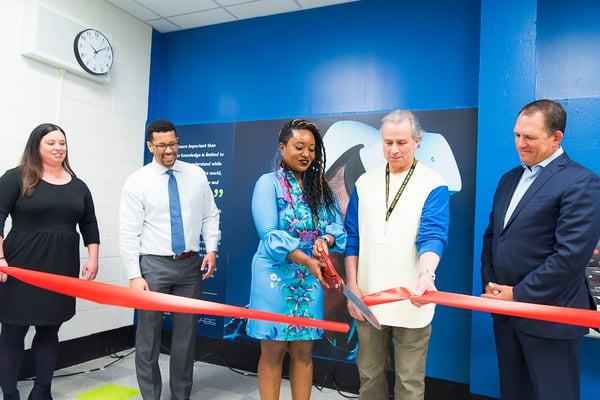 From L to R: 1871 Business Development Manager Colleen Maxwell, EX3 Labs CEO Adam Wisniewski, Dyett High School Principal Beulah McLoyd, Former 1871 CEO Howard A. Tullman, and Alight Solutions CEO Chris Michalak.
Chicago tech startup EX3 Labs recently partnered with 1871 and Alight Solutions to donate an entire Immersive Learning Lab to Walter H. Dyett High School For the Arts. The donation is the second such contribution between EX3 Labs and 1871 -- just last year, both organizations collaborated to donate a similar learning lab to George M. Pullman Elementary School. EX3 Labs' ultimate mission is to donate an Immersive Learning Lab to a Chicago Public School for every Innovation Day held in partnership with 1871's Corporate Innovation Program.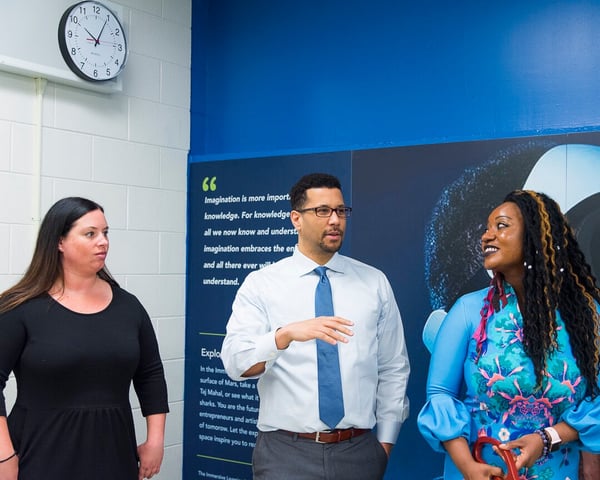 EX3 Labs CEO Adam Wisniewski discusses the value of technology as an educational resource for students of all ages. Students at Dyett High School try on EX3 Labs' suite of virtual reality equipment.
"Most people associate virtual reality with gaming, but it's playing a more prominent role as a learning mechanism. Now, students are able to experience educational content in a 3D environment in addition to a textbook or computer screen. I've seen firsthand how immersive learning experiences can improve student engagement. Our goal is to help every student within CPS have these types of experiences available to them." – Adam Wisniewski, CEO, EX3 Labs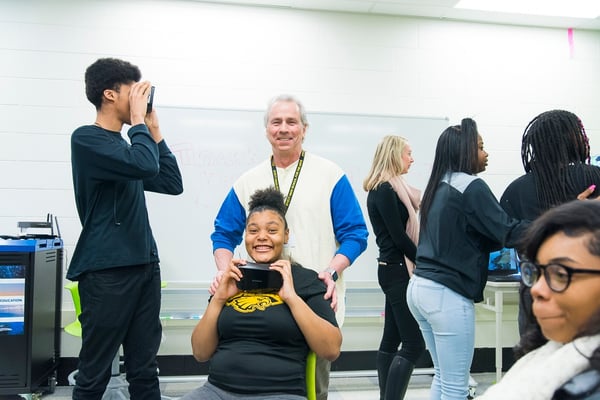 1871 CEO Howard A. Tullman shares a smile with students at Dyett High School as they engage with a virtual reality device.
"We're thrilled to partner with EX3 Labs once again and work alongside Alight Solutions to bring virtual reality technologies to the students of Dyett High School. As the Number One incubator in the world, we have a responsibility to provide future generations with the most relevant resources and a first-class education. We're proud of EX3 Labs' commitment to our community and honored to take part in this joint effort." – Howard A. Tullman, Former CEO, 1871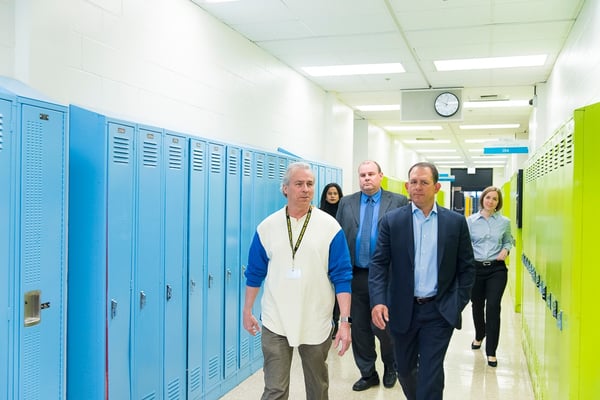 Howard A. Tullman and Chris Michalak of Alight solutions tour the facilities at Dyett High School.
"The pace of change is more rapid now than ever before. To keep up with that evolution and thrive as a community, we have to cultivate an environment of curiosity, learning and innovation, and that starts with ensuring our kids have access to experiences like the Immersive Learning Lab. We are thrilled to partner with EX3 Labs and 1871 to provide this unique learning environment to the students of Dyett High School." – Chris Michalak, CEO, Alight solutions.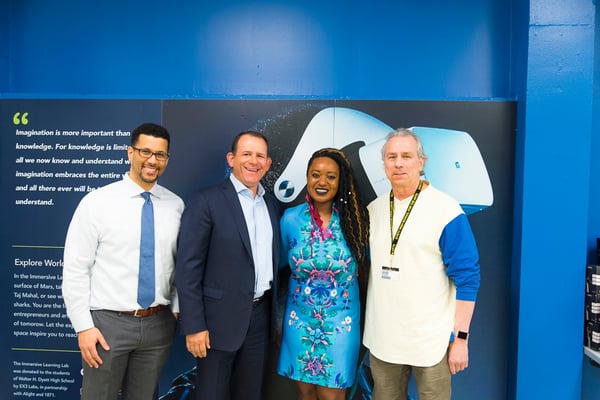 Wisniewski, Michalak, McLoyd, and Tullman take a photo to celebrate the donation.
"We are extremely excited and grateful to 1871, EX3 Labs, and Alight Solutions for working together to bring this transformational technology to Dyett's students," said Beulah Mcloyd, Principal at Dyett. "I have seen, firsthand, the impact that innovative tools like these have; increased engagement, retention, and excitement about learning all result from teachers' strategic use of technology in the classroom. This donation is a crucial component that will make this possible." – Beulah Mcloyd, Principal, Walter H. Dyett High School For the Arts
The Immersive Learning Lab Consisted of:
30 Google Expedition devices and VR viewers.

A teacher's tablet.

More than 750 learning expeditions for students to experience in the sciences, art, history, and more.

One Microsoft Mixed Reality headset.

Mixed Reality learning content.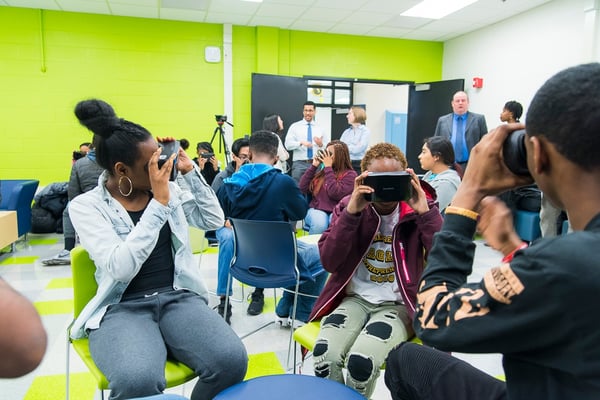 Students at Dyett High School experience EX3 Labs' suite of virtual reality equipment.
A big thanks to EX3 Labs and Alight Solutions for this donation and their shared commitment to our core values of community, education, and inspiration.
To learn more about EX3 Labs' Immersive Learning Lab donation, read the full press release here.