1871 recently held its Summer Corporate Innovation Summit. The summit, which brings together innovation leaders from both corporations and startups, offered a number of takeaways on how both parties can support each other in their mission to grow business and pioneer new ideas. In case you missed it, 1871's Xenia Mastropetrou and Lari Rutschmann have put together a two-part series highlighting some of the summit's key takeaways. Here's part two of the series. If you haven't read part one just yet, you can find it right here.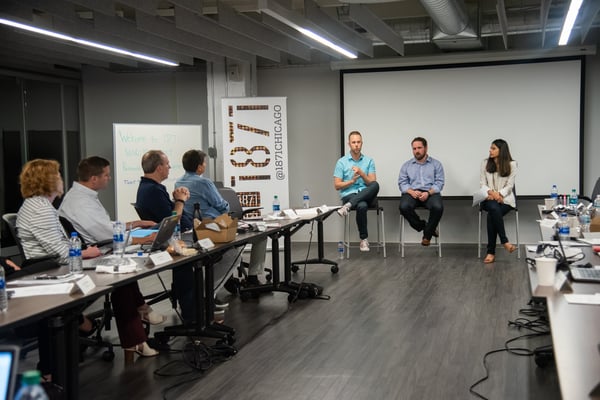 In part one of the Summer Corporate Innovation Summit series, we reflected on how corporations and startups could improve collaboration by aligning their objectives, defining their contribution profile, advocating for each other, and emphasizing the importance of proof of concept. In part two, we'll take a look at why an innovative mindset is so important for leaders, the importance of diversity and mentorship, and more. Here are five more ways to drive startup-corporate collaboration and innovation.
Innovation Requires a Different Leadership Mindset.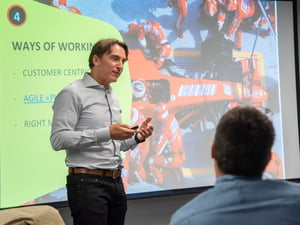 "Innovation starts at the top of the organization, with CEO commitment," explained Marcelo de Santis, former CIO of Pirelli and new 1871 mentor. Incorporating a top-down alignment, along with engagement across departments is a critical factor for success. Above all, Marcelo highlighted that it is crucial to have a leader responsible for innovation and entrepreneurship that will drive results relevant to the long-term strategic agenda -- an innovation champion. Moreover, corporations should build a diverse ecosystem that includes startups, academic institutions, and incubators/accelerators. They should also look for opportunities to efficiently bring them all together to draft their corporate innovation agenda. The responsibility of an innovation leader is to create a new reality, with purpose and courage, and to empower every member of the subsequent ecosystem.
Building a Startup Within a Large Corporation Requires a New Way of Working.
First and foremost, the right talent needs to come -- and stay -- on board. Diversity is key, and not just in terms of ethnicity or gender, which are undoubtedly essential to success, but also in terms of skill sets. While these teams are small and agile enough to efficiently work together, new communication mechanisms have to be set up to facilitate the cross-functional cooperation of startups with the rest of the corporation. And of course, after setting up the new foundations, the customer should still be top of mind. That idea of customer-centricity as a concept is not new to corporations, but it is hard to focus on amidst constant change and hard-to-navigate partnerships and relationships. However, the customer, or sometimes even the customer's customer, is the one providing feedback and the one whose problem needs to be solved to ensure a successful scale up.
Mentorship Programs can be Considered a Best Practice and a New Way of Working.
When it comes to the challenge of how to create a mutually beneficial partnership between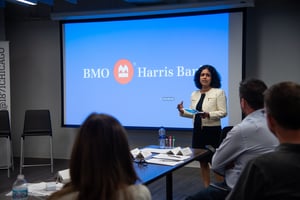 corporations and startups, a mentorship model offers unique benefits for both parties. Purva Sule, Director of Partnerships for BMO Harris Bank has helped design a formal mentorship program that selects, identifies, and pairs BMO leaders with specific skill sets with the appropriate startups. This not only helps the startup in its mission to become enterprise ready, but also provides them with an opportunity to become formal partners of the Bank. BMO's mentorship specifically allows the startup that participate in the mentorship program to gain exposure to the different business functions while removing the pressure of the sales relationship that might prevent them from asking more in-depth questions about the business processes.
While no investment is guaranteed, mentorship serves as the first step for startups to learn how to shape their approach toward corporate investors and provides corporations with dynamic solutions and alternative approaches to their business.
Public Versus Private Accelerators are a Balance of Leeway and Strategy.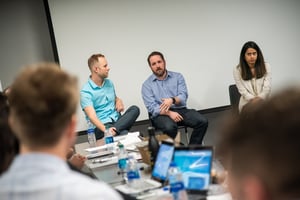 Brian Luerssen, formerly of Ok Cupid Labs and Co-Founder of Draftbit, described how corporations can opt to either create a private corporate accelerator or fund innovation through a public accelerator. As someone who has also worked with TechStars in Chicago, he explained how each style can fit different corporate objectives. The private corporate accelerator provides a way of maximizing value by combining people who understand industry pain points with experienced problem solvers. It also creates a mechanism to discover what other startups are doing and provide them with access to industry knowledge and references --all while avoiding unnecessary overlap and competition. The public accelerator creates an easier opportunity for corporations to make low cost bets on startups rather than investing heavily internally.
With the decision of which innovation best suits the corporation also comes the decision of when to let go. Luerssen said that corporations must gauge uncertainty as it relates to their own objectives. This could include the decision to continue investing in a startup for long-term results over short term losses or spinning off a successful venture if it no longer aligns with the corporate strategy or mission.
Chicago: An Ideal Tech Hub.
With experience working in both San Francisco and Chicago's startup space, Luerssen noted that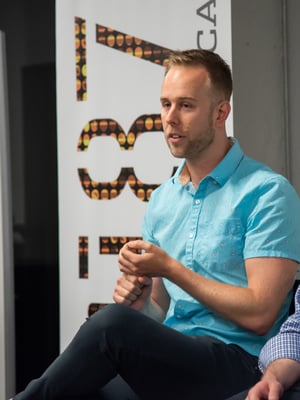 despite startup and tech giants headquartered on the coasts, corporations should look to the Midwest rather than highly saturated areas such as Silicon Valley. Chicago has been named as one of several cities seen as top tech hubs around the world. According to Inc.com, the Midwest hotspot was host to the highest investor returns on startup ventures, with 45 percent of investments providing a 10x return.
And the benefits don't end with the investors themselves -- Nick Florek of Relish Works emphasized that startups in Chicago will likely have access to top tier talent in the region rather than having to compete with the name recognition and financial resources of big players in the San Francisco Bay Area. In Chicago ,not only do founders have access to major potential Fortune 500 partners, but, according to Luerssen, are less likely to go through their budget than their counterparts on the coasts. With better financial efficiency, access to top talent, and exposure to major corporations, Chicago could be the new main stage for founders looking to turn their ideas into reality.
The Corporate Innovation Summit is just one event in a series of programming 1871 hosts to promote a closer relationship between the corporations we partner with and our member startups.
1871's Corporate Membership program can help further your organization's innovation and broader objectives. With a Corporate Membership, your team can leverage 1871 resources like our 500+ hands-on training workshops, while also receiving support from the 1871 team in making connections with startups and other members of our entrepreneurial ecosystem. Many partners leverage our Corporate Membership to launch special projects, skunk works programs, and internal startups right here at 1871.
This post was put together by 1871's Corporate Innovation interns, Xenia Mastropetrou and Lari Rutschmann. If your corporation is interested in plugging into the ecosystem at 1871, contact corpinno@1871.com for more information. For part one of this two-series, following this link.