1871 recently held its Summer Corporate Innovation Summit. The summit, which brings together innovation leaders from both corporations and startups, offered a number of takeaways on how both parties can support each other in their mission to grow business and pioneer new ideas. In case you missed it, 1871's Xenia Mastropetrou and Lari Rutschmann have put together a two-part series highlighting some of the summit's key takeaways. Here's part one.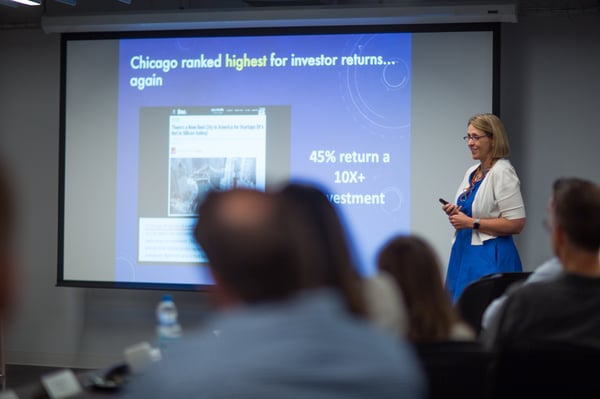 "It's easy to predict what the future will look like, but as the rate of change gets exponentially faster, it's much harder to predict when that future might actually happen," said 1871 CEO Betsy Ziegler at the opening of the incubator's Summer 2018 Corporate Innovation Summit. The most successful corporations are those who worry about the future, but their biggest challenge is building an efficient entrepreneurship function. The Corporate Innovation Summit is a forum for like-minded innovation leaders -- from corporations and startups alike -- to come together and define the best way to collaborate and work towards that future. In this two-part series, we'll share nine key takeaways from our 2018 Summer Summit, which we proudly co-hosted with Microsoft.
Think Big, Start Small, and Scale Fast.
To kick things off, Betsy addressed the overarching challenge of how big corporations can safely test unproven concepts in today's uncertain times. Her advice?
"Think big, start small, scale fast."
It's important to align the corporation's and startup's objectives and identify pain points. From here it is easier to make decisions on how to get things done and adapt to support the startup to pilot.
Corporations Need to Define Their Contribution Profile -- by Starting with 'Why.'
Startups have a variety of different needs, from developing a proof of concept to scaling. They vary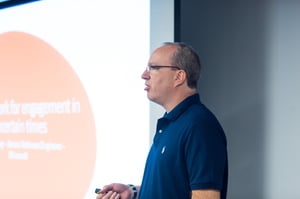 from 'hard' needs, like customers, loans and office space, to 'softer' needs, like expertise, recommendations, references and cutting through red tape. And according to Martin Schray, Senior Software Engineer at Microsoft, various corporations have very different capabilities or 'contribution profiles' -- sets of ways they can support startups -- to help address these needs. When deciding to engage with a startup, corporations should start with the 'why'. For example, why are you as a corporation choosing to engage with startups? Is it the 'cool factor' or because 'management said so,' or is it because it fits within a specific strategic goal? After defining the why, it's much easier to frame how your corporation can make a significant and mutually beneficial contribution to a startup's journey.
Be an Advocate of the Startup, Inside and Outside of the Corporation.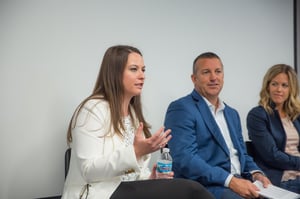 Corporations' contribution profiles may differ in a lot of aspects, but there is one thing each corporation and individual can do to help propel a startup; be an advocate for the startup inside and outside of your corporation. As Laura Robbins, founder of Advocatia and former member of the 1871 WiSTEM program explains, "referencing a startup gives a lot of credibility in the industry and helps immensely with scaling."Cheerleading for a startup and bringing other people into the conversation effectively helps them learn to ask the right questions and eventually get to the right answer.
Move to Pilot Fast, and Implement Faster.
Daron Worth, founder of Approved Contact, emphasized the importance of proof of concept for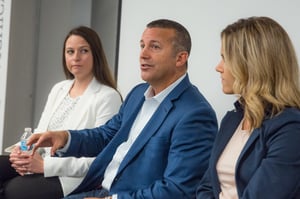 startups. "When talking with a corporation, I want to move to proof of concept fast, but I want a 'yes' faster!" Worth explained how a fast 'no' is less painful than a drawn out 'maybe.'When working with corporations, startups should be open and transparent not only about their intentions, but also about their pain points. That is the only way the product pilot will be set up for success. These pilots or proof of concepts also need to have "clear guides and measurable objectives, that the entire team has signed off on," explained Lisa Carrel, founder of Proxfinity and former member of the 1871 WiSTEM Program. Pre-defined standards that determine when a pilot moves into a scalable implementation should be set up well in advance of a launch to ensure a successful pilot.
The Corporate Innovation Summit is just one event in a series of programming 1871 hosts to promote a closer relationship between the corporations we partner with and our member startups.
1871's Corporate Membership program can help further your organization's innovation and broader objectives. With a Corporate Membership, your team can leverage 1871 resources like our 500+ hands-on training workshops, while also receiving support from the 1871 team in making connections with startups and other members of our entrepreneurial ecosystem. Many partners leverage our Corporate Membership to launch special projects, skunk works programs, and internal startups right here at 1871.
This post was put together by 1871's Corporate Innovation interns, Xenia Mastropetrou and Lari Rutschmann. If your corporation is interested in plugging into the ecosystem at 1871, contact corpinno@1871.com for more information.