There's a reason why shows like Restaurant: Impossible, Bar Rescue, and Kitchen Nightmares have so much appeal -- after all, where else can you get a behind-the-scenes look at the restaurant industry? But even though the drama seems authentic, these shows often gloss over the difficult work it takes to maintain restaurant equipment. If you weren't aware of the restaurant repair scene, go ahead and turn your television off for a moment and check out how Daniel Estrada and Joe Gallagher, Co-founders of 86 Repairs -- a subscription service that manages equipment service and repairs for restaurants -- are keeping your favorite eateries humming.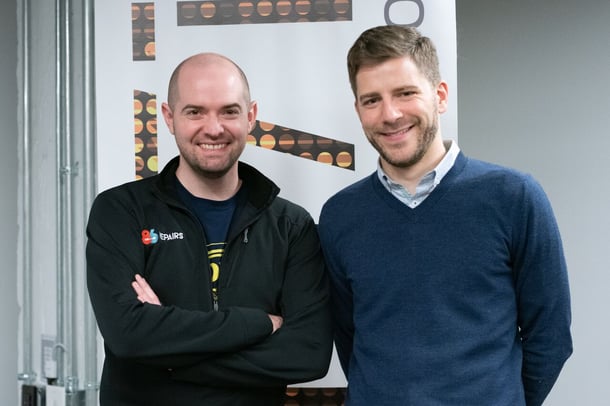 From Left to Right: 86 Repairs Co-founders Joe Gallagher and Daniel Estrada
Ask any restaurant owner why they love their profession and they'll probably tell you that they're in it to provide a great dining experience to their guests. Almost never would you hear a r a restaurateur tell you they chose their trade because they like to manage the ongoing maintenance of the restaurant's equipment. Yet, like many other professions, equipment maintenance comes with the territory. Even so, Joe Gallagher -- one half of 86 Repairs -- says that restaurant owners often deal with more complex equipment challenges than what you might find in another industry.
"Imagine you had 75 cars and in order to get them fixed you have to work with 75 different people with 75 different skill sets. That's a glimpse inside the restaurant back-of-house. That's what's going on behind the scenes. Most restaurant managers got into the business to serve guests and provide a memorable dining experience, but this is a real pain-point they reluctantly have to deal with on an almost daily basis." – Joe Gallagher, Co-founder, 86 Repairs
It's an issue that Gallagher has first-hand experience with. After 10 years in the food equipment manufacturing industry, he was used to dispatching an average of 50 calls a day for warranty service on his company's equipment. Unfortunately, at least a third of those calls resulted in a terrible experience for his customers.
"It was pretty bad. I remember thinking that if it was this bad on my end, it must be worse for restaurant managers, their teams, and service providers. After taking a closer look at this problem in the restaurant industry, I realized I was right. There's a communication gap that needs to be filled to solve the problem for everyone involved." – Joe Gallagher, Co-founder, 86 Repairs
As they talked with more restaurant groups, Gallagher and his co-founder, Daniel Estrada, started seeing a pattern in the industry.
"Fixing things in restaurants is a complex and frustrating process. Restaurants waste a ton of time and money repairing equipment, and they don't get any outside support – even from franchisors." – Daniel Estrada, Co-founder and CEO, 86 Repairs
Estrada and Gallagher teamed up to develop a solution that would cure the headaches of countless restaurant operators. Using their combined experience, they created a platform that could act as a one-stop shop for all restaurant repairs and maintenance.
"86 Repairs gives our customers one number to call or text for all their repairs. We help them troubleshoot issues to avoid expensive service visits, and we manage the whole service experience from start to finish. Tracking all of their repairs means we can help them get ahead of issues, so they can ultimately deliver a better guest experience. It's like having a full-time facilities manager without the overhead!" – Daniel Estrada, Co-founder and CEO, 86 Repairs
It's a popular offering -- in the last seven months, more than a hundred restaurants have come to Estrada and Gallagher for help, and the name 86 Repairs is quickly gaining traction in the restaurant industry.
"In the restaurant industry,'86-ing' something means that you're taking it off the menu. We're taking repairs off the menu for restaurant owners and managers so they can focus on their guests." – Daniel Estrada, Co-founder and CEO, 86 Repairs
And though the service helps restaurant owners save significant time and money, Gallagher says that 86 Repairs makes the greatest difference by providing all of its restaurateurs with a sense of equanimity.
"We're helping our customers save an average of $390 a month, but we're also giving them peace of mind. This is really important because our service allows owners and operators to get back to doing what they love." – Joe Gallagher, Co-founder, 86 Repairs
To build out their business, Gallagher and Estrada are participating in the Food Foundry, a 16-week accelerator program specifically designed to support, connect, and propel innovative startups with solutions across the foodservice value chain. Built in partnership with Gordon Food Service, Relish Works, and 1871, the Food Foundry was a program that offered numerous advantages for 86 Repairs.
"When we started this company, we said we were not going to do any accelerators. Then I got tipped off to the Food Foundry. I came down for their kickoff event, and I was pleasantly surprised at what I would call a triple win; they are food centric, food-operator oriented, and operating in a food city (Chicago). To be in this ecosystem, with all of its experts and resources, was just too good of an opportunity to pass up." – Joe Gallagher, Co-founder, 86 Repairs
While there's no doubt that the Food Foundry has been a great benefit for Gallagher and Estrada, much of the success around 86 Repairs can be attributed to their philosophy on business.
"It's about being customer-obsessed. Filter the feedback that you hear from others and watch what people do as opposed to what people say. You have to read between the lines, but most of all, you want to hone in on the most important aspect of your business -- your customers." – Joe Gallagher, Co-founder, 86 Repairs
"Focus is really important. That word gets thrown around a lot, but true focus means having a laser-like fixation on what you want to do. There are lots of people with opinions who are going to give you advice, but they have varying degrees of understanding about your customers. All of these ideas can be very distracting from your journey." – Daniel Estrada, Co-founder and CEO, 86 Repairs
And if your business just happens to take place in the restaurant industry, focusing on your customers might not be so easy when you have to keep your kitchen running. Fortunately, we know a guy -- well, two.
1871 provides work space, education, resources, and curated connections to help Chicago's entrepreneurs build and scale their business.