For World Cancer Day on February 4, we want to highlight five organizations that are dedicated to cancer prevention and relief for patients, caretakers, and loved ones. If you're looking to get involved in the fight against cancer, consider supporting one of these five organizations.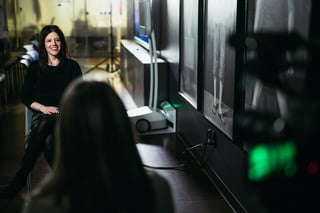 For Lindsay Avner, breast cancer seemed imminent; she had lost her grandmother and great-grandmother to breast cancer before she was born, and grew up watching her mother fight both breast and ovarian cancer. Avner knew that she was also susceptible to the illness and took a genetic test to see if she was also at-risk. The test indicated that she had an 87 percent chance of developing breast cancer and up to a 54 percent chance of developing ovarian cancer. At just 23-years-old, Avner became the youngest woman in the nation to undergo a double mastectomy.
From her experience, she founded Bright Pink, a nonprofit that helps women detect early signs of breast and ovarian cancer and live a lifestyle that helps reduce risk. Focusing on education, Bright Pink offers workshops and volunteer opportunities to help women better assess the signs and symptoms of breast and ovarian cancer. Additionally, you can make a donation to help support their mission.
In 2017, Bright Pink led a workshop at 1871, grounding participants in the basics of breast and ovarian health and equipping them with life-saving knowledge. The organization returned later in the year to host an event where Bright Pink leaders shared accomplishments and their vision for the future. Check out Lindsay Avner's interview with us below: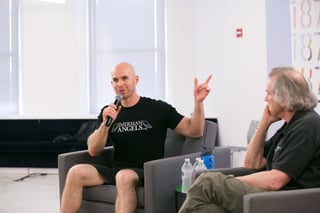 At 26-years-old, Jonny Imerman was on a night out with his friends when he suddenly dropped to the ground from a sudden, sharp pain. The diagnosis, he would later find, was testicular cancer. But it wasn't the pain or the chemo that hurt the most -- for Imerman, the loneliness was the worst part. is network of family and friends were always there to support him, but Imerman couldn't find someone who had a relatable story -- someone who truly understood and remembered what he was going through, or who had already faced the same type of cancer. After beating cancer, Imerman vowed to empower other cancer patients and survivors by connecting them with other survivors who had faced, and overcome, similar types of cancer.
Imerman's idea eventually turned into Imerman Angels, which partners cancer patients of all cancer types, ages, and genders with a 'Mentor Angel' -- a cancer survivor or caregiver who has either faced or overcome the same kind of cancer. Imerman Angels offers their services completely free of charge and provides valuable one-on-one relationships for cancer fighters of all stage levels.
In 2015, Imerman joined 1871 CEO Howard A. Tullman for a fireside chat to discuss the important work the organization is doing, and how they are leveraging technology to provide support, comfort, and care.
If you want to support Imerman Angels, you can join their ambassador program, volunteering, donating, or simply spreading the word through your social media channels.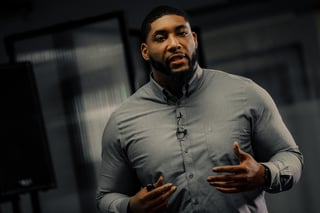 Every year, approximately 15,780 children and young people under the age of 21 are diagnosed with cancer in the United States. In 2014, one of those children was Leah Still, daughter of the acclaimed NFL Defensive End, Devon Still. During his daughter's treatment, Still realized the tremendous cost of cancer treatment in both time and finances -- even as a professional athlete, he had to juggle multiple balls in the air at once, from non-medical bills, like mortgages and utilities, to expensive treatment costs and everyday expenses.
It was during this ordeal that Still came up with an idea for a platform that could address these issues and allow parents of cancer-stricken children to spend less time worrying about how they were going to cover their bills and spend more time with their loved ones.
Today, the Still Strong Foundation has provided assistance to countless families whose children are battling cancer. The nonprofit helps parents of children with cancer cover rent, mortgage, utilities, childcare, and travel expenses, and currently supports families with children in treatment at the following hospitals; The Children's Hospital of Philadelphia, Nemours/Alfred I. DuPont Hospital for Children, and St. Christopher's Hospital for Children.
Still visited 1871 last week to share his strategies with overcoming adversity. View the photo story here.
To support the Still Strong Foundation, visit the SSF shop to sign up for a yearly membership or purchase merchandise. You can also head to the student bookstore at Penn State, where Still played college football, to find more official merchandise.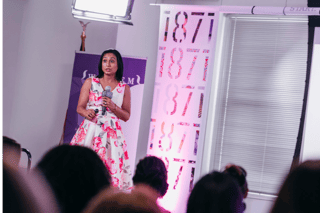 As a clinical psychologist, Dr. Ritu Trivedi-Purohit noticed that there was a large gap in the care of many cancer patients -- no one was paying attention to their long-term needs. While medications could treat the disease, Dr. Trivedi-Purohit, who is also a graduate of 1871's WiSTEM program -- a 12-week accelerator for women entrepreneurs and founders, wanted toimprove the quality of life for cancer survivors, patients, and their caregivers. On a mission to help cancer fighters and their loved ones through the entire cancer journey, Dr. Trivedi-Purohit found that she could ease the distress of cancer by sending patients curated care packages that could provide encouragement and empowerment.
From comfort items to skin-care and nutrition, Thriveosity's care packages are unique to each individual patient or caretaker and offer high-quality products that are designed to promote self-care, health, and well-being. Each item is expertly selected and every product is natural and organic. What's more, a portion of every Thriveosity box sold will be donated to organizations dedicated to impacting cancer research, patient education and advocacy. If you know someone who is struggling with cancer or has a loved one who is struggling with cancer, consider purchasing a Thriveosity box or subscription.
For Feyi Olopade Ayodele, a career in cancer treatment seemed like a natural choice; after all, her mother is Dr. Funmi Olopade, a renowned oncologist at the University of Chicago. Ayodele realized her calling when she took a sabbatical to work as a project manager at the University of Chicago's community-based hospital services and saw the disparity of care levels for patients at community hospitals. It was here that Ayodele saw that many community hospitals struggled to offer a high quality of care, especially when it came to predictable hereditary cancers. That's when she decided to build a platform that could solve the problem -- and created Cancer IQ.
To build out CancerIQ, Ayodele joined 1871 as a member, where she found a strong community of entrepreneurs to network with and build connects in Chicago's startup ecosystem. Today, CancerIQ offers a full suite of solutions that give doctors the ability to run complex calculations and collect multiple data points so that they can quickly predict, preempt, and prevent adverse outcomes in cancer. What's more, Cancer IQ offers inexpensive solutions so that hospitals don't have to tax their budget to provide better for their patients. If you're interested in learning more about CancerIQ, head to their site and book a demo.

If you'd like to know more about how you can participate in World Cancer Day, head over to worldcancerday.org.