CONTACT:
J Blaszczykiewicz,
Director of Marketing, 1871
j@1871.com
212 Robust Tech Companies Nominated for 13th Annual Momentum Awards; Five Finalists Selected for each of following: Rising Star Award, Momentum Award, CityLIGHTS Award, Outstanding Tech CEO Award, and Industry Disrupter Award; Public voting opens; Winners to be Announced at the 13th Annual Momentum Awards on October 1st.
CHICAGO (August 17, 2020) -- 1871 and The Chicagoland Entrepreneurial Center (CEC) is excited to name their finalists for five of the seven award categories taking place The 13th Annual Momentum Awards on October 1st. Those five award categories include: Momentum Award, Rising Star Award, CityLIGHTS Award, Outstanding Tech CEO, and Industry Disrupter Award.
Finalists in the aforementioned categories have been deduced from 1871's largest pool yet, where 212 nominees have been generated through public nomination and deliberated amongst 100+ judges that span Chicago's business and innovation sectors.
"This year's group of finalists demonstrates the forward-thinking, inspiring and civic entrepreneurs and business leaders that continue Chicago's legacy as a global leader for technology, innovation and entrepreneurship. Each year, we continue to witness the entrepreneurial baton be passed from one generation to the next." – Larry Eppley, CEC Board Chairman and Sheppard Mullin Chicago Office Managing Partner
"The finalists for this year's Rising Star Award, Momentum Award, CityLIGHTS Award, Outstanding Tech CEO Award, and Industry Disrupter Award reflect Chicago's extraordinary community of founders and innovators. I'm honored to recognize all of our finalists for their achievements and commitment to our city's tech and entrepreneurial ecosystem. Each one of these companies serves as proof that Chicago is one of the best cities in the world to build a business." – Betsy Ziegler, CEO, 1871
From here, the CityLIGHTS Award, Outstanding Tech CEO Award, and Industry Disrupter Award finalists will move on to a final public voting round, opening from now until August 28th. The Rising Star Award and Momentum Award now will loop back into a judging cycle that will be held by 1871's Board of Directors. All five of the mentioned awards will be virtually announced at the ceremony.
The event will be attended virtually by Chicago's best and brightest tech innovators, corporate leaders, and civic supporters. It is the largest gathering of the tech community annually and the primary fundraiser for the CEC, which supports the activities and operations of 1871.
Rising Star Award Finalists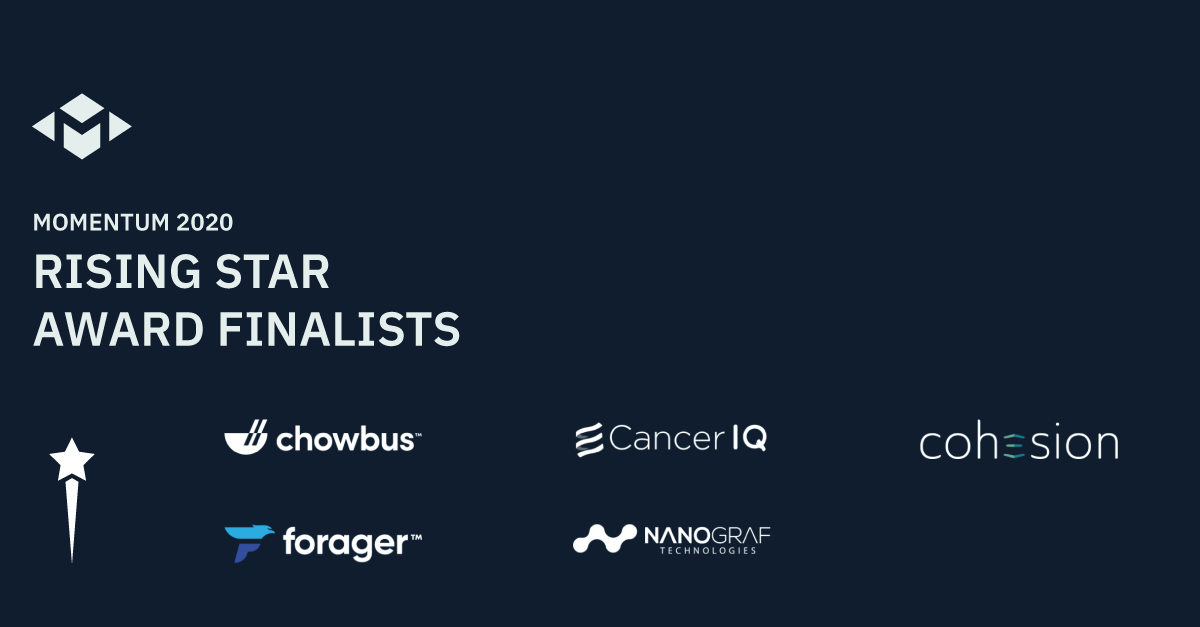 Chowbus | A food ordering platform which curates featured dishes from selected ethnic restaurants daily and delivers them fresh and hot to your home or office affordably with the tap of your cell phone. Chowbus provides dish-centric mobile ordering experience for consumers to easily explore and order authentic ethnic food and we empower local ethnic restaurants with the technology, tools, and marketing to grow their business.
Forager | A cross-border logistics tech company revolutionizing the trillion-dollar supply chain industry, tackling the challenges of shipping truckload freight throughout North America. Forager connects all parties on both sides of the border to automate complex supply chains and save businesses time and money with an innovative marketplace model.
cohesion | A leading Intelligent Buildings platform providing real estate owners with actionable intelligence through connected operations and communities. It creates greater operating efficiency, addresses real-time health and safety needs of all building occupants, and increases asset value for owners by delivering better tenant experiences.
NanoGraf Corporation | Advances the existing Li-ion battery industry through a proprietary silicone-graphene composite that enables longer lasting and faster charging batteries. Li-ion batteries have become the primary technology powering rapid growth of portable electronics and even electric vehicles.
Cancer IQ | Helps providers use genetic information to predict, pre-empt, and prevent disease - starting with cancer. By making it easier to identify patients at risk, Cancer IQ offers a genetic evaluation at point of care, and design a tailored cancer prevention plan - healthcare systems can get ahead of this costly and emotionally devastating disease.
Momentum Award Finalists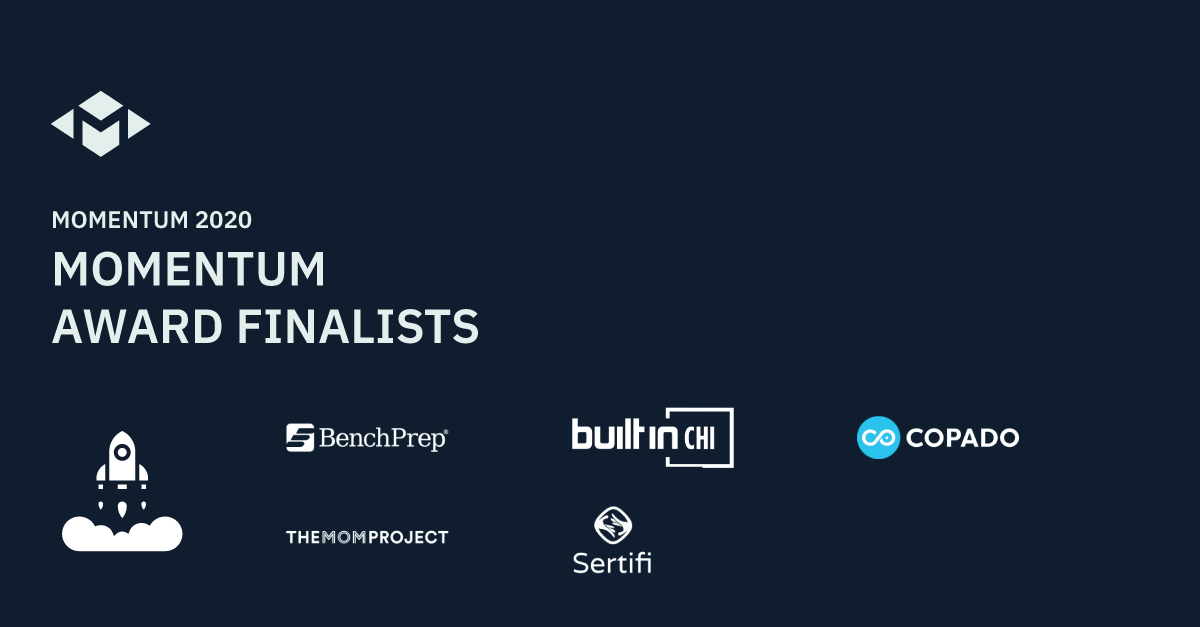 BenchPrep | The leading provider of cloud-based learning products, delivering the best learning experience and driving revenue for corporations, training organizations, and nonprofits. Its award-winning learner-centric platform increases learner engagement, improves learner retention, and reduces dropout rates.
Sertifi | Born out of a desire to help companies modernize the way they finalized business, Sertifi offers an Agreement Platform that simplifies how businesses send and collect agreements and payments by bringing it all into one secure platform.
Copado | A leading DevOps platform for Salesforce. For enterprises wanting to accelerate their Salesforce deployments, Copado simplifies the release process, increases developer productivity and maximizes return on investment. The platform is comprised of Agile Planning, Release Management and Compliance & Testing.
The Mom Project | An online platform that helps connect viable female candidates to employers with open positions—taking a special interest in helping moms who left the job market re-enter the workforce. Its platform has amassed more than 275,000 users and over 2,000 companies.
Built In | Connecting professionals with tech companies across the U.S. Ambitious people who work in or around tech — or who want to — see Built In as the best place to learn about the industry, carve out futures at companies they believe in and make connections with their community. Currently operate in seven cities, those market-specific sites serve more than 1,800 customers and an audience of 1 million tech professionals every month.
CityLIGHTS Award Finalists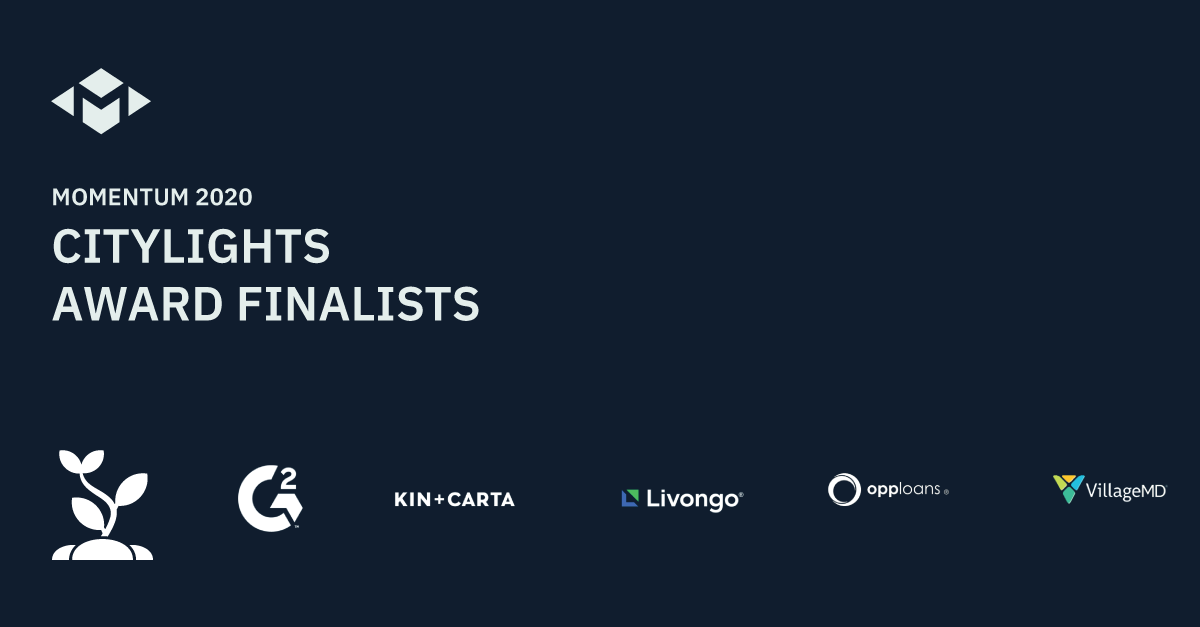 OppLoans | A leading financial technology platform that provides accessible products and a top-rated experience to middle income, credit-challenged consumers. Through unwavering commitment to customer service, OppLoans help consumers who have been turned away by traditional providers build a better financial path.
Village MD | The tools, technology, operations, and staffing support needed for physicians to drive the highest quality clinical results. Village MD collaborates with primary care physicians to maximize success in a changing health care environment.
Kin + Carta | A global consulting firm built for the 2020s, Kin + Carta makes the journey to becoming a digital business tangible, sustainable and profitable for clients. Headquartered out of Chicago and London, clients have access to a global ecosystem of 1,600 strategists, engineers and creatives across four continents.
Livongo | A whole person platform that empowers people with chronic conditions to live better and healthier lives, beginning with diabetes and now including hypertension, weight management, diabetes prevention, and behavioral health.
G2 | The world's largest B2B technology marketplace revolutionizing the way businesses discover, buy, and manage software & services. G2 is a review platform that leverages more than 785,000 independent and authenticated user reviews read by more than 3 million buyers each month. Our model brings transparency to B2B buying & changing the way decisions are made.
Outstanding Tech CEO Finalists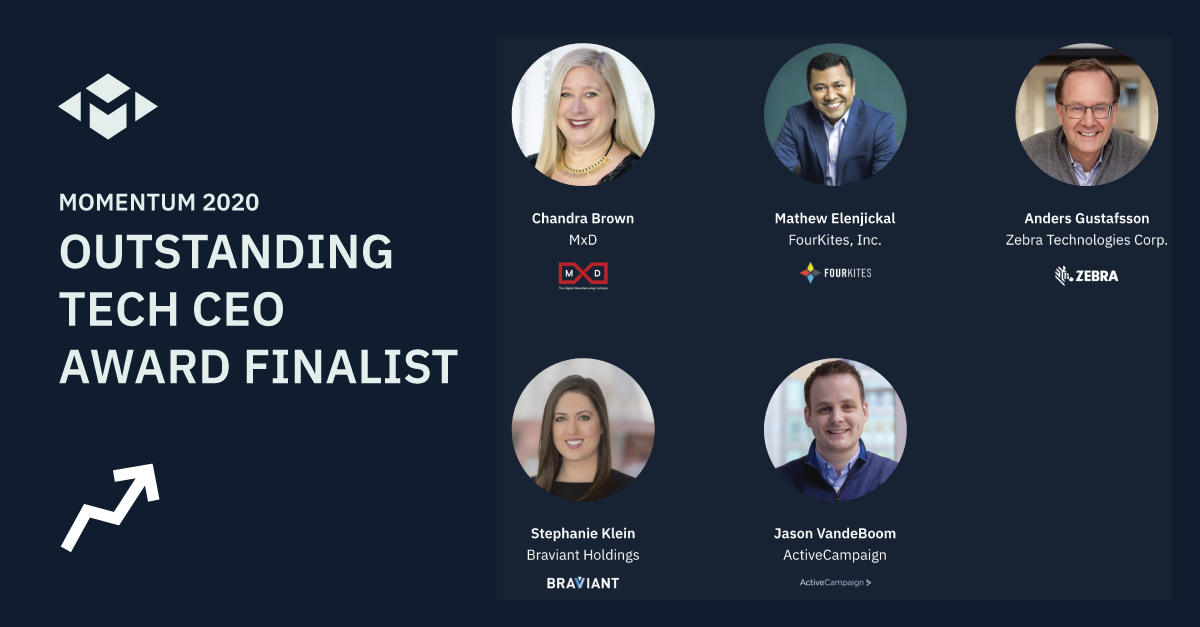 Mathew Elenjickal | Founder and CEO of FourKites. He has led the FourKites team in designing elegant and effective systems to address the major pain points in the logistics industry while building one of Chicago's fastest-growing companies that has been featured on Forbes' Next Billion Dollar Startups List in 2019.
Stephanie Klein | CEO of Braviant Holdings, a fast-growing fintech company that uses technology and machine learning to improve credit access and create a Path to Prime for underbanked consumers. Stephanie is a frequent speaker on fintech and financial inclusion and was named a Crain's Chicago 40 under 40 in 2019.
Anders Gustafsson | CEO of Zebra Technologies, formerly CEO of Spirent Communications, with leadership roles at Tellabs and Motorola. Anders is a Fulbright Scholar and also holds an MBA from Harvard Graduate School and an M.S. in Electrical Engineering from Chalmers University of Technology.
Jason VandeBoom | Founder and CEO of ActiveCampaign, the market leader in Customer Experience Automation with over 100,000 customers in 170+ countries. A lifelong entrepreneur, Jason has been named to Crain's Chicago Business 40 Under 40 list and serves on the board of the Future Founders Foundation.
Chandra Brown | CEO of MxD, the nation's digital manufacturing institute. She oversees a nearly $100 million-dollar portfolio of manufacturing technology, cybersecurity, & workforce development. Chandra was previously the CEO of United Streetcar & was also appointed as Deputy Assistant Secretary for Manufacturing at the Department of Commerce.
Industry Disruptor Award Finalists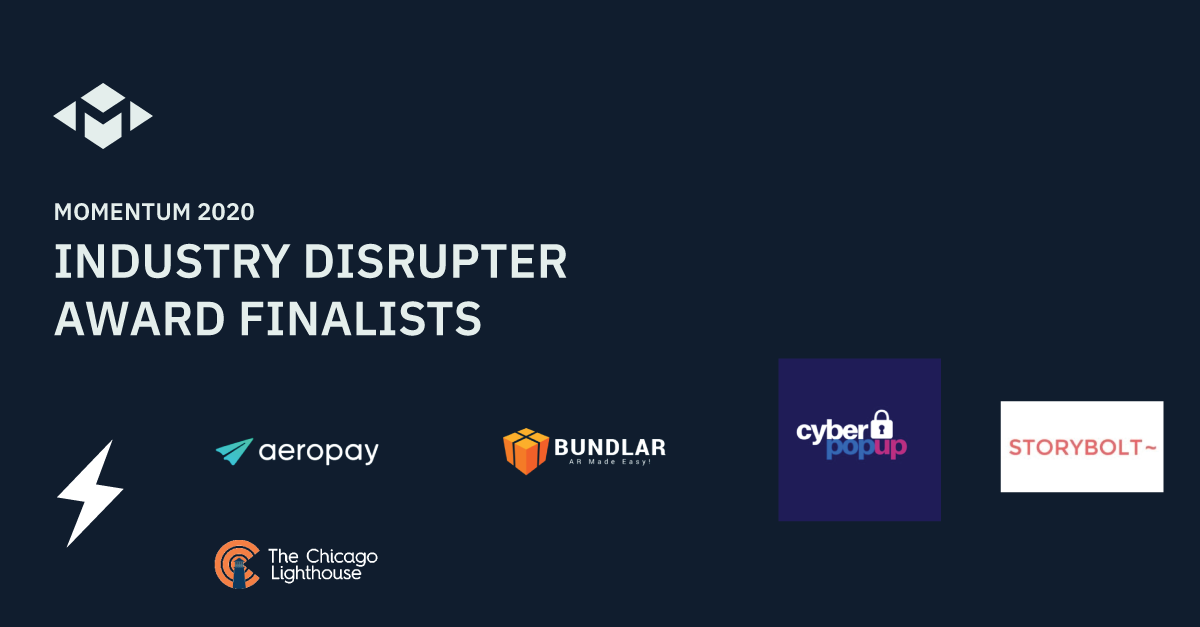 Cyber Pop-up | A platform that connects high-demand businesses to on-demand cybersecurity services. Powered by vetted and highly skilled security freelancers, Cyber Pop-up is trustworthy, flexible, and efficient for companies of all sizes.
Storybolt | A visionary marketplace platform enabling attitude-changing conversations around topics of Diversity and Inclusion, using the power of documentary storytelling and group discussion while simultaneously simplifying HR tracking and providing income opportunities for filmmakers.
BUNDLAR | A Software as a Service (SaaS) Augmented Reality (AR) Platform company that makes it easy for businesses and institutions to create, edit, and publish AR experiences instantly and on a global scale for their training, learning, and development programs with a self-serve AR CMS, API, and mobile app.
AeroPay | A financial technology company that has introduced a suite of compliant digital payments solutions for state legal cannabis businesses. Their solutions are built to handle payments both in-person & online for environments through the entire cannabis supply chain - from grow ops and wholesalers to retail dispensaries and delivery drivers.
The Chicago Lighthouse | One of the most comprehensive social service agencies in the nation. Through our Assistive Technology Center and research programs, The Chicago Lighthouse is pioneering the use of adaptive devices to help people who are blind or visually impaired live the most independent lives possible.
The Momentum Awards honor a robust group of businesses that define Chicago tech. With the merger of Illinois Technology Association and 1871 in February of 2019, the 2020 Momentum Awards now include redefined award categories that combine the best of CityLIGHTS and Momentum.
The 2019 winners for the 2020 Momentum awards categories are as follows:
About CEC
Founded in 1999, the CEC is a non-profit organization that supports entrepreneurs on their path to building high-growth, sustainable businesses that serve as platforms for economic development and civic leadership. Its flagship project, 1871, fulfills CEC's vision of a central address for entrepreneurs in Chicago. The CEC runs and operates the workspace, develops programming, organizes events, and ensures that the culture of 1871 allows entrepreneurs the greatest opportunity for success
About 1871
1871 is Chicago's technology hub and the #1 ranked private business incubator in the world. It exists to inspire, equip, and support founders, growth-scalers and innovators in building extraordinary businesses. 1871 is home to ~450 technology startups, ~400+ growth stage companies, and ~1,500 members, and is supported by an entire ecosystem focused on accelerating their growth and creating jobs in the Chicagoland area. The member experience includes virtual and in person access to workshops, events, mentorship, and more. The nonprofit organization has 350 mentors available to its members, alongside access to more than 100 partner corporations, universities, education programs, accelerators, venture funds and others. Since its inception in 2012, more than 650 alumni companies are currently still active, have created over 11,000 jobs, and have raised more than $1.65 billion in follow-on capital.