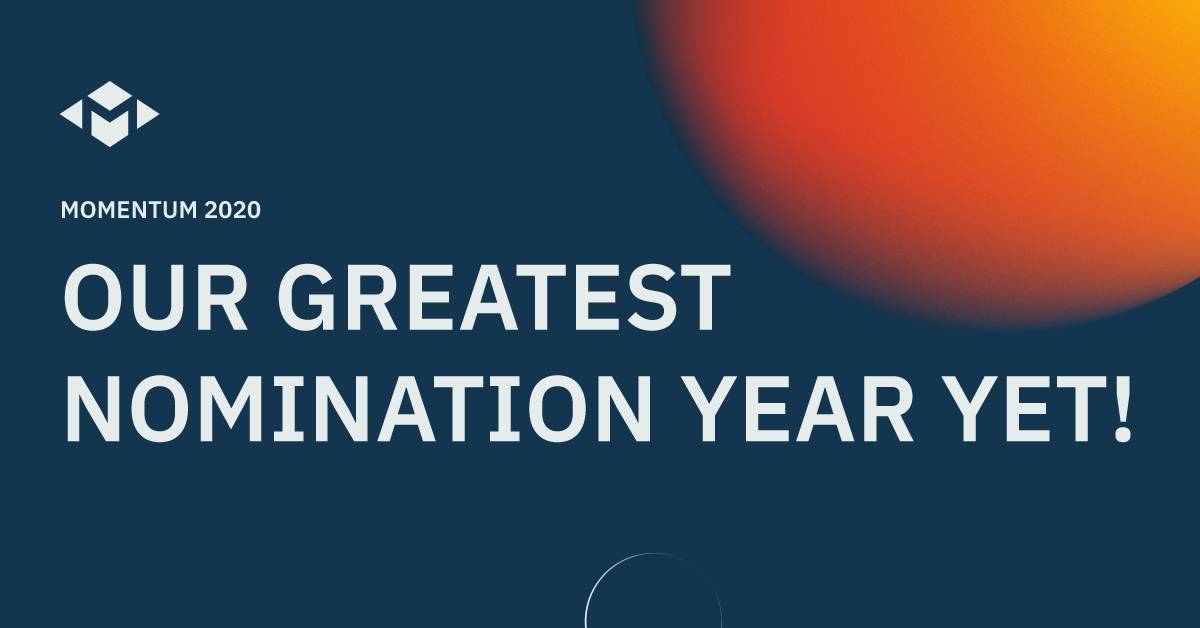 1871 and The Chicagoland Entrepreneurial Center (CEC) will be hosting The 13th Annual Momentum Awards on October 1st, 2020!
To mark the first year of a combined awards program with the historical CityLIGHTS Awards, previously hosted by the ITA, and the tight integration of tech in our daily lives in 2020, our Momentum Awards theme is FUSION.
FUSION represents the boundless energy created by our founders, growth scale companies and innovative enterprises that propels Chicago's extraordinary into our next tomorrow.
Our incredible award nominees are really what makes this year special! Being our first combined show, the award set now spans across business size, sector, customer, and technologies.
Thank you to all of you who nominated your fellow colleagues, friends, leaders, etc, for our exciting awards; Momentum Award, Rising Star Award, CityLIGHTS Award, Outstanding Tech CEO, Industry Disruptor.
We received such an overwhelming amount of wonderful nominees, 212 to be exact, and we are honored and humbled to have all of you as part of our community.
Congratulations and thank you to our nominees for making this year's Momentum Awards one we'll never forget! Here they are below.
INDUSTRY DISRUPTOR AWARD NOMINEES
Awarded to a company that has developed or introduced an ingenious, non-traditional, and innovative product or service that has significantly disrupted its industry.
Concept must be truly new and not a repositioning of an existing offering
Must be technology-focused or technology-enabled
Concept must have passed initial validity testing (must be preliminarily proven as possible, not just an idea that may not be developed)
NOMINEES: Ascent RegTech, Clearcover, Infutor Data Solutions, Tempus, Threekit, AeroPay, Aisera, Black Spectacles, Bswift, BUNDLAR, Coeo Space, Copado, Cyber Pop-up, eVisitorGuide, EX3 Labs, Expandopedia, First Stop Health, Forager, Freeosk Inc., Fusion Risk Management, Halo Investing, Honest Game, Hunt Club, Kavi Global, LiveEquipd, Livly, Livongo, MileRiver, Mycocycle, LLC, OneSpan, OppLoans, PatientBond, Pricefx, ProxyPics Inc, RapidRona, SavorWe Inc, SipScience, Storybolt, The Chicago Lighthouse, Trajektory, Truss, Upcycling Colors, Village MD, and Zebra Technologies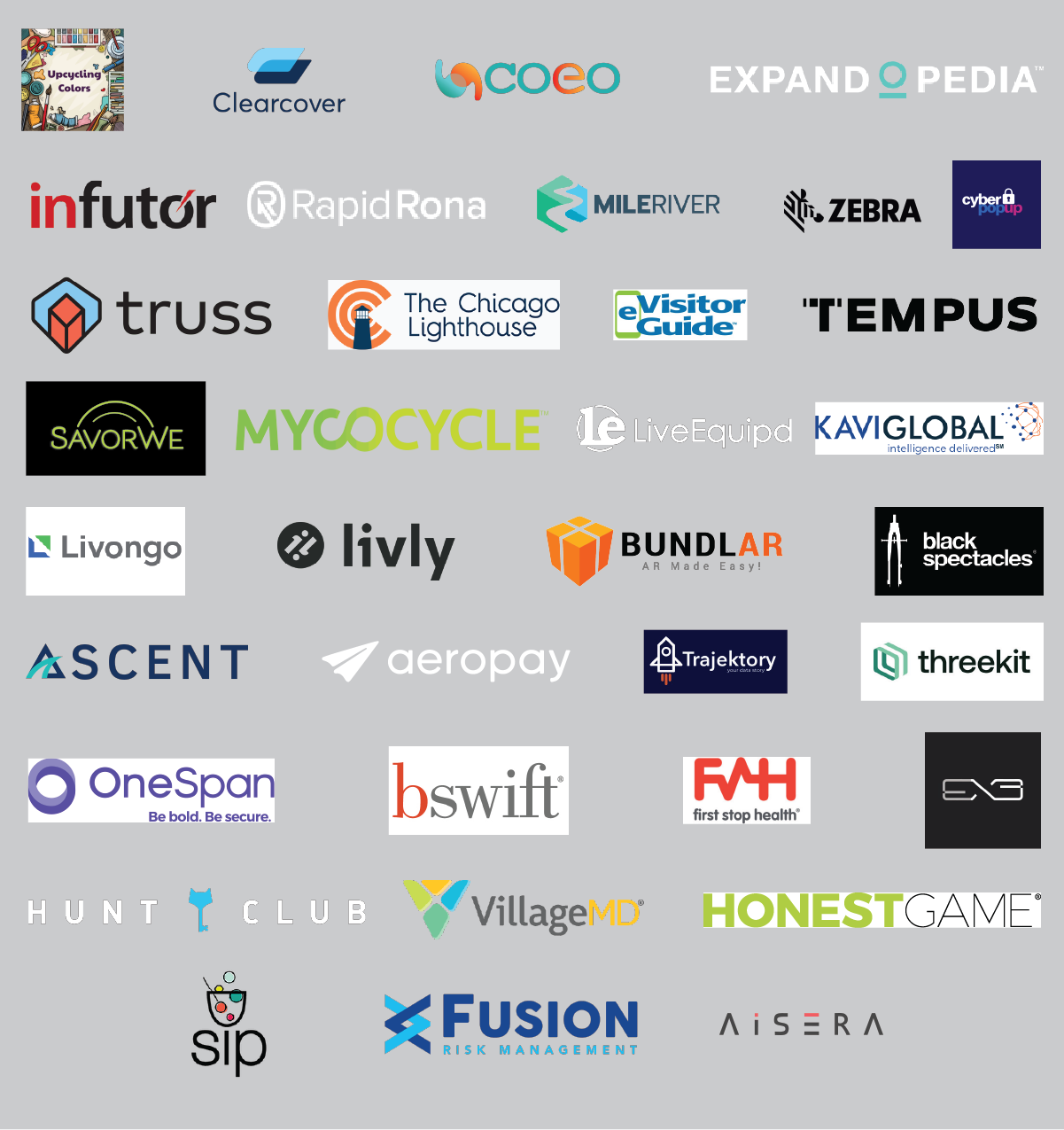 OUTSTANDING TECH CEO AWARD NOMINEES
Presented to a CEO who has successfully scaled and nurtured their company through outstanding leadership, ability to attract and retain talent, dedication to diversity and inclusion and the implementation of strategic growth opportunities.
Leads a company with growing revenue/profitability that exceeds industry averages
Solid track record with focus on growth for both the company and its employees
Demonstrates commitment to diversity and inclusion initiatives
NOMINEES: ActiveCampaign, BenchPrep, Braviant Holdings, Centro, Devbridge, Echo Global Logistics, Envoy Global, G2, Infutor Data Solutions, Paylocity, PerkSpot, SMS Assist, Topstep, @revenue, Backstop Solutions Group, BUNDLAR, Cyberwarspace, Inc., Evive, EX3 Labs, Flexera, Forager, Forte Group, FourKites, Inc., Fusion Risk Management, Jammber, Kaizen Health, Kin + Carta, MxD, OppLoans, Proxfinity, Q-Centrix, Reveal, Rewards Network, Rheaply, Speeko, Sphera Solutions, Inc., SystemDomain, Inc, The Mom Project, Upfront Healthcare, Vistex, Inc., Vivid Seats, XSELL Technologies, Yello, and Zebra Technologies Corp.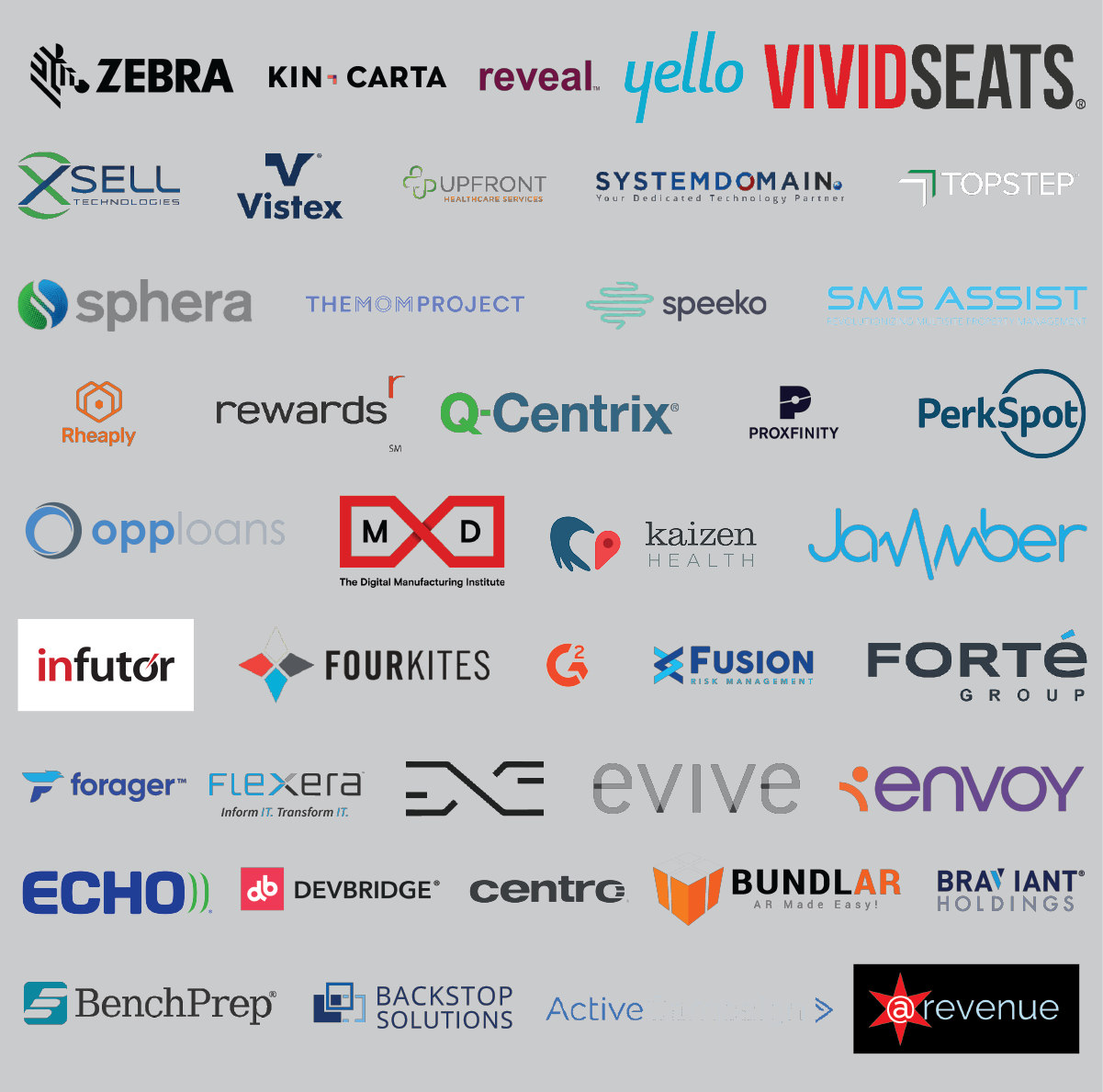 CITYLIGHTS AWARD NOMINEES
Presented to the growth-stage company ($25MM+ revenue) that, through innovation in products, services or business approach, has grown to become a serious competitor in the marketplace and serve as a beacon in the Chicago tech community.
Industry, regional, or national reputation
Proven track record of long-standing partnerships with customers, as demonstrated by customer retention that exceeds industry norms
Commitment to being visible and recognizable in the Chicago tech community
NOMINEES: ActiveCampaign, Cars.com, Centro, Clearcover, Devbridge, Echo Global Logistics, Enova International, Inc., G2, Infutor Data Solutions, PowerReviews, RedShelf, Reverb, Chomps, DialogTech, FourKites, Inc., Home Chef, Kin + Carta, Livongo, Mindsight, OneSpan, OppLoans, Project44, Q-Centrix, Rewards Network, Saggezza Inc, Shiftgig, ShipBob, Shure Inc, Sittercity, SpotHero, Strike Social, SystemDomain, Inc, and Village MD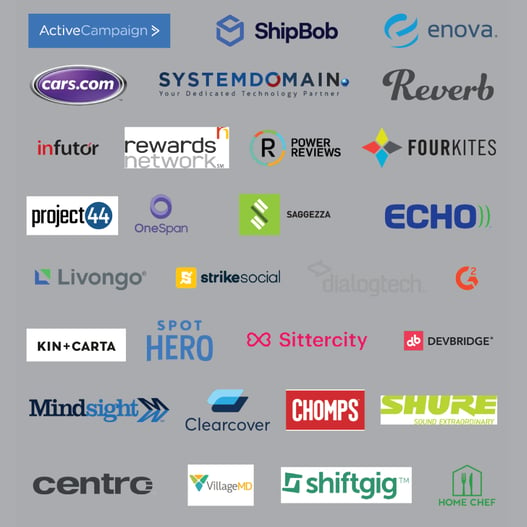 MOMENTUM AWARD NOMINEES
Presented to a seasoned company ($3-25MM revenue) that has the strongest potential to emerge as a leader in its market, has bootstrapped and/or received external funding and has made a substantial impact on Chicago's tech and startup community.
Demonstrated commitment to providing opportunity across the Chicago community through mentorship, leadership or conversations
Visible and vocal member of the tech community who participates in local and national events, discussions, blogs, press, etc. to share about and elevate the Illinois tech community
Demonstrated ability to "walk the walk" through a track record of success and hard work
NOMINEES: Apervita, BenchPrep, Maropost, Narrative Science, PerkSpot, Tock, YCharts, 8th Light, Bartesian, bloXroute Labs, Built In, Chowly, Copado, Cubii, dscout, Edovo, EMPIST, Farmers Fridge, HealthJoy, Higi, KIN insurance, LogicGate, M1 Finance, Network Perception, Rocketmiles, Sertifi, Simple Mills, The Mom Project, Third Eye Health, Tillable, Truss, UPshow, Vivid Seats, and Wavicle Data Solutions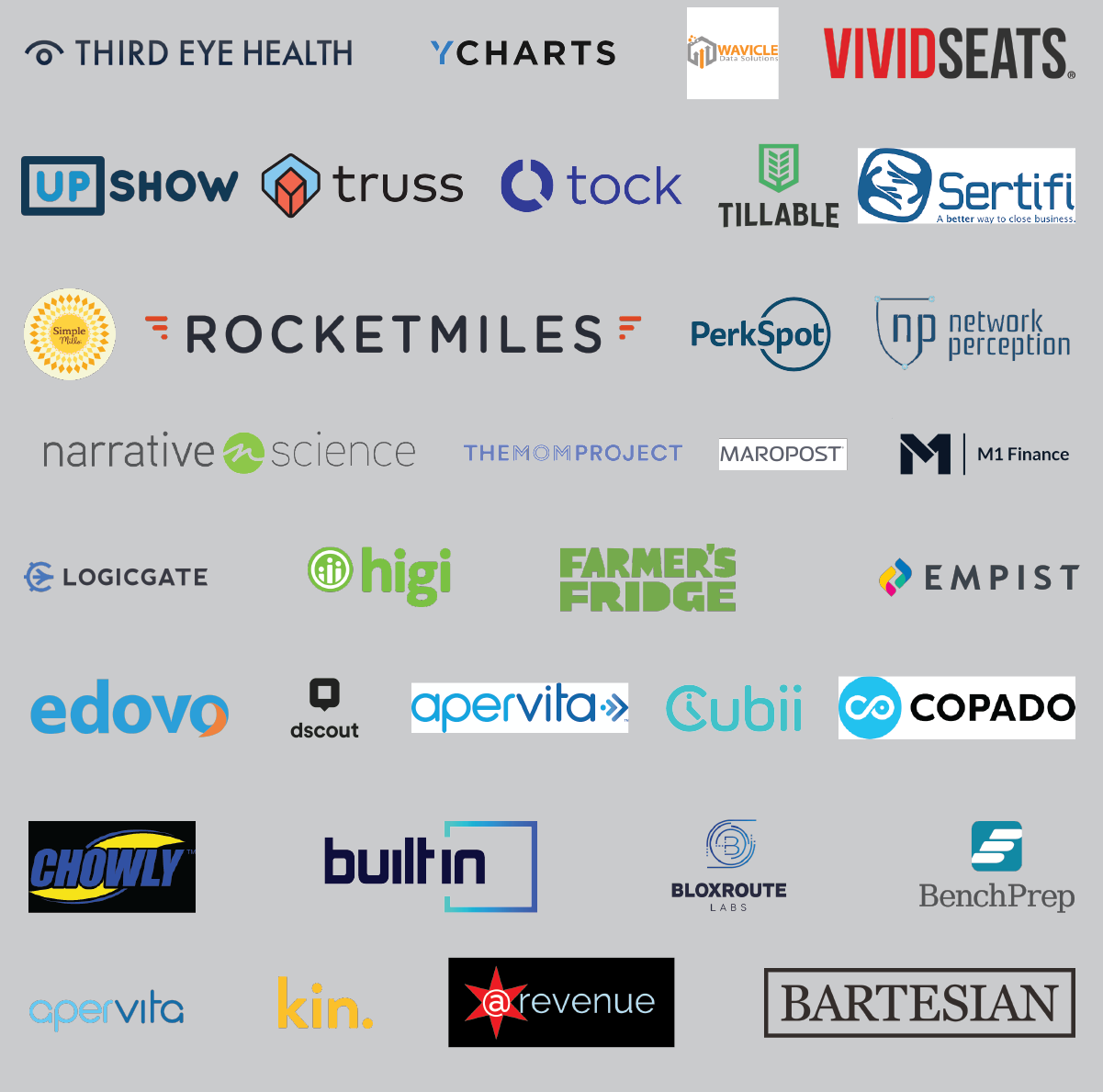 RISING STAR AWARD NOMINEES
This award recognizes a company that is early in its progression but has a proven track record of success, has achieved significant traction in their market, makes an impact on the community and is well-positioned to grow into a leader in its market.
Company is becoming a visible and active presence in the Chicago tech and startup community
Has surpassed seed-stage funding and raised Series A/B OR bootstrapped to $1MM + in annual revenue
Has demonstrated rapid growth in the past 6–12 months
NOMINEES: 86 Repairs, Amount, Binfer, Block Six Analytics, BUNDLAR, Cancer IQ, Carrectly, Catalytic, Chill Meditation and Massage LLC, Chowbus, Classform, CLEANCIO, cohesion, CompTIA Tech Career Academy, Cyberwarspace, Inc, Deskpass, Digs, Enodo, Forager, HAAS Alert, HealthChampion, humanpredictions, Impossible Objects Inc, Nanograf Corporation, Neopenda, Payformance Solutions, Peanut Butter, Percent Pledge, Phenix Real Time Solutions, PriceLabs, Project World Impact, LLC, Proxfinity, Qlarity Imaging LLC, Quillbot, Rheaply, Rise Gardens, ShoppingGives, Speeko, Tanvas, Inc., ThreeKit, Tovala, Trala, TRYTN, Inc., Twisted Alchemy, Winston Privacy, and Inc.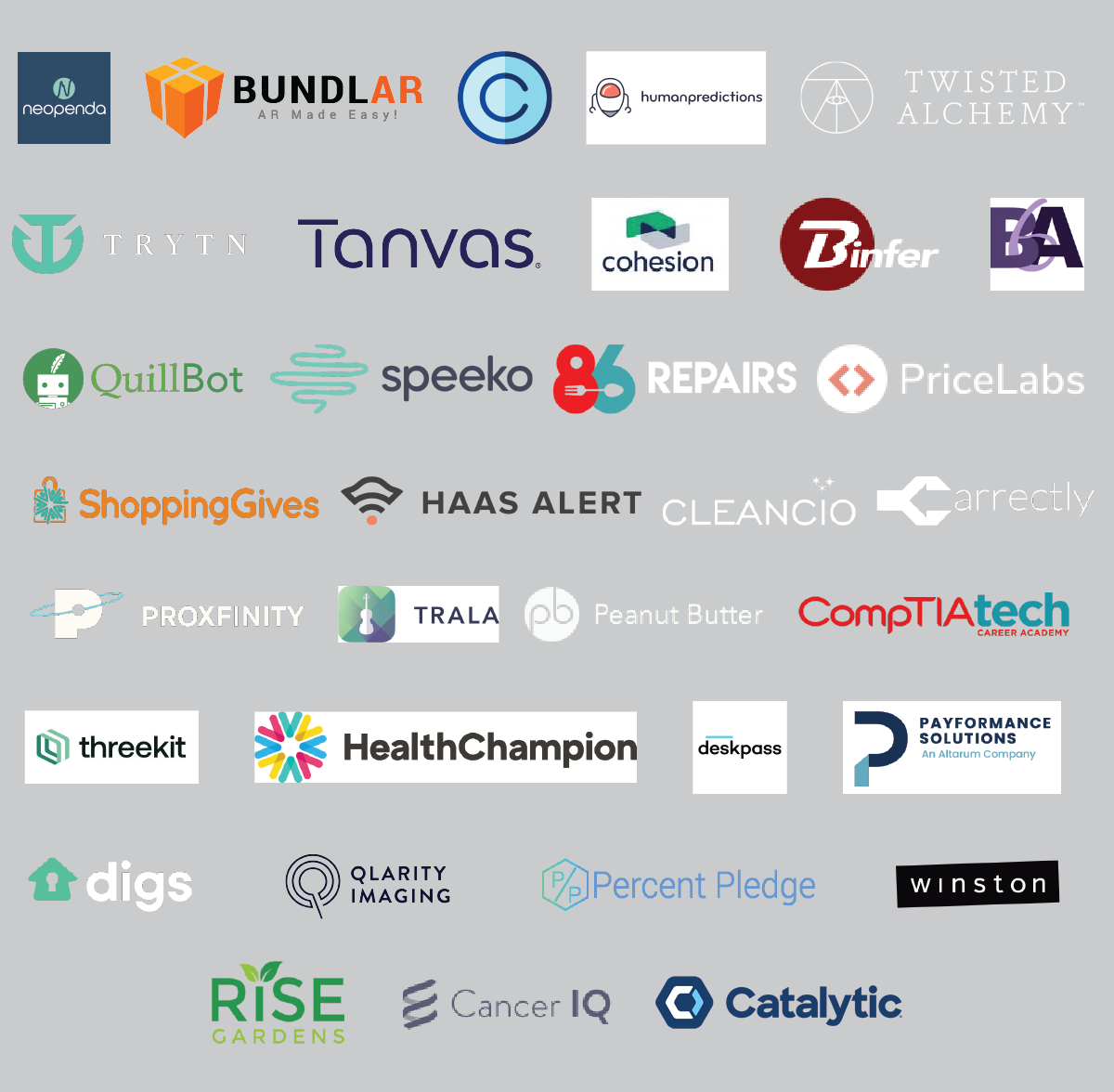 Thank you to the 107 judges, who represent 1871 broad and diverse Chicago tech community, for their efforts. We look forward to learning who they have identified as a finalist next week!