1871 announced today its partnership with 1871 member company PopScholar, an online student support system that allows students to set goals, post accomplishments, and earn rewards. PopScholar encourages students to set goals in five 'Straight A' categories: Academics, Activities, Altruism, Art, and Athletics.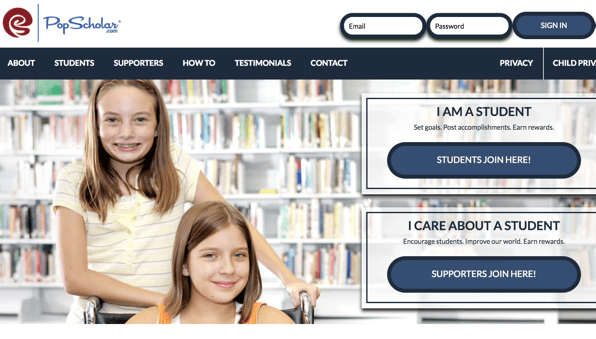 Students can invite family and friends to join PopScholar as their supporters. Both students and supporters earn points called PopScholar Dollars, which can be traded for gift cards and exclusive coupons from major-market retailers and chains including Target, Chipotle, and Barnes and Noble, by interacting with the platform and each other.
"We're excited to partner with PopScholar in our joint mission to help students chart a course to success and provide them with the resources they need to get there. This initiative supports students in underserved communities and helps build a pipeline of diverse talent in the Chicagoland area, and we're honored to participate in this effort as it mirrors 1871's core values of diversity and inclusion." —Tom Alexander, COO, 1871
As a participating organization, 1871 has launched a supporter page on PopScholar.com and will actively support students' achievements as they are posted using the "applause" feature as well as the distribution of PopScholar Dollars. 1871 is currently developing engagement campaigns, such as photo, video, and short essay challenges, to reward and encourage student participation. These challenges will take a page from 1871's High School Field Trips program, which has hosted approximately 300 students from 11 different schools to date, to inspire students to think about entrepreneurship and technology through team-building exercises.
"We're thrilled to incorporate 1871's innovative ideas into our platform and further student engagement. PopScholar has had a terrific positive impact on the students who use the platform consistently and has helped students set goals, find motivation to accomplish those goals, and work towards becoming a more well-rounded person." —Steve Parsons, Founder, PopScholar
Established by CPS teachers, PopScholar has nearly 2,300 students in its roster with 100-150 active daily users and 300 supporters. PopScholar is currently taking steps to implement its program for an entire school.
"It's a positive and encouraging environment for students to get recognized for their achievements and a wonderful way to connect with other people," said Hannah Natividad, a science teacher at Daniel Boone Elementary School. "PopScholar is a great tool to help students set goals and a place where students can celebrate their success." —Hannah Natividad, Science Teacher at Daniel Boone Elementary School
1871 supports many education initiatives and student programs including a three-year partnership with Young Entrepreneurs Academy (YEA! Chicago), ongoing support for 1871 tenant Future Founders, which connects entrepreneurial-minded students with experienced mentors, and a pilot program at Walter H. Dyett High School for the Arts featuring entrepreneurship classes taught by 1871 CEO Howard A. Tullman. Additionally, Tullman helped forge a partnership between Dyett High School and Donda's House, a nonprofit supporting young artists in the Chicagoland area. Through this partnership, Donda's House will provide Dyett High School with songwriting courses and a state-of-the-art recording studio, named after celebrated musician Vic Mensa.
1871 is also proud to partner with EX3 Labs and Conagra in funding the Immersive Learning Lab, an initiative that brings virtual reality technologies to CPS students.