The first Momentum Awards show since the 1871 and Illinois Technology Association merger recognizes seven distinguished individuals and companies for their contributions and commitment to the Chicago technology and innovation community.
CONTACT
J Blaszczykiewicz
Director of Marketing, 1871
j@1871.com
CHICAGO (October 1, 2020) – 1871 and The Chicagoland Entrepreneurial Center (CEC) honored seven award winners at The 13th Annual Momentum Awards on October 1st. The virtual event showcased Chicago's tech industry and was the first year of a combined awards program with the historical CityLIGHTS Awards, previously hosted by the Illinois Technology Association (ITA).
Hosted by Val Warner, the Emmy Award-winning host of Windy City Live, the awards ceremony was opened with appearances by Chicago Mayor Lori Lightfoot, and Illinois Governor JB Pritzker, celebrating the impact of this community. Over the course of the night, many celebrities and guests from the Chicago tech world made special appearances.
The winners of the Corporate Champion Award and the Chicagoness Award—Aon and Israel Idonije, respectively— were revealed in advance, but were officially recognized during the program. The following 5 awards were announced live during the ceremony: Outstanding Tech CEO Award, Industry Disrupter Award, Rising Star Award, Momentum Award, and CityLIGHTS Award.
"This has been quite a year for all of us and tonight's honorees are symbolic of the hope and promise that exists even within these unprecedented times. Tenacity, perseverance, resilience, creativity, collaboration and compassion are the hallmarks of each of our winners as well as our founders, members and mentors." – Larry Eppley, CEC Board Chairman and Sheppard Mullin Chicago Office Managing Partner.
2020 CORPORATE CHAMPION: AON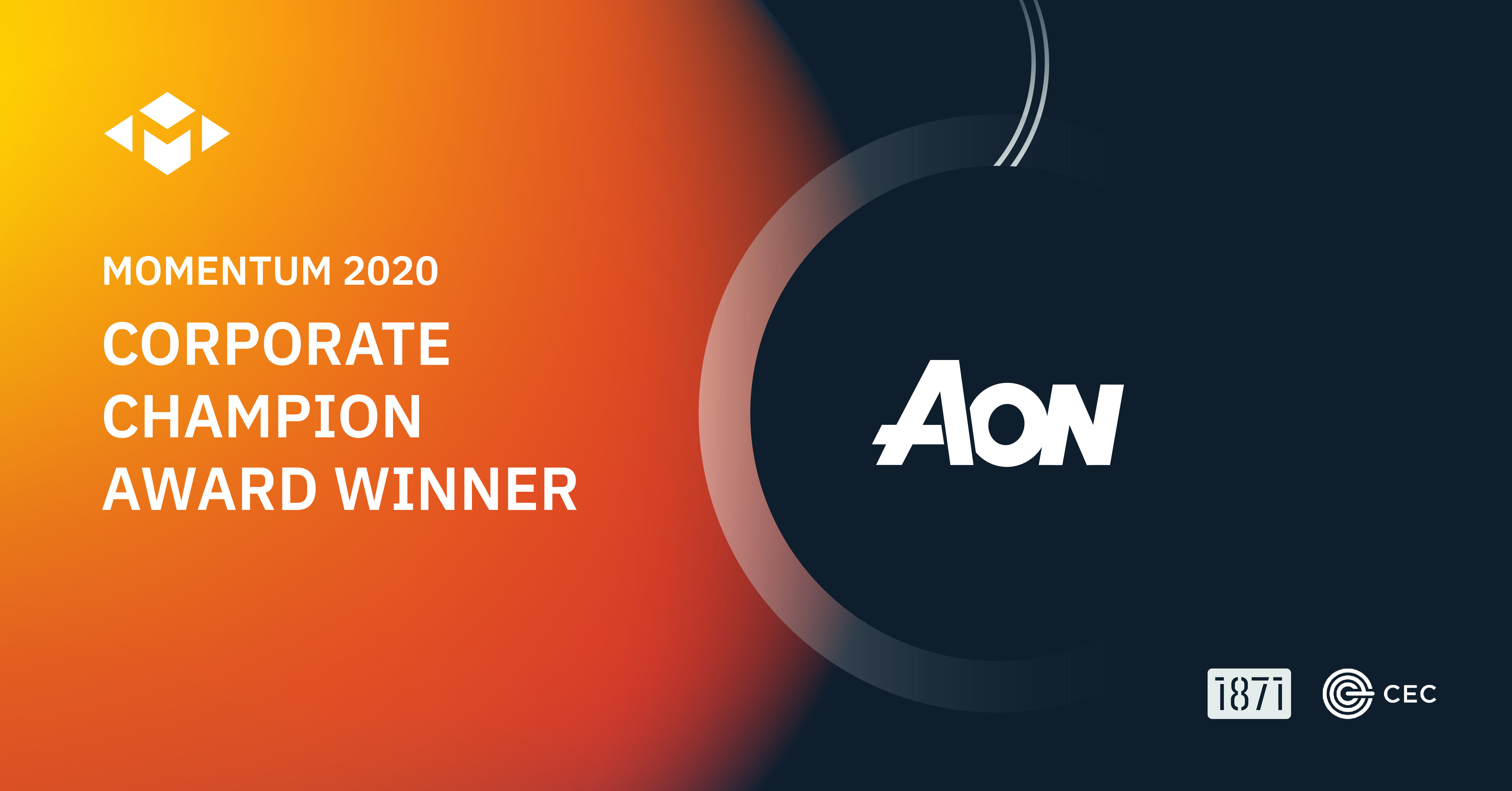 The Corporate Champion Award was presented to Aon for their dedication to developing Illinois as a tech hub through initiatives such as their Trade Secret Registry and their efforts to make IP protection accessible to entrepreneurs.
Aon plc (NYSE: AON) is a leading global professional services firm providing a broad range of risk, retirement and health solutions. Our 50,000 colleagues in 120 countries empower results for clients by using proprietary data and analytics to deliver insights that reduce volatility and improve performance.
The 2019 Corporate Champion Award (1871) went to BMO Harris Bank.
2020 CHICAGONESS AWARD: ISRAEL IDONIJE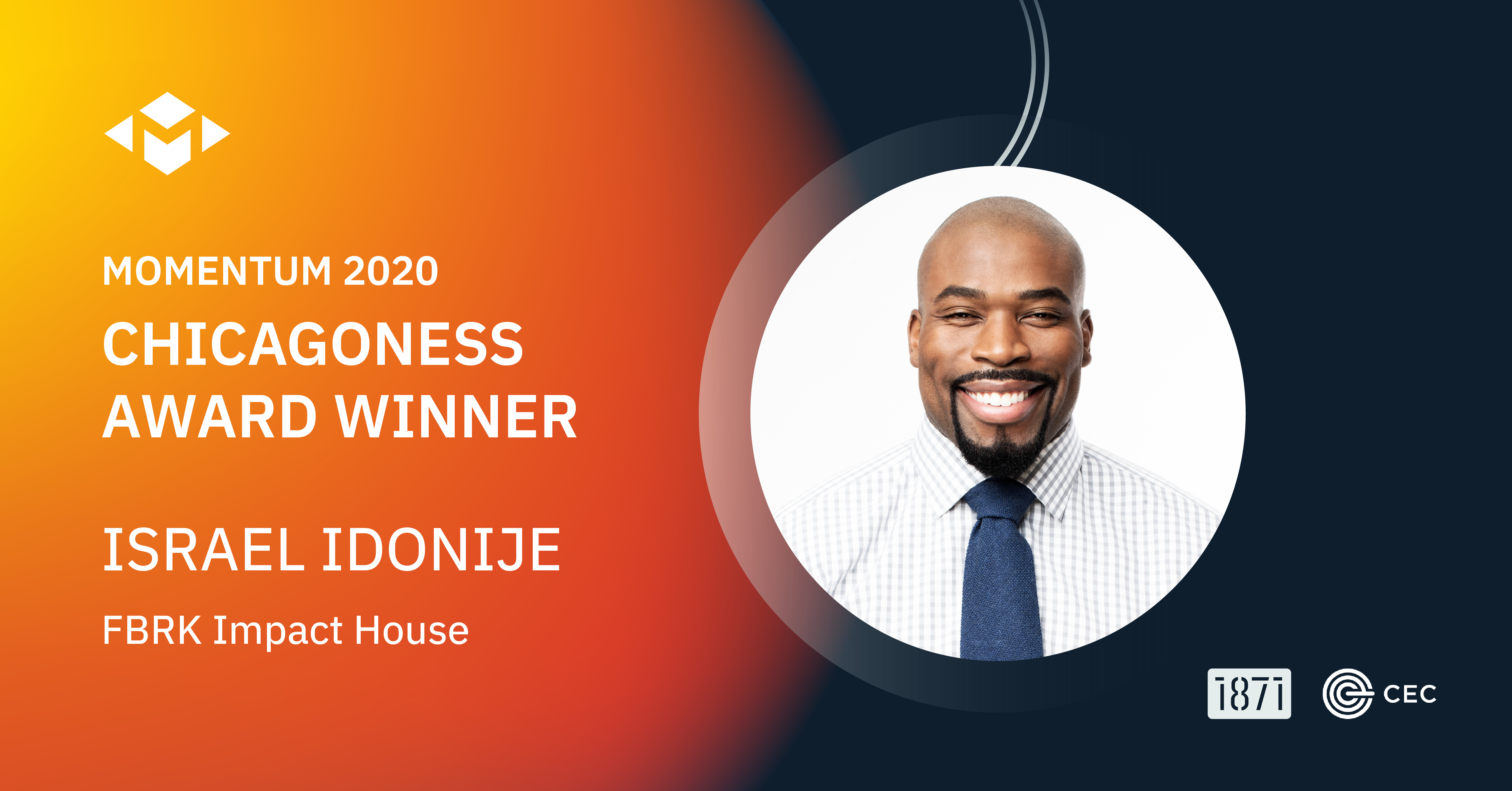 The Chicagoness Award was presented to Israel Idonije, Founder of FBRK Impact House, for his hands-on approach to supporting 10,000+ children in Chicagoland, his own philanthropic and entrepreneurial endeavors, and his commitment to mission-driven ventures that exemplify the "Chicagoness" spirit.
FBRK Impact House is the country's largest innovation-focused philanthropy center dedicated to serving and supporting granting foundations and impact investors by bringing them together to collaborate, share ideas and resources, reduce redundancies and operate with greater efficiency. With the goal of connecting community needs to community resources, FBRK Impact House, home to many of Chicago's leading philanthropic organizations, is a 40,000 square-foot hub located in the heart of The Loop.
The 2019 Chicagoness Award (1871) winner was Don Thompson of Cleveland Avenue.
2020 OUTSTANDING TECH CEO AWARD: MATT ELENJICKAL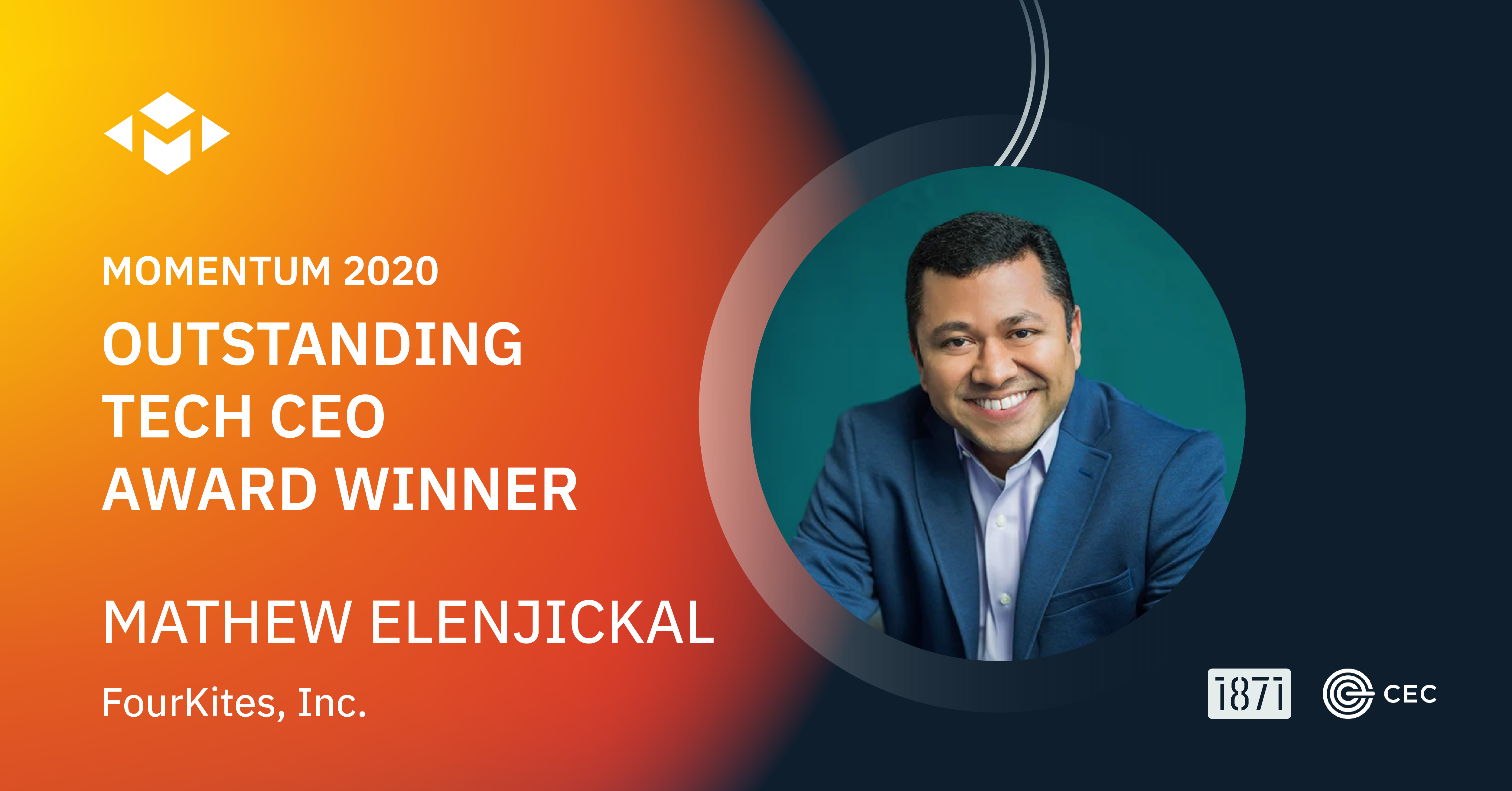 The Outstanding Tech CEO Award was presented to Matt Elenjickal, Founder and CEO of FourKites.
Matt has led the FourKites team in designing elegant and effective systems to address the major pain points in the logistics industry while building one of Chicago's fastest-growing companies. FourKites was featured on Forbes' "Next Billion Dollar Startups 2019" list and was the winner of Momentum 2018's Rising Star Award.
The 2019 Outstanding Tech CEO Award (formerly the CityLIGHTS Awards' CEO of the Year Award) went to Shawn Riegsecker of Centro.
2020 INDUSTRY DISRUPTER AWARD: STORYBOLT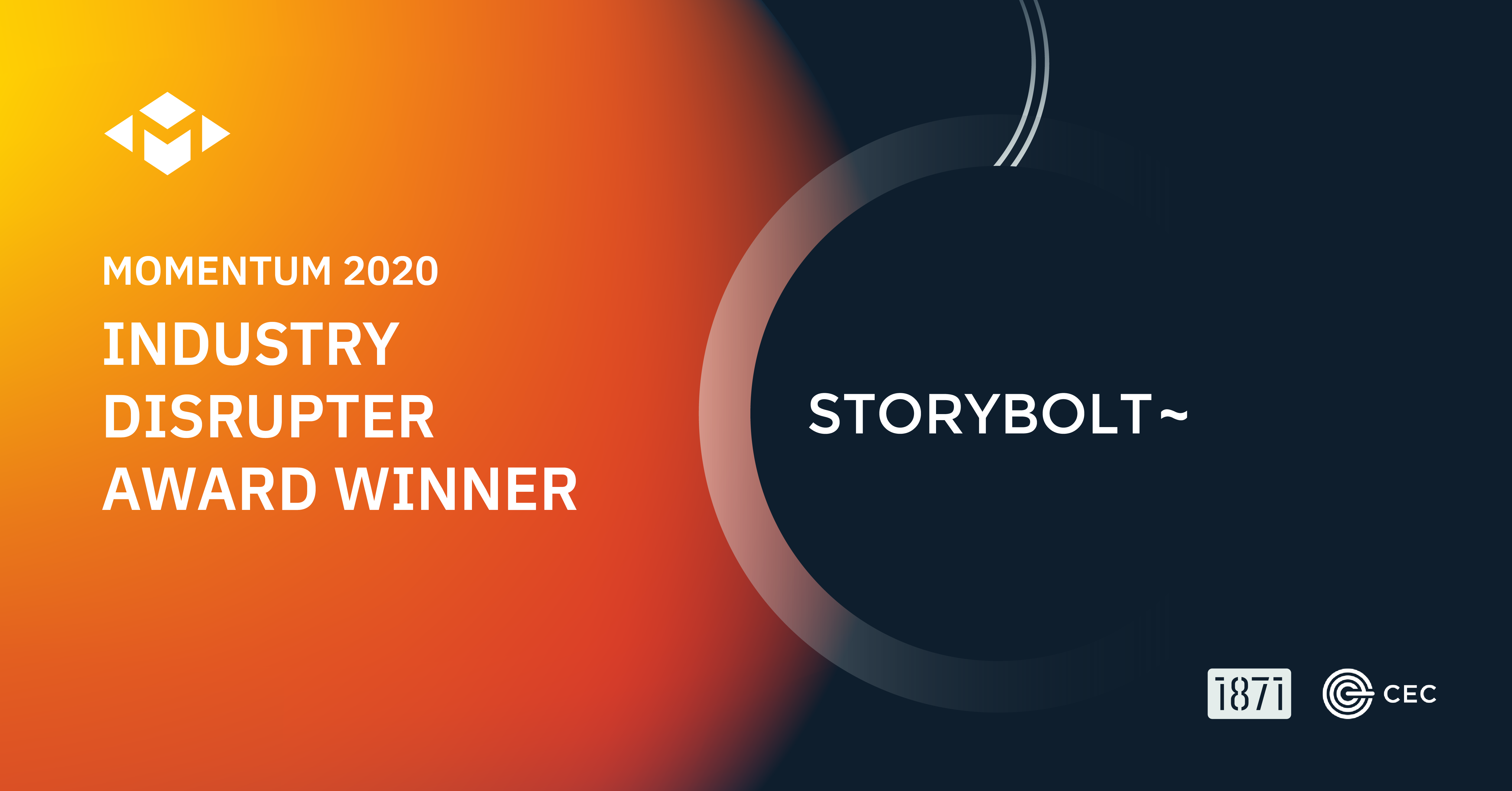 The Industry Disrupter Award was presented to StoryBolt for using documentary storytelling to change the way that organizations address Diversity, Equity, and Inclusion (DEI) within their teams.
Storybolt is a visionary marketplace platform enabling attitude-changing conversations around topics of Diversity and Inclusion, using the power of documentary storytelling and group discussion while simultaneously simplifying HR tracking and providing income opportunities for filmmakers.
The 2019 Industry Disrupter Award (ITA) went to Envoy Global.
2020 RISING STAR AWARD: CHOWBUS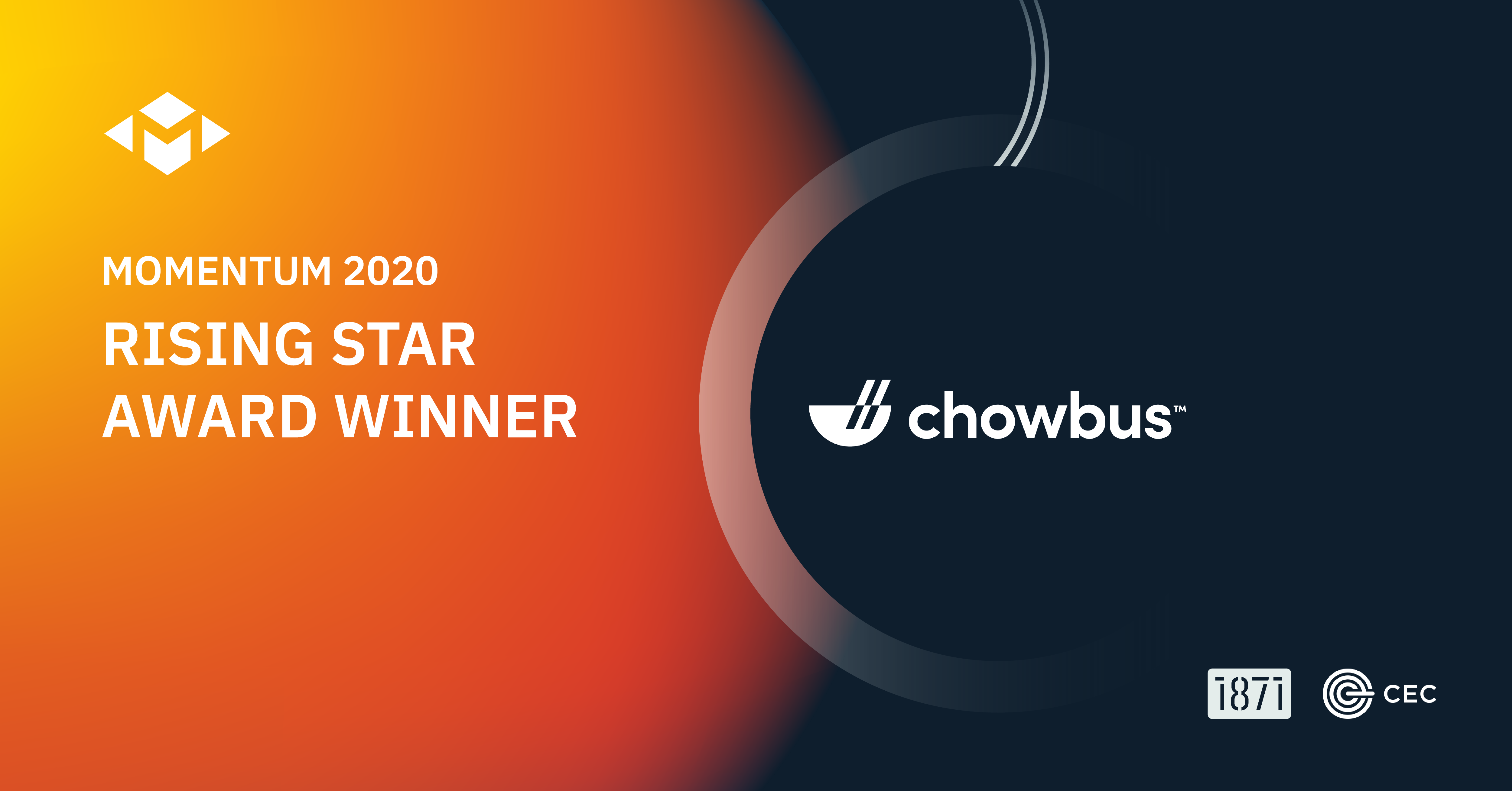 The Rising Star Award was presented to Chowbus for its success in supporting "mom and pop" Asian restaurants that has now expanded to over 20 other cities in North America.
Chowbus is a food ordering platform which curates featured dishes from selected ethnic restaurants daily and delivers them fresh and hot to your home or office affordably with a tap of your cell phone. Chowbus provides dish-centric mobile ordering experience for consumers to easily explore and order authentic ethnic food and we empower local ethnic restaurants with the technology, tools, and marketing to grow their business.
The 2019 Rising Star Award (1871) went to Avail.
2020 MOMENTUM AWARD: THE MOM PROJECT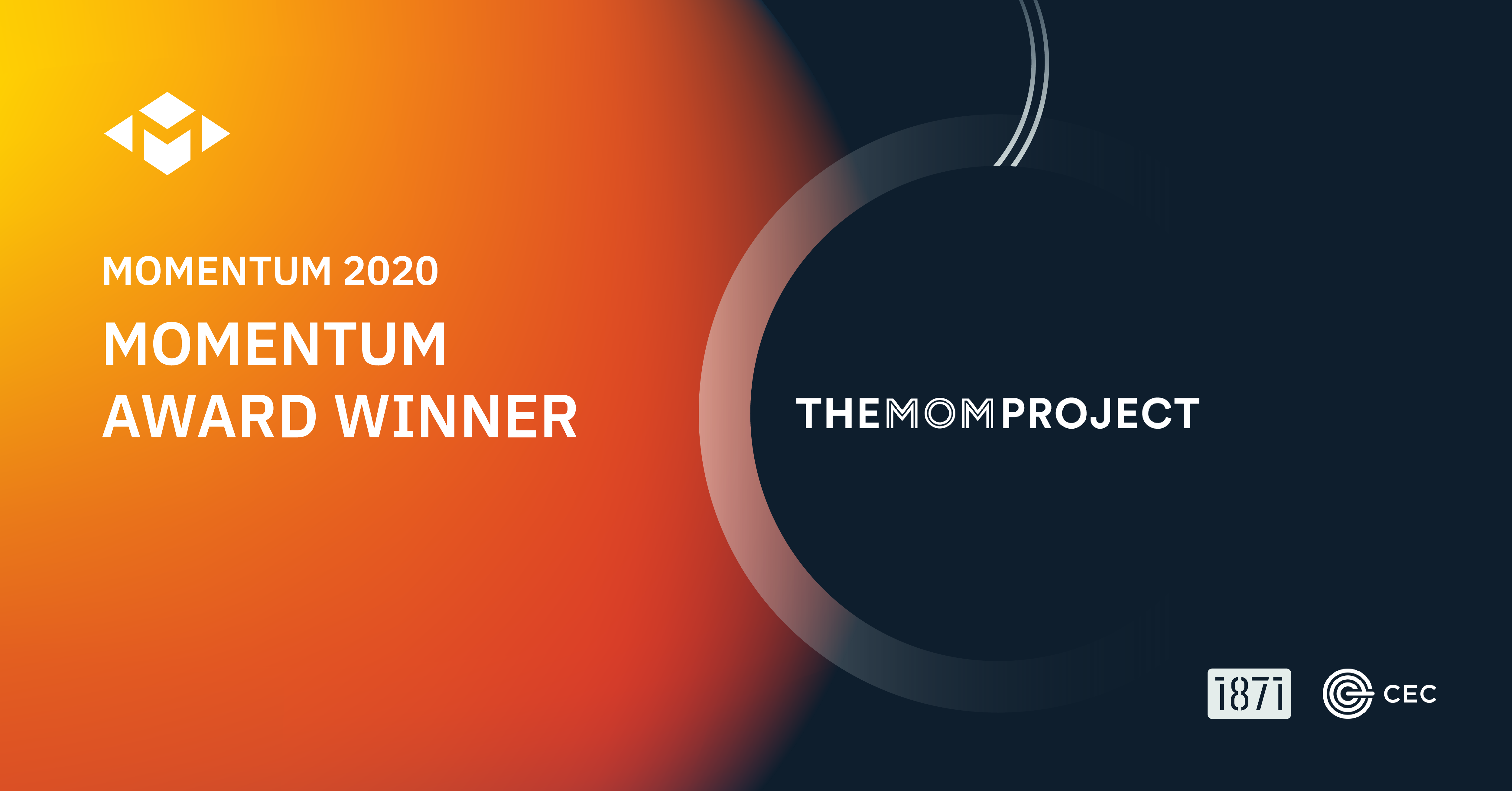 The Momentum Award was presented to The Mom Project for building a better workplace and their unique business approach that has led them to a fast paced growth trajectory, raising over $36MM to support 275,000+ users.
The Mom Project is an online platform that helps connect viable female candidates to employers with open positions—taking a special interest in helping moms who left the job market re-enter the workforce. Its platform has amassed over 2,000 companies.
The 2019 Momentum Award (1871) went to Cameo.
2020 CITYLIGHTS AWARD: LIVONGO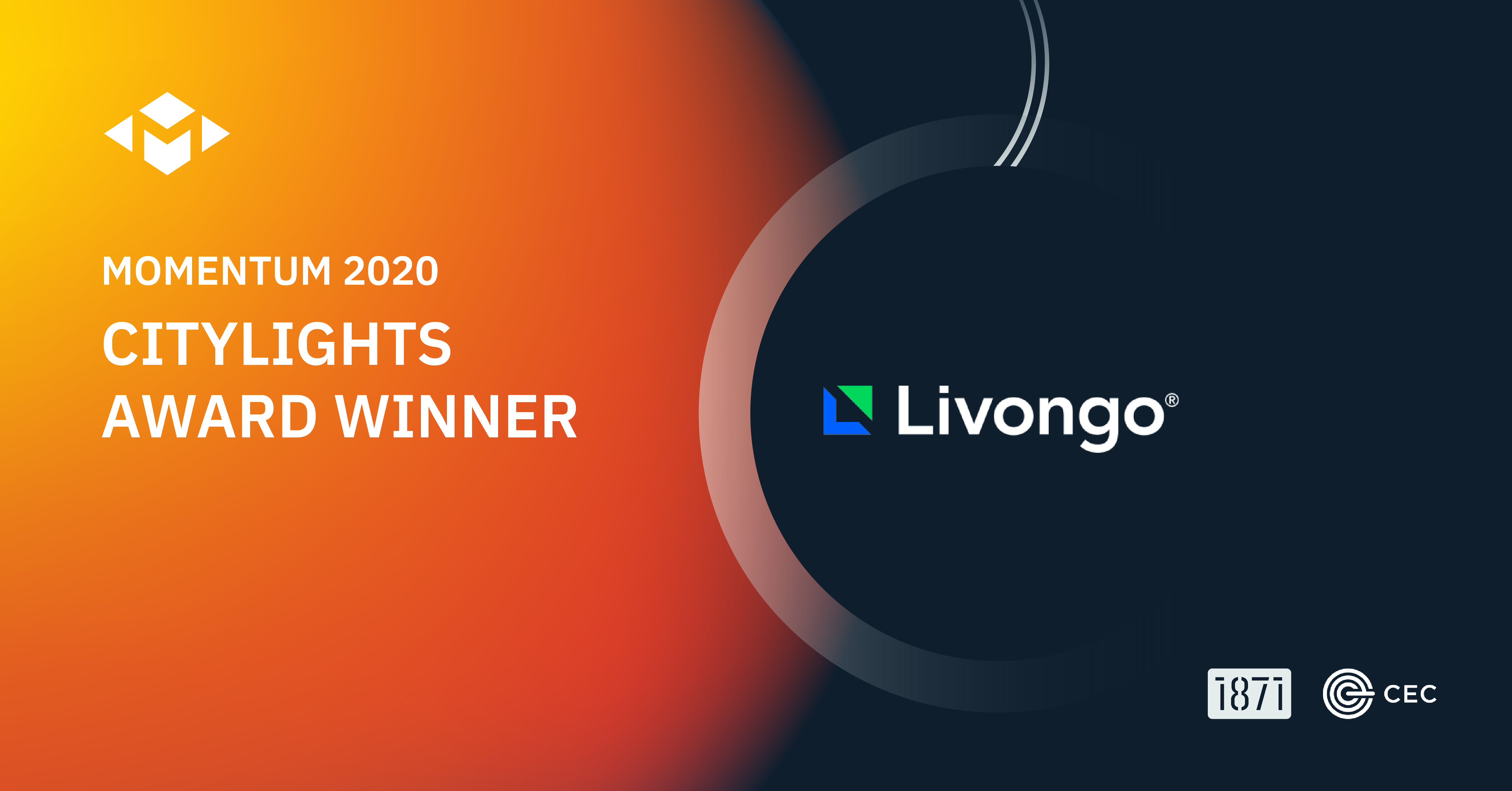 The CityLIGHTS Award was presented to Livongo for their continued scale and impact as a growth-stage company in the preventative and holistic healthcare industry.
Livongo is a whole person platform that empowers people with chronic conditions to live better and healthier lives, beginning with diabetes and now including hypertension, weight management, diabetes prevention, and behavioral health.
The 2019 CityLIGHTS Award (formerly the CityLIGHTS Awards' Lighthouse Award), was Showpad.
"What an extraordinary evening. I'm proud to add these 7 winners to our history books", said 1871 CEO Betsy Ziegler. "These leaders and organizations are emblematic of the tremendous daily impact of the tech and innovation community here in Chicago. They have set the bar for the rest of us and the Momentum Awards serves as a wonderful reminder that we have much to celebrate and so much to look forward to"
The 2020 Momentum Awards winners represent the best of the innovators, accelerators, and growth-scalers of the Chicago tech ecosystem. It is the convergence of these individuals and organizations within 1871 that make it an incredible catalyst for business development.
View all Momentum 2020 award finalists and judges who lead up to the selection of the winners above.
ABOUT THE MOMENTUM AWARDS
The Momentum Awards, now in its 13th year, is a yearly celebration of the Chicago technology community, attended by the best and brightest tech innovators, corporate leaders, and civic supporters. It is the largest gathering of the tech community annually and the primary fundraiser for the CEC, which supports the activities and operations of 1871.
To mark the first year of a combined awards program with the historical CityLIGHTS Awards, previously hosted by the Illinois Technology Association (ITA), and the tight integration of tech into our daily lives in 2020, the Momentum 2020 awards theme was FUSION.
FInalists in all seven categories were selected from the largest pool of nominees yet, at 212. Nominees were generated through public nomination and then deliberated on by 100+ judges who span Chicago's business and innovation sectors. The finalists for three awards—the CityLIGHTS Award, Outstanding Tech CEO Award, and Industry Disrupter Award—were also opened up to public voting. The finalists for the Rising Star Award and Momentum Award were deliberated upon by 1871's Board of Directors.
This year's awards were completely virtual, with a combination of live and produced segments, resulting in the most unique version of the Momentum Awards that has ever existed. From pre-event experiences such as a visit with the Lincoln Park Zoo and an improv show with Second City to a post-event DJ set, the program was a complete end-to-end experience. Attendees were regaled with surprise celebrity appearances courtesy of 1871 Alumni company Cameo and performances by local Chicago musicians.
Sponsors this year include Aon, Discover, and a host of other industry leaders who can be seen here.
The 14th Annual Momentum Awards will take place on September 23, 2021.
ABOUT THE CEC
Founded in 1999, the CEC is a non-profit organization that supports entrepreneurs on their path to building high-growth, sustainable businesses that serve as platforms for economic development and civic leadership. Its flagship project, 1871, fulfills CEC's vision of a central address for entrepreneurs in Chicago. The CEC runs and operates the workspace, develops programming, organizes events, and ensures that the culture of 1871 allows entrepreneurs the greatest opportunity for success
ABOUT 1871
1871 is Chicago's technology hub and the #1 ranked private business incubator in the world. It exists to inspire, equip, and support founders, growth-scalers and innovators in building extraordinary businesses. 1871 is home to ~450 technology startups, ~300+ growth stage companies, and ~1,500 members, and is supported by an entire ecosystem focused on accelerating their growth and creating jobs in the Chicagoland area. The member experience includes virtual and in person access to workshops, events, mentorship, and more. The nonprofit organization has 350 mentors available to its members, alongside access to more than 100 partner corporations, universities, education programs, accelerators, venture funds and others. Since its inception in 2012, more than 650 alumni companies are currently still active, have created over 11,000 jobs, and have raised more than $1.65 billion in follow-on capital.