Do you ever wonder how companies starting from scratch become successful? 1871 member and CEO of Digital Authority Partners Codrin Arsene sheds light on the good, the bad, and the ugly of building a multi-million dollar business.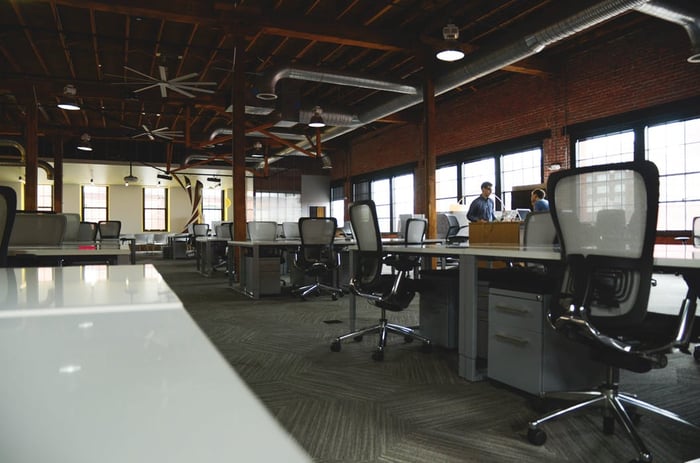 Guest Author: Codrin Arsene, CEO, Digital Authority Partners
Are you an aspiring entrepreneur in the early stages of your company? Working to graduate from small business status to a medium-sized business? Maybe you are just trying to increase revenue. If any of these sound like you, then this article is for you. If you read everything below, you will learn the effort, challenges and opportunities one of your peers faced, as well as how each hurdle was successfully overcome.
For years, I've been writing about the entrepreneurship world from different roles and perspectives: journalist, media consultant, brand consultant, and as an expert interviewed by various outlets on different aspects of entrepreneurship.
In all these writings and interviews, I was never able to provide a first hand account of all the factors that go into building a successful business. As I grew my company, I wished someone else had taken the time to truthfully lay out everything they had to deal with so I could at least prepare myself for what might come up next. Here is my best (and honest) assessment of the good, bad, and ugly of successfully building a company, from idealistic conception to the sometimes harsh reality..
I was born in Romania and came to the United States on a full scholarship to attend the University of Chicago, where I received both my bachelor's and master's degrees. . Right after graduation I began work in the corporate world at several Fortune 500 companies. As an immigrant, I was primed to see the United States as the Land of Opportunity for those who work hard.
In 2016, Digital Authority Partners was formed over a lunch break among three minorities: two immigrants and a woman. We all wanted to do what we thought we were best at, outside of our then place of employment. In only 2.5 years we went from part-time to full-time. Along the way we added 41 employees and freelancers from all over the US and are projecting $3.5 million in revenue for the current fiscal year (ending May 30, 2018). We are very lean with very few liabilities. As we begin 2018, Digital Authority Partners has never been in a better place: The company pays 100% of the medical insurance coverage for our employees and their domestic partners, provides 4% 401k matching, and offers commision to all employees who help the company land a new client (from 3% to 10% of the deal size).
Usually, such success stories are about what a wonderful experience it was to begin and own one's own company . Sometimes they are about the opportunities for improvement. We all subconsciously bury the bad and ugly stuff that companies are bound to experience in the course of their early years. I know I do!
This, though, is our ungarnished story, the wins and, perhaps most importantly, an exploration of the less glamorous experiences and excruciatingly difficult growing pains we've endured.
Not everyone will find themselves in every aspect of this account. Each company's path to success, or failure, is different, but there is one factor of which I am convinced (and which my last 12 years in this country have only validated): if you work hard, team up with the right people and do your best,eventually good things will come to you!
Foundation
Digital Authority Partners helps To us, it's not just about building top rated apps or getting social "likes" (although we do that quite well). What really inspires us—what drives us—is the challenge of building digital products and interfaces that people love to use. Whether you're a startup wanting to build the next great app or an established enterprise needing to digitally transform, we've got the know-how to get you where you need to go. We work with companies in many different industries, but our primary focus is on ecommerce digital transformation, healthcare, and financial technologies. In short: if your digital product isn't performing as expected, we will fix it. The need to fix a digital product —whether it's a website, mobile app, or Internet of Things product — can happen at multiple stages in a product's lifecycle. We can make improvements at any point.
Some clients come to us with an idea and we shepherd them from that idea through its execution (typically defined as the launch date). Other clients come to us because they were told a product they built won't perform well with their target market. We are then tasked with creating quick fixes, usually within a couple of months before a product is launched. Finally, there are enterprise clients who may come to us because they have inherited non-performing teams, technologies and products. These clients (i.e., Vice Presidents of Product Management, Marketing, or Technology) typically have big dreams and ambitions. Without our help it may take them a long time to get even a small win. Our job is to vastly increase their odds.
Although we operate within a wide scope, a simple, one sentence description of DAP is: a company that helps Silicon Valley startups, mid-market SaaS companies and other enterprises build engaging digital products that wow and delight customers, increase revenue through online channels and reduce the cost of service. That's what we do for our clients. It is our external looking purpose and drives the integrity of our modus operandi.
We also have an internal philosophy. Our culture is predicated on the premise that to be successful you need to really hustle and do well by the people you meet: co-workers, clients or even random people you meet on the street. That's who we are.
That is the present picture. Here are excerpts from the bumpy road traveled to get there.
The Good
DAP started as a delivery implementation partner for other agencies. That means our business came primarily from other agencies who needed to supplement their team with our expertise.
The dream of every owner is to grow the business while improving its reputation. A company is not about a person; it's about a brand. There is a built-in classic chicken-or-egg dilemma in this process: you need business to grow your reputation and you need a reputation to grow your business. My original vision was to dedicate our first 2-3 years to forging strong partnerships with other companies that could use our services.
As luck would have it, I had an early start. I was already working with three companies in a freelance capacity when I incorporated DAP. Two of the three companies promptly started doing business with DAP and offered us additional work. We are still in talks with the third one about the best ways to partner in 2018.
Today we have seven agencies that white-label DAP services. These are mobile app development companies, mobile app marketing agencies, advertising agencies, ERP service providers and one analytics agency. Three are headquartered in the US, one is in Eastern Europe and three are in India.
When we go after a client, we create a joint proposal. DAP is in charge of the final design of the sales pitch, the strategy components and some high level design. The agencies bring in their own expertise, business justification and client list. Together we win contracts.
The great part of this approach, of course, was that right after DAP was incorporated, we already had 3 clients and 40k in monthly revenue. Today, agency partnerships account for more than 50% of all revenue and thus provide predictable revenue to us.
We got the right people to launch.
When DAP started, we primarily focused on content strategy and marketing. For some years, I had supplemented my income as a digital strategist by helping other agencies create compelling case studies, original content and thought leadership for their staff. This was very lucrative; I nearly doubled my full-time salary in this way. Wanting to be at least somewhat safe in an unsafe business, I did not stray far from what I knew best.
However, as we started to pick up new work, our clients made additional demands requiring other resources. Having been in the industry for a long time, it was quite easy to bring people in on a part-time basis. Unfortunately, even though we had just the right mix of motivated, smart and dedicated people, delivering on promises with only a part-time staff was really, REALLY difficult.
From the very start, our clients were impressed with the quality of our work, and we were rapidly propelled into more business. The mental and physical effort required for this small, mostly part-time crew to deliver on our expanding obligations was tremendous. Thus began the the merry-go-round of staffing challenges. As a result, the multifaceted problems related to human resources occupies much room in this article. We handled some aspects astonishingly well, considering our inexperience. With other elements, we clearly suffered through an incredibly steep learning curve.
We had the right skills for all the services we provided.
Within three months of starting the company, we began to include new services. In that time, what started as 100% of the business (content strategy/ SEO/ marketing) quickly shrank to comprise only 20% of our revenue. That percentage is still the same, 2.5 years later. The bulk of our revenue comes from product management, design, and analytics services.
Since we were already working within the digital industry, my partners and I were in a very good position. Instead of trying to recruit new people off the bat, we simply went to the people we knew could deliver. These were former or current co-workers who had proven their value, and who were hard-working, motivated and driven.
Our first 11 hires were all people with whom I had previously worked. Nine of them are still with us. We parted with two of them because, although they worked well in a corporate environment, delivering in a more consulting-oriented role proved difficult.
The high quality of all our services was a constant thread through our interactions with clients. Invariably, clients were thrilled with the results and they continued to give us more business. We typically average 4-6 assignments for every client that hires us.
Hiring: Promise vs. reality
Before starting DAP, I was put in the uncomfortable position of having to fire people due to performance issues. This happened eight times over the past ten years. Five of them were full-time employees (so I had to deal with Performance Improvement Plans and micro-management of those resources until the PIP was completed). What struck me most about all these people was how good they had appeared on paper.
One employee seemed amazing–until we hired him. He regularly fell asleep on the job. . Another employee had more than ten years of experience in the field, but the second I stepped away from my desk she disappeared for hours. She literally snuck out and did nothing every hour I was in meetings. A third person claimed to "work from home" but basically did nothing all day. As a result of these experiences and similar ones, I absolutely do not trust resumes; people lie. I do not even trust interviews, as people are often trained to say what they believe their interviewer wants to hear.
Hiring: New and improved!
When we finally had to expand beyond the people we knew personally, we decided to create a new strategy for hiring employees. All applicants are sent a link to a Google form that includes a list of tasks that have already been completed by a DAP employee. . Now, this isn't your typical behavior-based interviewing; this is the applicant competing against past work actually performed by another person on the DAP team.
Recently, we hired a marketing analyst using this methodology. We received over 400 applications for the position. After we sent the test, we received only 80 replies. Each submission was independently judged by 4 people who rated each assignment from 1 to 5. We only interviewed the people who scored highest.
Remarkably, the person who earned all 5s across the 4 tests would, under other circumstances, never have made it to an interview because her previous experience was not in marketing. However, when it came down to the ability to do the work, she performed better than all other candidates - some of whom had ten or more years of experience.
With our methodology - background is irrelevant, the resume is obsolete. You must show us whether you can do the job. Using it, we've hired a small team of stunningly talented people. They have backgrounds representing myriad types of work experience, but they were all hired based on their potential in the tests they took. Amazingly enough, most of those we hire this way actually do better work than other full-time resources in the same field!
A team of professionals with shared values
The way we hire people, how we treat them and how we work with them, has resulted in a team of employees who share similar values. The importance of this achievement (probably the biggest achievement for our organization in my book) cannot be overstated.
Consulting isn't for everyone. It's hard work. And there is a tremendous amount of uncertainty. You start with a premise and end up with a totally different product. Worse, you can end up with no product at all. Still worse, your business or employer can suddenly go belly up. Having people who can both do the job and deal with the mental pressure of the role is one key to becoming successful.
In truth, it's a prerequisite.
That's why a person who completes the application test and participates in an interview is asked the same questions they would have to answer if they worked for us.
These are hard questions -- the type that put you on the spot, in a difficult position.
To us, it's all about having the character, the values and the strength to deal with the consulting life. This work isn't for the faint of heart. There are unreasonable requests, changes of strategy, conditions that endlessly change from second to second. To be successful, we can only hire and work with those who can both do the work and withstand the pressure of the job. Additionally, they must share our values:
If you do something, do it well.

We work hard, but don't take ourselves too seriously.

Each of us is 100% personally accountable for assigned projects and tasks. No micromanagement, no hand holding.

We work well in a team or alone. No one watches your every move.

We always deliver on time (or at least do everything possible to reach our targets).

We know when to ask for help and when we can find an answer on our own.

We are nice to everyone we meet.

We know and act with the understanding that we can only win as a team.

We don't play politics. Everything we say and do is for the best of the project, the client, and DAP as a company.
This was Part 1 of a three-part series. Stay tuned for Part 2: The Bad, and Part 3: The Ugly.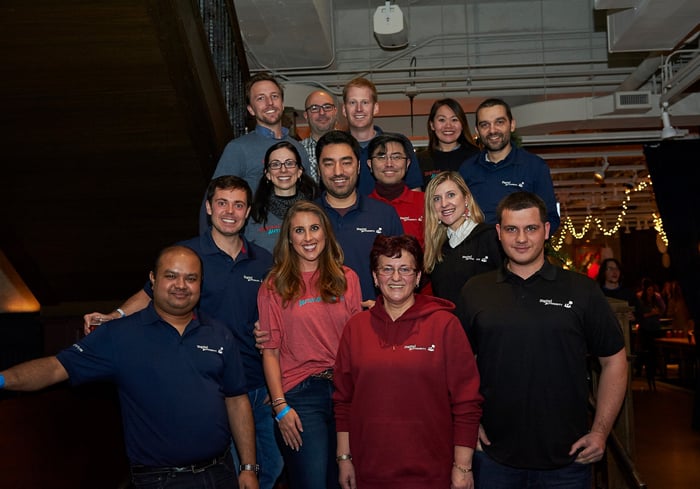 The Digital Authority Partners team.

About the Author
Codrin Arsene runs Digital Authority Partners, a digital strategy and product development company headquartered in Chicago, Il. Originally from Romania, Codrin received a full scholarship to attend the University of Chicago, where he received both his bachelor's degree (with honors) and his master's degree. After working in corporate America for several years, Codrin saw that many companies under delivered on their digital initiatives. He founded Digital Authority Partners to help startups and enterprises adopt new and exciting technologies to solve complex problems. Digital Authority specializes in today's most critical business needs, including: AI, digital strategy, product development, UX/design, and analytics.
As more and more businesses have begun to realize the importance of digital transformation in their quest to stay relevant, Digital Authority Partners has expanded into a multi-million dollar business. Codrin loves helping companies succeed, and lives his life according to Floyd Mayweather's famous quote: "A true champion can adapt to anything."
The opinions expressed here by 1871 guest writers are their own, not those of 1871. To learn more about Digital Authority Partners and how you can build a successful business, follow this link.