1871 recently held its fourth Fintech Forum, presented in partnership with Capco, to showcase thought leaders in the fintech space and increase interactions between 1871 startups and corporate partners around the topic of automation. The latest Fintech Forum, held on January 19th, discussed the arrival of automation to our current workforce — is it everything that we expected it to be?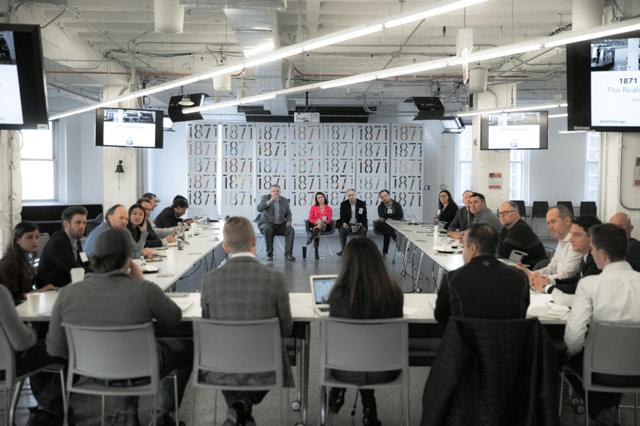 The Fintech Forum featured an expert panel comprised of Sarit Markovich from Northwestern's Kellogg School of Management, Sean Chou from Catalytic, Paul Fahey from Northern Trust, and moderator Daragh Fitzpatrick from Capco. Thanks to our panelists and moderator, the forum facilitated a robust discussion that spanned the benefits and common pitfalls of automation, and perhaps most importantly, the impact of automation on the workforce.
Here are a few key takeaways:
No shoring is becoming increasingly popular.
According to Fahey, "automation can be described as what a human does today except it is done better, faster, and cheaper." Corporations are increasingly reverting to no shoring practices — meaning that processes that were previously offshored or outsourced are brought back home, but are automated rather than fulfilled by employees. "Nirvana," as described by Fahey, is finding the sweet spot between onshoring, offshoring, and no shoring through automation.
Automation can have pitfalls.
There's no denying that, in today's environment, corporations that fail to invest in the automation of certain processes place themselves at major risk. However, there are certainly pitfalls around automation. Markovich pointed out that automation could inadvertently create biases in the workplace that may not have existed before. In her research at Kellogg, she observed that, in the peer-to-peer lending space, women were having a much harder time raising funds than their male counterparts due to biases created by automation.
In addition, automating just for the sake of automating can have its risks. Instead of investing in a specific technology platform, corporations should initially focus on designing foundational building blocks and frameworks. Having these foundations in place will allow them to build reusable assets which can then be used to create efficiencies in the future.
Automation can leave more time for strategic thinking.
Chou mentioned that automating inefficient processes could free up extra time for an organization's expert employees who could re-prioritize that time to optimize additional processes. His company, Catalytic, helps major corporations automate routine processes through bot technology. Stepping back from daily, repetitive tasks will give your employees the ability to think more strategically and see the bigger picture.
As automation starts to free up more time for employees, employers could run the risk of decreased employee engagement. To this point, it was recommended that workforce composition should not be evaluated in terms of the number of jobs; rather, it should be gauged in terms of the number of capabilities or skill sets that employers can apply to various business challenges and projects.
The Fintech Forum is an ongoing series that promotes a closer relationship between the innovative startups and the 1871 corporate partners within the fintech and financial services space. To join the conversation, contact bizdev@1871.com