As Artificial Intelligence continues to advance, robots continue to increase their prevalence across industries and companies of varying sizes, including many startups. Robotics continue to surge in their industrial markets, with a market projection of 71.7 billion dollars by 2023, at a compound annual growth rate of 9.4% over the next 5 years. The increasing availability of low cost and readily implemented robots has increased the non-conventional application of industrial robotics. One sector responsible for the continued increased demand is the use of robotics in startup production and workflow. In this guest post, Irving Wittenbur of DO Supply talks about how robotics can benefit small businesses.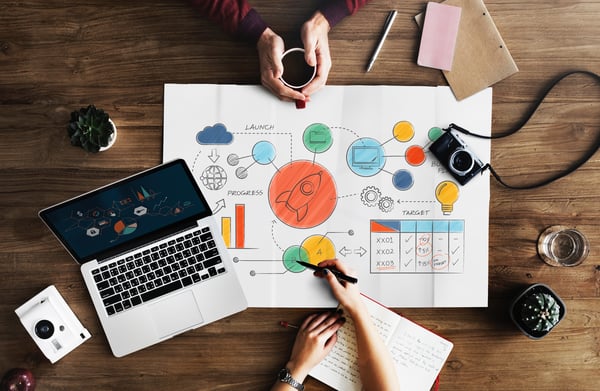 Guest Author: Irving Wittenbur, Staff Writer, DO Supply
Collaborative robots are specifically increasing prevalence in manufacturing and startup companies. While collaborative robots cannot perform some of the heavy-duty tasks associated with industrial robots, their ability to complete complex tasks alongside the human workforce is responsible for their increasing popularity. Implementation allows startups to compete with large competitors with high production capabilities. Benefits include fast integration, ease of use, and relatively low initial investments allowing startups to quickly realize their ROI.
A recent case study analyzed the integration of robotics into the manufacturing at U.S. startup Lowercase, an eyewear company. Automation included a collaborative robot which was easy to program and provided flexibility as the company grows to change its use, speed, or types of movements. Integration was done in under a week and is consistent in its accuracy across the 17 different eyewear styles currently offered. The automation solution is used to pick up raw materials, load into the CNC machine, close the door, press the button to start cutting, repeats in another position, and then places the cut glasses into a bucket before shipment. Every batch average is a production of 500 units and allows for labor costs savings and increased accuracy even at a relatively small production volume.
Voodoo Manufacturing creates 3D-printed models and was able to triple their production output by implemented a robot with a gripper attachment. The collaborative robot arm harvests and places plates into the 3D printers, pulls out the models, and can set the printer to continue working. The teach pendant allows employees to program the robot quickly to complete a variety of tasks as the statement of work changes. This low-cost solution pays for itself within the first 6 months of use and allows for round the clock production and a large increase in productivity and accuracy.
Robotic Process Automation (RPA) is an application that allows robotics to manipulate data, communicate with workflow digital systems, or process transactions. RPA allows a robot to interact with digital systems to execute tasks just like a human would. The solution allows for automation at a fraction of the cost and time when compares to other automation tool and can be merged with existing infrastructure for easy integration and fast results. Applications include making calculations, processing invoices, reading and writing to databases, and many others. Applicable industries for RPA are numerous. Benefits include better accuracy, ease of scalability, fast benefit realization, and increased productivity. Utilization of RPA in startups can handle routine jobs that don't require critical thinking skills – giving startups a low-cost solution for accomplishing a large array of office tasks.
One routine task that RPA can be applied to is content generation. Startup Hero Sports utilizes machine learning technology to generate robot produced stories. The software creates sports news content by using machine learning technology and reducing the per-article fees previously paid to sports writers. The data fueled technology analyzes search engine data to draw in historical data and can even preview stories for upcoming games.
One of the startups working to develop RPA is UiPath, a 2012 New York based startup with over $408 million in funding. UiPath boasts robots with the capability of automating 99% of tasks by leveraging third party technologies with automation to give the robots "eyes" to read screens. Processing screen changes in less than 100 milliseconds results in RPA four times faster than other market solutions. Applications span multiple industries including manufacturing, retail, healthcare, insurance, and finance. They estimate 2,500 automated processes with 10,000 hours saved monthly by the end of 2018.
In addition to utilization of robots by startup companies, many startups are working to create robots for business incorporation. Small robotics startups are a solution to costly industrial robots and fill the gap by allowing other startup manufacturing companies to implement low cost and flexible production solutions. Californian startup Grabit uses electroadhesion grasping technology to serve manufacturing industries to put together products in apparel, automotive, warehouse, and electronic industries. Quanergy offers smart sensing solutions by providing sensors and perception software for object detection, identification and tracking. Auris Health develops robotic microsurgical devices for use in ophthalmic procedures. Medrobotics develops a robotic system to aid physicians in reaching locations that could not be reached minimally invasively prior. Boston based 6 River systems builds collaborative robots for use in warehouses to accomplish basic fulfillment tasks.
For startup companies, time and money saving initiatives are imperative. Robotics can be utilized to automate startup company processes to allow for increased productivity and accuracy, allowing small companies to compete with much larger companies due to the flexibility. RPA can be integrated to convert quotes to proposals, track time for invoicing, invoice business partners, and complete inventory management. Industrial and collaborative robots can automate manufacturing processes to increase production speed and accuracy while reducing cost. With advancements in artificial intelligence technology, the automation of workflow processes will become increasingly relevant in startups aiding in market competitiveness.
The opinions expressed here by 1871 guest writers are their own, not those of 1871. To learn more about DO Supply, follow this link.