On March 8th, 2018 -- powerful women from around the nation gathered at 1871 to participate in a full day of events, workshops, and panels that served to educate, inspire, and empower women across all industries. The event marked 1871's annual commemoration of International Women's Day and covered relevant topics for women in business such as authentic leadership, professional development, and gender equality. We've put together some highlights from the event in case you missed it, or you can follow this link to see all of the photos from this year's event.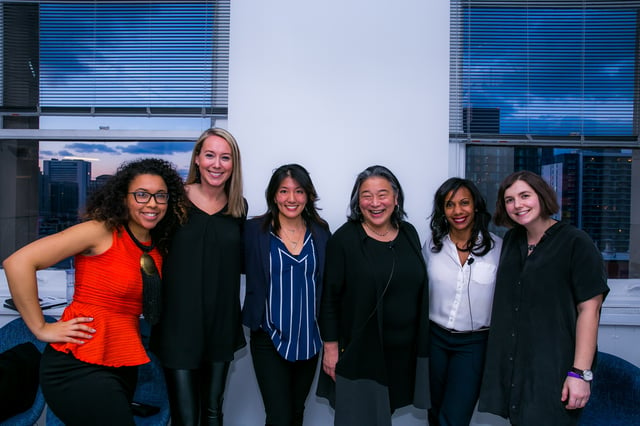 The women of 1871 take a photo with Tina Tchen, former Chief of Staff to MIchelle Obama and Executive Director of the Obama Administration's Council on Women and Girls, and Natalie Moore, WBEZ Reporter and accaimed author.
There's no doubt that gender equality is on the rise across the United States -- however, the fight for parity is far from over. To celebrate the efforts and achievements made by women in the workforce, 1871 hosted an all-day event on this year's International Women's Day to educate, empower, and inspire women in Chicago. Here are some the unforgettable moments from yesterday's event.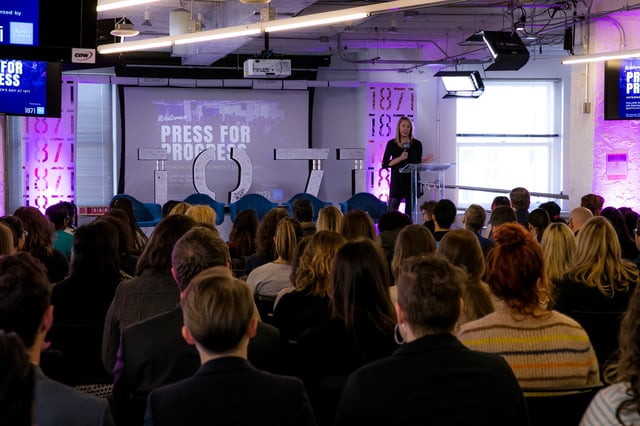 1871's Jeanne Reidy provides her welcoming remarks to a packed auditorium.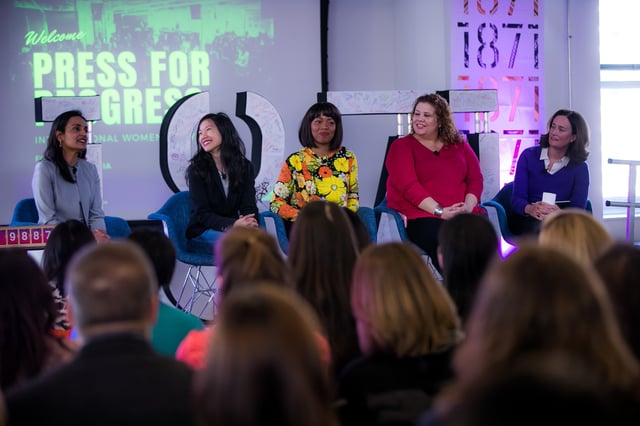 The event started with 'Lift As You Climb,' a morning panel of women thriving in fields traditionally dominated by men. From L to R: Smita Shah, Beverly Kim, Keisha Howard, Julie Dicaro, and Mary Rosai.
"You're going to find men who push back against women networks and I think you're going to find men who will embrace them. You're going to find people who support women and people who won't. It doesnt matter -- take the steps that you need to take and don't worry about what anyone else is saying." – Smita Shah, President and CEO, SPAAN Tech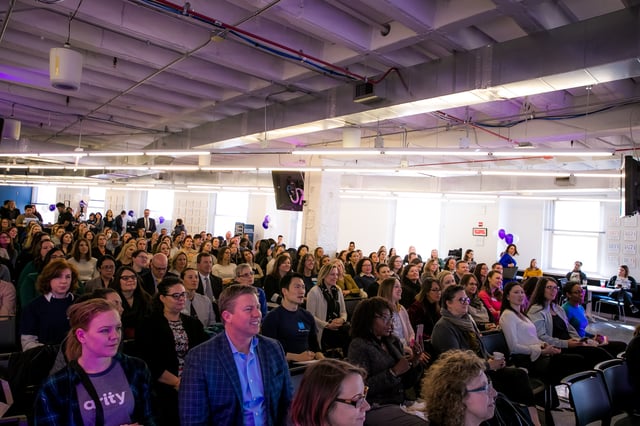 A captivated audience listens as the morning panel of women trailblazers share their tips and takeaways as entrepreneurs in male-dominated industries.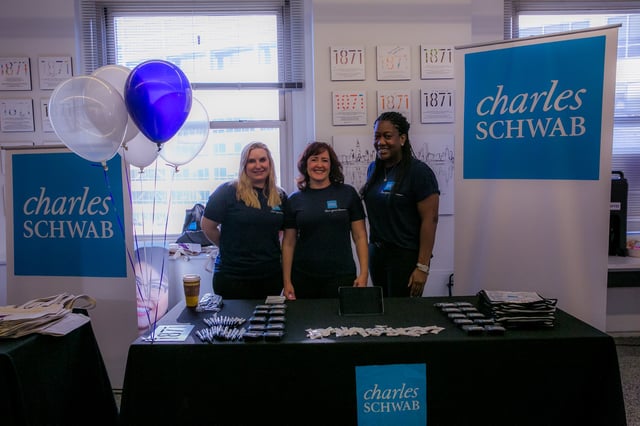 National Brokerage Firm, Charles Schwab, partnered with 1871 to launch this year's International Women's Day Event.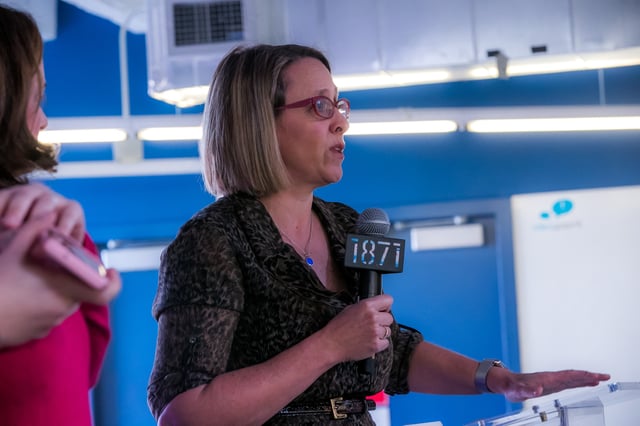 Betsy Ziegler, Chief Innovation Officer for the Kellogg School of Management at Northwestern University and 1871's incoming CEO, spoke about the importance of diversity in the tech and entrepreneur communities.
I'm extremely proud to be joining 1871 because its an organization that has always been extremely committed to pushing diversity and inclusion, and I'm excited to help more women grow and flourish in the tech sector." – Betsy Ziegler, Chief Innovation Officer, Northwestern University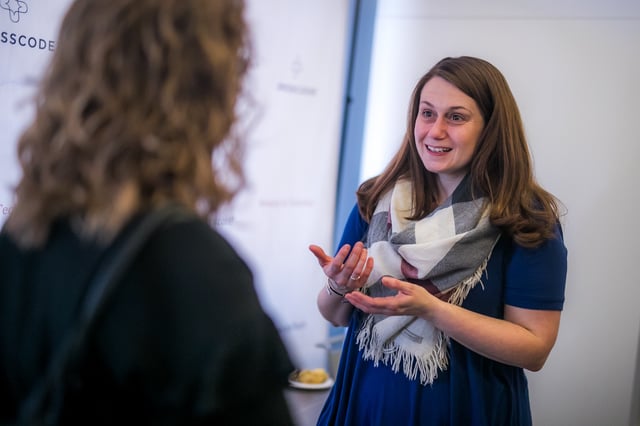 Kayte Malik, Founder of Dresscode Tech and recent graduate of 1871's sixth WiSTEM cohort, showcases her STEM bracelets during the event's Maker's Fair.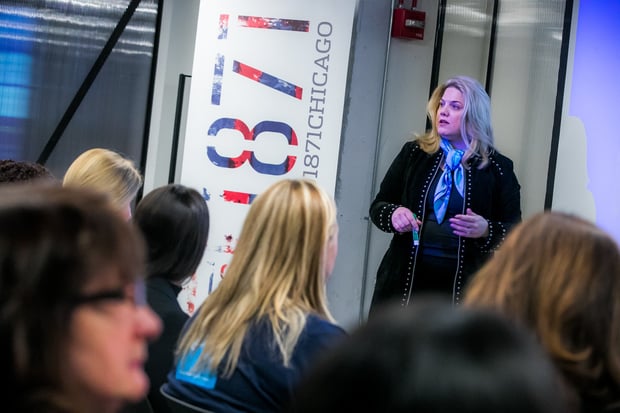 During the event, attendees partcipated in workshops that focused on entrepreneurship and professional development for women in the workforce.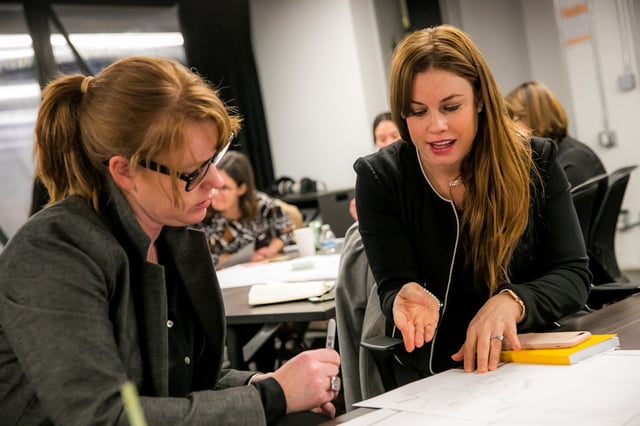 Attendees shared professional tips and takeaways throughout the day's interactive workshops.
"As women, we have to to take as many opportunities as we can get. You don't get to where you want to be by waiting -- if you want to launch an amazing career then you have to be proactive. You have to say 'yes' to any potential job opportunity because you don't know where you might end up." –Julie DiCaro, WSCR 670 The Score, Host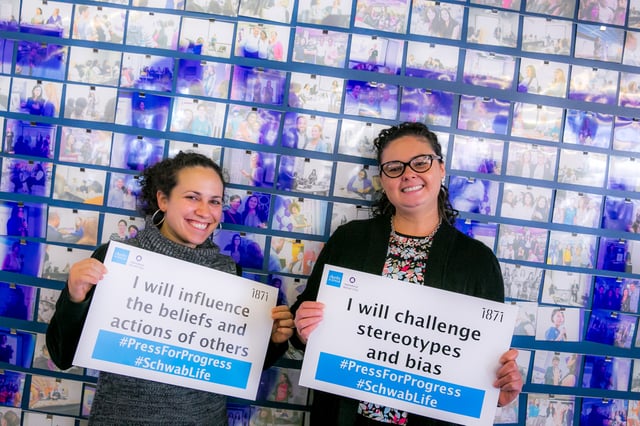 Attendees stopped by the International Women's Day photo collage to show their support for women in the workforce.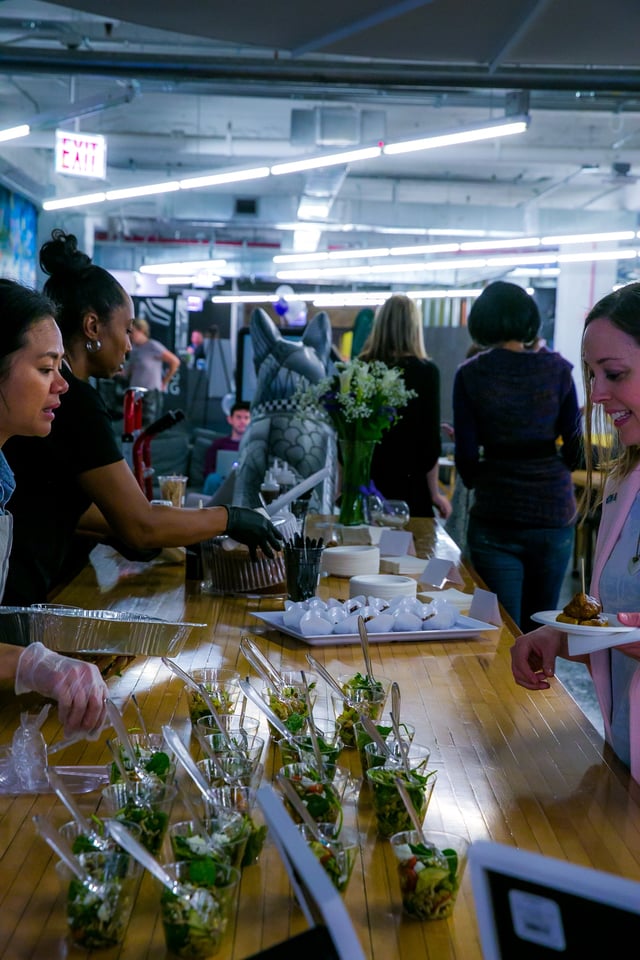 The event was catered by women-owned businesses from 1871's ChiBuys program, which supports women and minority-owned vendors in the Chicagoland area.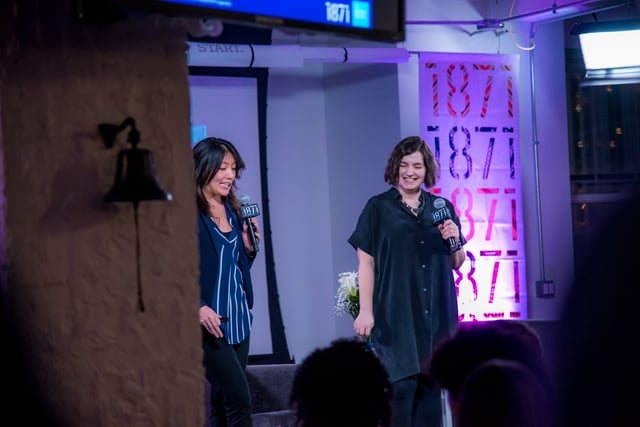 Later on in the day, 1871's Vanessa Yeh and Kat Rokhlin took the stage to introduce the event's headlining event, a fireside chat with Tina Tchen.
"So many women here are speaking up and out about the things that matter to them. We're not just talking about how women can secure higher salaries, but also about how to get more respect day to day and how to have your voice heard -- and that's very, very exciting." – Vanessa Yeh, Vice President of Brand, Marketing and Communications, 1871.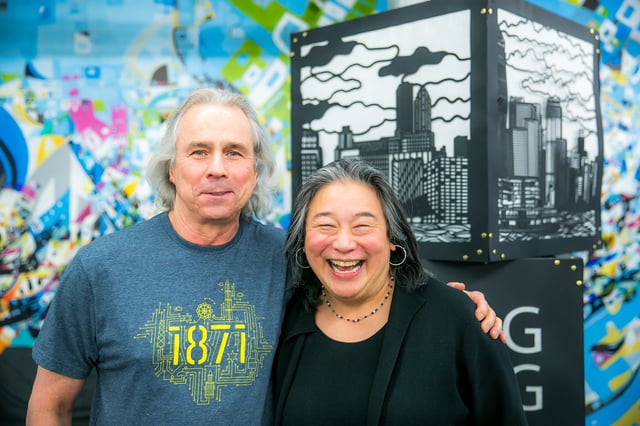 1871 CEO Howard A. Tullman takes a photo with Tina Tchen before her presentation.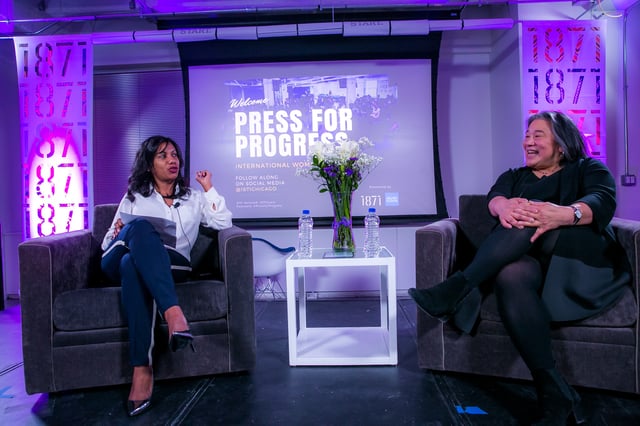 WBEZ reporter Natalie Moore interviewed Tina Tchen for an inspirational fireside chat that touched on relevant topics including the #MeToo movement, women in politics, and gender parity in the workforce.
"The biggest lesson I've learned about being a woman at the business table is that no one will care more about your career than you. Don't make the mistake that your mentors or partners will take care of you -- you've got to take care of yourself, and you've got to advocate for yourself. You can't sit back and just assume that you'll be recognized for your merits without speaking up about them, and you have to say what's on your mind -- even when it's hard. The best advice that I ever heard was 'be brave' which came from Michelle Obama." – Tina Tchen, Chief of Staff to former First Lady MIchelle Obama and Executive Director of the Obama Administration's Council on Women and Girls
In addition to International Women's Day, 1871 has launched major initiatives to empower Chicago's women entrepreneurs and business leaders including ChiBuys, a first-of-its-kind program supporting women and minority-owned food vendors, and WiSTEM, an accelerator program for women entrepreneurs.
Interested in more happenings at 1871? Check out our Upcoming Events calendar.