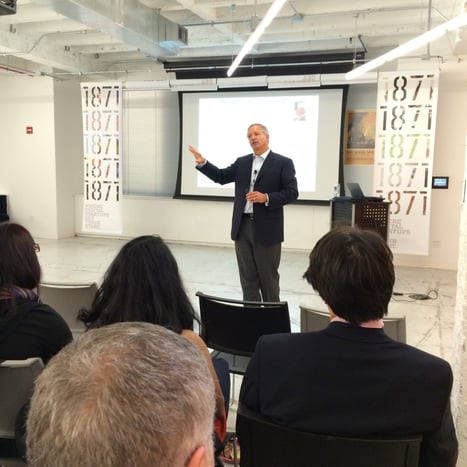 Monday night, the CEC and 1871 welcomed digital leader Mike Cote of Dell SecureWorks, for another great "Talks at 1871" event.
As the VP & GM of Dell SecureWorks, Mike shared his story of the leading drivers that led their small company that was quickly approaching bankruptcy to ultimately be acquired with a multi-million dollar deal by Dell.
He started with his background as a CPA and noted that he'd never been a CEO before taking over SecureWorks. However in his history, he'd negotiated the sale of two companies -- one at $360 million and the other at $65 million. He'd also completed 41 acquisitions worth $1.6 Billion. (Yes, that's Billion with a B.)
Coming from a family of entrepreneurs, Mike said he loves a challenge. It was this trait that ignited his original attraction to SecureWorks, along with a strong interest in the security industry, starting with a small pool of only 50 clients, and the impressive investor group associated with the company at the time.
Mike took over his role in February of 2002, knowing that only $9.5m out of the original $30m the company had previously raised, remained. With a monthly budget of $900k, it was indeed a short runway. He needed to quickly turn around the company or they would shut down.
Cote felt like he was "building a family business with strangers." He took immediate action to interview every employee. And, despite their current positions, he would ask, "What are you good at?" and "What motivates you?" This action of finding individuals' best talents and passions and putting them there to perform, fueled success and passion as part of their corporate culture.
Momentum was built by getting people to believe in what they could do and making sure the customer believed too. They held training sessions every morning, so staff fully understood the capacity of their positions.
This ultimately led to the creation of a culture of winning.
Numbers were up dramatically. Success was evident, and Mike then received the call of his career at SecureWorks...on a golf course. This call was from Michael Dell and he wanted to make a deal.
And so, 44 days later on December 31st, the merger agreement was signed.
Mike contributes the success of turning the company around to several factors:
Find your management style and stick to it. His included transparent and open communication and stressing the idea that "the enemy is not in the room". Get ahead of internal conflict the right way.
Make sure you're not focusing on one direction of your business. Once the data center went down for 3 days because he'd been spending so much effort and time on marketing and sales. Without the data center, they couldn't make those sales.
It's all about the people. Company culture is a huge factor in the success of a business. Getting the right people in the right place is key.
Mike Cote's closing thought...
"Leaders drive values. Values drive behaviors. Behaviors drive culture. Culture drives performance."