Last Monday, the CEO of Twitter, Dick Costolo, paid 1871 a visit when he was in town for a speaking engagement at the Economic Club of Chicago. Dick is a great Chicago entrepreneur having started a number of companies - including Feedburner which was acquired by Google - along with folks like Eric Lunt, who is now CTO of local growth company, BrightTag.
We showed Dick around the space and shared a bit about the resources available at 1871 for the 200 startup members. He connected with some old friends like Chuck Templeton, Steve Olechowski, and Matt Shobe - as well as met some of our partners like Mike & Neal from The Starter League and Maria from BuiltInChicago - and some of the CEO's of startups working from 1871. Hopefully he gained a new appreciation for all of the great momentum Chicago's startup community has compared to when he was building Feedburner here.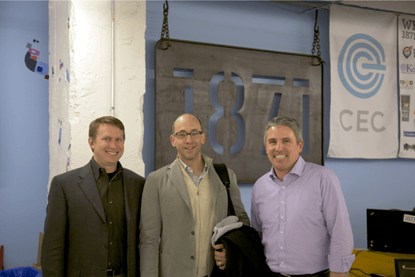 We look forward to welcoming additional CEO's to 1871 in the future from digital companies both local and from across the country. Please let us know if you have any ideas or can make a connection.