Oh, you think gifting is cute? WiSTEM member and Packed With Purpose founder Leeatt Rothschild wants you to know it is a badass business. Those are her own words for the gigantic gifting industry, which she's looking to disrupt by doing some good to support small businesses who, in turn, support charitable or social causes.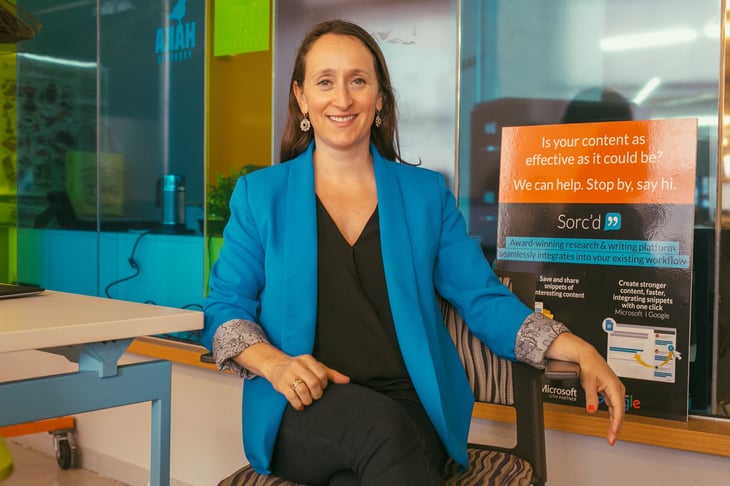 Leeatt Rothschild, Founder of Packed With Purpose
Rothschild accomplishes this by tapping a network of "Purposeful Purveyors" -- or companies that make products that also support a social or charitable cause -- and fills gift baskets and packages for individual or corporate orders.
"The gifting market, as adorable as it is, is a 16 billion dollar industry. Right now, it's a lot of chocolate covered stuff in baskets and tins of popcorn."
In fact, it was that "chocolate covered stuff" and pounds of popcorn that inspired Rothschild's business. Previously, she worked for a consulting firm that would guide large corporations on their charitable giving or social impact efforts. Every year around the holidays, thank you gifts would arrive en masse, filling the kitchen with relatively generic gestures.
"At a certain point everyone gets a sugar high and no one even wants to eat it," she said. "I thought, there's got to be a better way to give gifts."
Rothschild started small, assembling gift baskets filled with items from local shops and vendors that supported a social cause. She gave them away at her daughter's first birthday party as party favors -- and attached a market research study to go along with them. After extremely positive feedback, she launched her business out of 1871. Now, she's filling large corporate gifting orders and even already getting inquiries about gifts for the holidays for her baskets and packages filled with products from Sweet Beginnings, Together We Bake and the Women's Bean Project.
"One client told me that for the first time in 15 years, she actually received "thank you" phone calls from people she sent my gifts to. Other clients have told me they have seen employees gather around the baskets in the kitchen to talk about their own work in the communities after seeing some of the causes the Purposeful Purveyors support."
Rothschild can also include 1871 as a client. During the 2016 Momentum Awards Dinner, she curated favors for each table from her Purposeful Purveyors along with a card describing the causes each of them supported. Not only were the favors a conversation starter at the annual dinner, the introduction to one of her partner companies -- The Floured Apron -- became part of 1871's network of women and minority-owned business vendors.
Already an 1871 member, Rothschild said she decided to apply for WiSTEM after attending the most recent showcase event, where the women-led businesses pitched their products on stage. Wanting to gain some skills for pitching herself, she took the leap and is now several weeks into the WiSTEM program.
"There is a group of women here that are in it with you. It's really peer-based learning. Everyone has an idea to put forth."
For a whole host of reasons, 1871 believes Chicago is the best place in the country for women entrepreneurs to start a business. Since its inception in September 2015, the WiSTEM program has helped more than 51 women-founded companies and 59 entrepreneurs through a 12-week, curriculum-based program that connects women to capital, community, and technology resources. Learn more