1871 is proud to announce a renewal of its long-standing partnership with MillerCoors, a leading brewery company headquartered right here in Chicago. This collaboration will provide support for 1871's veteran, minority, and women entrepreneurs.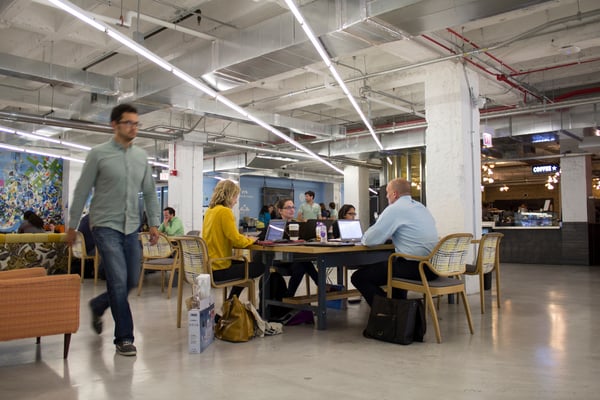 MillerCoors will be recognized as a sponsor for 1871's Diversity Entrepreneur Scholarship Program, which increases the number of entrepreneurs from underrepresented demographics. Diversity Entrepreneur Scholars start with a three-month term at 1871. If the entrepreneur meets a predetermined set of goals and objectives, the term will be extended for nine additional months.
"It's a proven fact that diverse teams spur innovation and have better performance, and through this partnership with MillerCoors, we are able to help foster their growth and potential. Veteran, minority, and women entrepreneurs bring unique strengths and experiences that will continue to change the landscape of business and technology for the better. We are proud to work alongside MillerCoors and build an entrepreneurial ecosystem that reflects all of Chicago's diverse communities." – Betsy Ziegler, CEO, 1871
In addition to sponsoring 1871's Diversity Entrepreneur Scholarship Program, MillerCoors will continue as the official beverage sponsor of the weekly TGIF Happy Hours. 1871 will also help MillerCoors promote its Business and Beers events by sharing information about the program among its diversity-focused member companies and programs including Bunker Labs, an 1871 tenant supporting veteran entrepreneurs; WiSTEM, a 12-week, curriculum-based accelerator program for women entrepreneurs; the Diversity Entrepreneur Scholarship Program, and the Hispanic Tech Incubator.
"At MillerCoors, beyond producing quality products, we want to be a quality citizen, and that's why we are proud to continue our partnership with 1871. Together we are helping identify and cultivate veteran, minority, and women entrepreneurs. Not only will our combined efforts help increase the diversity of entrepreneurs, but it's exceptionally exciting that it will happen right here in our hometown of Chicago." – Karina Diehl, Senior Director of Community Affairs, MillerCoors.
In addition to its partnership with MillerCoors, 1871 has launched major efforts to assist diverse entrepreneurs including ChiBuys, which supports women- and minority-owned food vendors, and a partnership with the YWCA to expand sexual harassment awareness initiatives for businesses throughout the Chicagoland area. Furthermore, the 1871 team strives to make diversity and inclusion a priority in their recruiting efforts, events, programming, membership, and every other facet of the organization.
Learn more about MillerCoors at https://www.millercoors.com/