12 Latinx-led startups joined 1871 in late October for a 12-week accelerator program co-facilitated by 1871 and IHCC. We'll be posting Q&As with each company to introduce them to the community. This week, Victoria Elena Nones, Founder and Executive Director of Women in Comedy, talks about the support platform and network she is building for female comedians to connect, learn and become empowered as they seek paid work in the industry.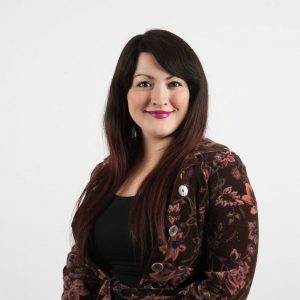 Tell us a little bit about your personal history and background.
I came from a very financially modest upbringing with a single mother who worked hard to support her family. My father was a first generation immigrant who passed away when I was seven years old, and my mother continued to work and be an entrepreneur to keep a roof over our heads. All of my courage, confidence and ability to visualize the future comes from her. She is one of my biggest supporters and I'm thankful to have a mother who has taught me to believe in myself.
Tell us a little about your company. What's your elevator pitch?
Women In Comedy is creating an online platform to connect comedians nationally and globally to resources that will economically and educationally empower them including an online marketplace to connect with jobs, profiles to promote their talent, booking tools, video education and more.
How did you come to join the cohort?
I work with Future Founders who is based out of 1871, and after a few events in the space, I decided to get on the 1871 email list to learn more. I saw the opportunity for this cohort and I went for it!
What has your experience been so far?
Everyone is so welcoming and supportive. It's a very inclusive environment and a safe space for learning and growth. I love learning about everything from investments to personal strengths and how to improve and grow my entrepreneurial skill set. The happy hours on Fridays (#1871TGIF) are awesome and I love meeting other entrepreneurs who are vibrant and excited about the work they are doing.
What about the program do you think will help your business the most?
I believe the personal relationships and access to resources at 1871 will be crucial in helping me build my business. I have already met so many amazing people and everyone seems willing to help in one way or another which is so generous and appreciated.
Where do you see your business at the end of the program, and what is your ultimate goal for your company after that?
I hope by the end of the program to have built a solid platform, developed a killer pitch, and be on my way to on-boarding a large client base so that I can provide a solid proof of concept in order to raise capital. I see a lot of hard work ahead but ultimately great rewards and hope this company will create jobs and lucrative opportunities for starving artists.
What's the greater good your company is trying to accomplish? How will it impact the community? What problem does it solve?
We are trying to create a more diverse landscape for women and minorities in particular and find ways to empower them economically. This platform will impact the community because it will give comedic artists a viable solution to book paid work as well as connect with their peers and continue their education at a reasonable rate, since economic factors can be a barrier in this field.
Give us a little insight into your perspective on diversity in the tech community. Why is it important? What do you hope to see?
I believe you can't be what you can't see. And so for me as a Latina woman, it is very important to be successful in tech so that I can be an example and mentor for other women and girls in the community who have big dreams.
I think that with diverse backgrounds come diverse experiences and these translate directly into the work we do and the purpose and passion with which we drive ourselves. It's important to have a tech space of entrepreneurs that represents the world outside -- and our nation is very diverse.
Is there anything else you would like to add or say?
Manny and the team at the IHCC and 1871 are so genuinely committed to our success. It's a great feeling knowing that you have people in your corner who are rooting for you.
You can find Women in Comedy on Facebook, Twitter and Instagram.