Last week, 1871 member Learnmetrics was one of four companies to earn a DEMO God award at the 2014 DEMO Enterprise conference in San Francisco. The achievement is awarded to select companies that are able to deliver a four-minute pitch with style, passion, and clarity in addition to demonstrating a high likelihood of commercial success. DEMO conferences around the world offer startups using emerging technologies and new product innovations the chance to pitch their products on the same stage that launched the likes of E*Trade, Salesforce, and Tivo. In a competitive process, DEMO tours the country looking for the most qualified applicants to present their companies to the world.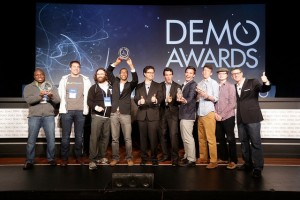 Undoubtedly a qualified applicant, Learnmetrics secured a spot in the conference after CTO of both Obama for America and Threadless.com, Harper Reed, suggested that Learnmetrics would be a good fit for the conference. Learnmetrics Co-founder and CEO, Julian Miller, credits 1871 partner Impact Engine with preparing him to deliver his pitch flawlessly. As a graduate of the socially-focused startup accelerator's second class, Miller went through extensive training on presenting a polished pitch and speaking intelligently to specific audiences about Learnmetrics. Up until the last moments leading up to DEMO, Miller made tweaks to his pitch asking, "How do we make an impression at an event that launched Salesforce?" All the hard work paid off as Miller gained more than just DEMO God status, seeing the conference as a "good forcing function for learning if your product is ready to compete on a global level."
One of only 26 companies pitching at DEMO, Learnmetrics stood out for its data driven approach to helping educators create more meaningful learning experiences for students. It didn't hurt that Miller opened the pitch (see video below) with a mean shortened rendition of "Ave Maria," citing a high school teacher's influence as the reason for his interest in singing, and later, teaching. As a former high school teacher himself, Miller witnessed the shift in the educational system from analog to digital and wanted to find a way schools could effectively use the large amount of data generated by students' test scores, homework grades, and even attendance records to enhance student learning.
https://www.youtube.com/watch?v=65xfYEKrxAU&feature=youtu.be
As Miller and his partners packed up their equipment, they were shocked to hear their name announced among the DEMO God winners. "It's great to see their approval at this huge vetting opportunity for startups," Miller said of the win. "The fact that we won says a lot about the state of things in Chicago," Miller added, referring to the increased venture capital and growth opportunities for startups throughout the city.
What's next for Learnmetrics? Miller remains pragmatic and believes "It's all about figuring out how to effectively move forward at scale." If Miller's DEMO win is any indication, he won't need to fall back on a singing career any time soon.
Visit Learnmetrics at: http://learnmetrics.com/the-platform.html
Learn more about DEMO at: http://www.demo.com/ehome/index.php?eventid=29414&
See more pitches at: https://www.youtube.com/user/democonf