The CEC continued its partnership on Monday night, with the Chicago American Marketing Association (CAMA), to bring another great "Evening with Experts" program. This unique event offers keynote presentations on a specific topic, from two different perspectives - startups and well-known brands.
During the event, area marketing professionals and the startup community of 1871 mixed, mingled, and talked about the Age of Agile Marketing. There may have been a big difference in the stage of their businesses, but they each had a common question. How do companies quickly capitalize on consumers' changing behaviors and tastes?
The evening kicked off with Justin Massa, 1871 Alumni and Founder of FoodGenius. Per usual, his presentation was filled with awesome insights and laughs. He shared with us how to use data to best understand your consumer. Justin's key take-away: "All data is big data and complicated. Eat the elephant one bite at a time. Start somewhere small, a discrete project with a defined set of objectives, and use data to crack it. Don't get overwhelmed."
Here are some of Justin's most tweeted quotes:
"It's easy to get sucked into the next best thing but more often than not the data tells us a different story. Ala Poutine."
(Note: Justin talked about how Poutine seemed as if it was picking up momentum as a dish everywhere. However, after consumer data tests, it was only penetrating a small market.)
"90% of the worlds digital data has been produced in the past 2 years - from a trickle to a flood."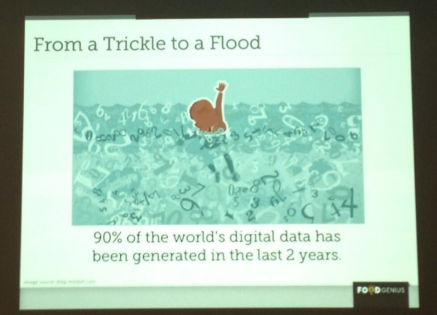 "Sorting signal from noise is getting harder, it requires a new mix of tools, skills and tenacity to dig out the big insight nuggets."
"As soon as you get caught up in the why of big data, you loose your way. The best way is to see how you can use it, not ask why."
"FunFact: Wraps have grown from 12% to 25% of menus in the last five months."
Following Justin, we heard from Chris Young, Senior Director of Global Menu Services for McDonalds. He talked about innovation and consumer insights. His stressed that understanding the consumer and being clear on who McDonalds is as a brand, is what led to their success. They focus on who their consumer is and what they want.
Here are some of Chris's most tweeted quotes:
"McDonalds became agile in marketing by being 80% owner operated and remaining customer centric."
"McDonalds is the 3rd largest employer in the U.S."
"FunFact: McWraps originated in Poland and went to the rest of the globe before coming to the U.S."
"Have credibility. Known your brand. How far will consumers let you stretch?"
"The intersection of viable innovation: Consumer tastes, product offerings, abilities, brand fit. Go slow when stretching out."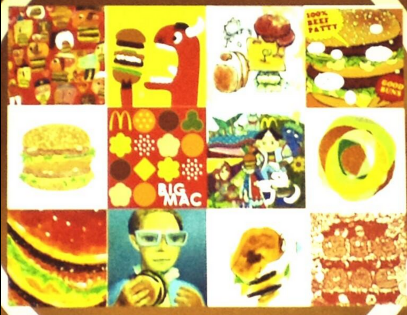 (Caption: Japanese artwork around a Big Mac contest. Winner got free Big Macs for life!)
Overall both experts helped us identify that the key to successful agile marketing efforts is to test and be willing to adjust with the needs and wants of our consumers.
If you're interested in attending the next "Evening with Experts", be sure to keep an eye on the 1871 events calendar.
Click here for more information on the Chicago American Marketing Association.