Twelve Latinx-led startups joined 1871 in late October for a 12-week accelerator program co-facilitated by 1871 and the Illinois Hispanic Chamber of Commerce. We'll be posting Q&As with each company on the 1871 blog to introduce them to the community. This week, Kristen Sonday, COO and Co-Founder of Paladin talks about the personalized pro bono tracking platform for the legal community she's helped develop along with Co-Founder Felicity Conrad, and the impact she hopes it makes.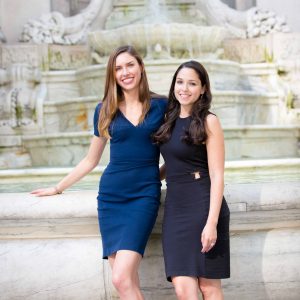 Q: Kristen, tell us a little bit about your personal history and background.
A: As a first-gen college Latina passionate about social justice, I worked on international criminal matters with the U.S. Department of Justice straight out of Princeton before joining the founding team of Grouper -- which was in the 2012 Y-Combinator class. After a brief hiatus from startups, I started Paladin, which is the perfect intersection of my love for tech and social justice. Additionally, in my free time, I mentor student-led startups through Columbia University's Almaworks accelerator and the Princeton Entrepreneurship Council, and advise other early-stage companies.
Q: Tell us a little about Paladin. What's the elevator pitch?
A: Paladin is a platform that connects professionals—starting in the legal industry—with personalized pro bono. We currently help law firms, companies, and law schools manage their pro bono with streamlined sourcing, tracking, and outcome reporting on a modern, tech-forward platform.
Q: How did you come to join the cohort?
A: I found out about the program through an IHCC newsletter, and it caught my eye because I'm passionate about fostering diversity in the tech community. I then met the director of IHCC, Omar Duque, at a Stanford Latino Entrepreneur Leaders Program we were both attending, and loved his vision for developing Latino entrepreneurship in Chicago. I knew I had to get involved!
Q: What has your experience been so far?
A: I've been very impressed by the caliber of programming that Manny Ozaeta has curated, as well as the resources IHCC and 1871 provide to entrepreneurs. I've also been struck by the quality of business leaders in the cohort; they're all working on diverse problems and are driven to make the world more efficient.
Q: What about the program do you think will help your business the most? How will it help your business?
A: I am relatively new to Chicago, so I'm most looking forward to developing new relationships in the legal and tech (and legaltech) communities through the program. It also seems like an exciting time to be a part of IHCC as they develop innovative new programs, so I'm hoping to contribute to the organization as it grows.
Q: Where do you see your business at the end of the program, and what is your ultimate goal for your company after that?
A: We started Paladin in New York City and mostly have an East Coast presence, so I am excited to launch our Chicago and Midwest operations with the incubator's help. There are a number of great law firms, companies and law schools in the area, so my goal is to help mobilize their attorneys and students to give back through pro bono as seamlessly as possible. Longer term, we would like to expand outside of law and provide other professional pro bono services, and Chicago is a great place to find diverse talent.
Q: What's the greater good your company is trying to accomplish? How will it impact the community? What problem does it solve?
A: Our entire ethos is social impact: we're a platform to increase access to justice for those who need it most. The current system is quite disaggregated, and as a result, about 80% of those who need free legal services never receive it. We want to reinvent the way lawyers, legal aid organizations and clients interact. After we tackle law in the U.S., we'll be expanding internationally, and then into other industries.
Q: Give us a little insight into your perspective on diversity in the tech community. Why is it important? What do you hope to see?
A: At a conceptual level, inclusion, diversity and collaboration are essential for human progress, particularly as we become more interconnected through technology. At a more practical level, many of the world's most complex issues disproportionately affect minorities, so it's important to support entrepreneurs who truly understand these issues and have the unique skill sets to solve them. Diversifying entrepreneurship means diversifying perspectives and collective experiences, which compounded, will produce more holistic approaches to global challenges.
Q: Is there anything else you would like to add or say?
A: Please send your attorney friends our way; we're always looking to get more firms and companies onto the platform to help maximize their community impact and visibility!
For more information on Paladin, you can find them on Twitter, Facebook and LinkedIn.