1871-based sente.link has brought more than 60 companies from more than a half-dozen countries around the world. What did it take for Serhat Cicekoglu and Gerod Carfantan to build a bridge between Chicago and the rest of the world?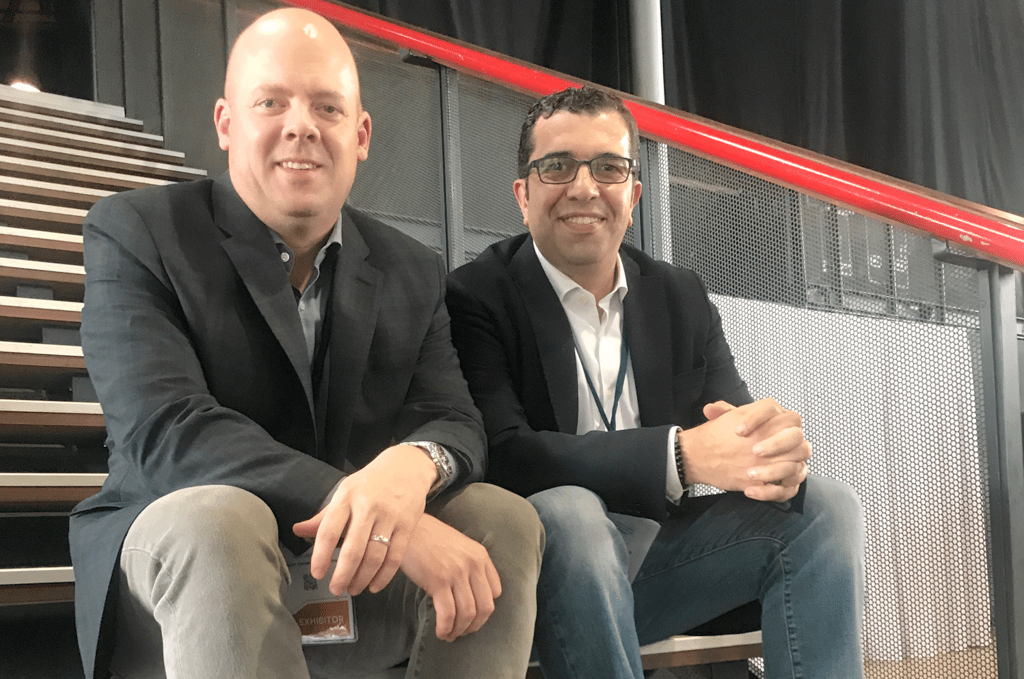 Gerod Carfantan, left, and Serhat Cicekoglu, right, of sente.link
Serhat Cicekoglu jokes that sometimes, when encouraging an international entrepreneur to introduce their business to the U.S. market via Chicago, the first thing they recognize about the city is the Bulls.
But for the past five years, sente.link founder Cicekoglu has set out to raise the profile of Chicago amongst international startups and entrepreneurs through his accelerator program, which has now brought more than 60 companies to the city from more than a half-dozen countries.
"You start giving them pieces of information about Chicago economics, Chicago startup scaling, the loyal workforce, investment sources and 1871, and they realize they will have a unique opportunity if they start from Chicago." —Serhat Cicekoglu
Cicekoglu, along with sente.link COO Gerod Carfantan, are in the midst of their 10th accelerator cohort, which is a veritable world tour for mobility-based startups from seven different countries (Israel, Turkey, Slovenia, Bulgaria, Germany, Ukraine and Iran). The program begins in France, with the companies spending three days at a workshop at NUMA -- a coworking and innovation space based in Paris -- and then attending the two-day Paris Autonomy show. From there, the top companies visit the Consumer Electronics Show in Las Vegas in January, then the Automobili-D conference in Detroit and finally, head to Chicago for two weeks at The Connectory, a 19,000 square-foot Internet of Things focused innovation space and incubator jointly operated by 1871 and Bosch.
Not all programs are the same, and the accelerator has evolved the way it does business in recent years, but the sheer size of the programming -- geographically and thematically -- is a tall order. Why focus so much energy getting these companies to Chicago?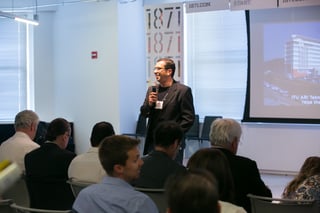 "Innovation is not a monopoly for the U.S., and international entrepreneurs find in Chicago the best landing spot to expand their business in the U.S.," Cicekoglu said, echoing the hypothesis he had after graduating from the Chicago Booth School of Business at the University of Chicago.
But that's not the only value proposition. Through five years and ten cohorts, both Cicekoglu and Carfantan have seen first hand the impact of bringing international startups to Chicago. The program has brought diversity to the tech community, with at least six companies choosing to permanently relocate to Chicago -- creating jobs, paying taxes and becoming ambassadors for the city to their home countries.
It's also a win for the international community, allowing the companies to herald the work ethic and innovation being done abroad. In one case, sente.link cohort company Monument, which hails from Istanbul, came to Chicago and launched what became the largest Kickstarter ever in the city at the time.
Calling 1871 home is also a big part of building the bridge to the international community.
"One of the things that we always had in mind with our programs is that we are basically bringing them to the best ecosystem in the country under a single roof. When they come to 1871, the caliber and number of mentors, the diversity, the community and how interactive it is is a strong value proposition and strong recognition for our program as well." —Serhat Cicekoglu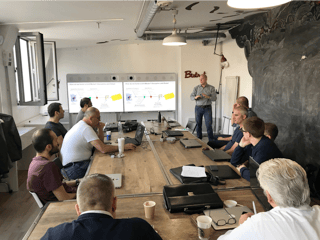 As 1871 has evolved, as has sente.link. The company aims to be "truly international" as Cicekoglu puts it, and has recently begun bringing over companies focused on one vertical from several different countries. It's a perfect match, as their home 1871 has also begun to branch out with similar vertically focused spaces like The Connectory.
"1871 partnering with Bosch (for The Connectory) fits with how we're evolving," Carfantan said. "As 1871 became larger as a community, it also brought in more corporations and more investors. That is always a plus for our startups too."
The pair said currently, growth isn't about their own staff, which is about five full-time employees at sente.link. Instead, success is measured by their ability to attract innovative international companies and keep them here.
"I am proud when one of our companies says they will bring their headquarters here. It feels great. This is home for us. We're University of Chicago grads. We're residents of Chicago. We're helping our home economy." —Serhat Cicekoglu
Interested in more news from inside 1871's walls? Check out the Community section.