Sell a million copies of a book, and you get your name in the New York Times. Produce a platinum album, you top the Billboard charts and even get a plaque. But create, market and sell a best-selling toy or board game? —barely anyone knows your name. WiSTEM member and ChiTAG founder Mary Couzin is looking to change that.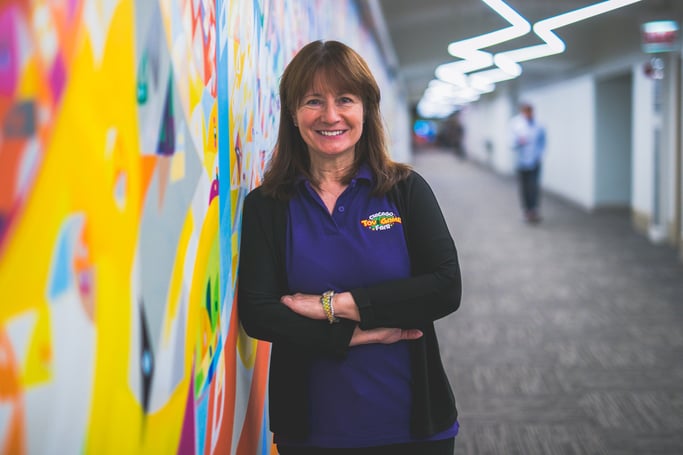 Mary Couzin, Founder of Chicago Toy and Game Group
ChiTAG, or the Chicago Toy and Game Group, has been hosting the world's largest gathering of toy and game creators in Chicago since 2003, and now Couzin is looking to tech to take the connections she's made in the industry to the next level. The platform she's developing in WiSTEM is People of Play, which she describes as the "IMDB" for inventors, producers, manufacturers and purchasing agents throughout the toy and game industry, a way for the innovative minds in the space to connect and also get their fair share of recognition for their ideas.
"I've always thought that inventors aren't treated like their counterparts in other areas like music, art, movies and television. Somebody has to recognize these crazy cool people."
With PeoplePlay, she's effectively digitizing and open-sourcing her 50,000 strong Roladex of connections she's made throughout the industry during her career, in an effort to help inventors -- who just like any startup, often need assistance finding the right resources and connections to make their visions a reality.
Couzin boasts that no one knows more toy and game inventors in the industry than she does, and she's got the stories to back it up. She was the first person in North America to interview board game legend Klaus Tauber of Settlers of Catan fame, is close friends with Leslie Scott, the inventor of Jenga, Dan Klitsner, inventor of Bop It, and many other inventors whose creations are household names.
"If our creatives were better known, they would be industry spokespeople like in the other entertainment industries and it would promote play, which is undervalued, and sell more products."
In addition to the mission of creating a digital toy and game community, she's also looking to spread the concept of play locally in Chicago, which is home to more toy and game inventors than anywhere else in the world. She's currently planning an 1871 poker tournament, and has partnered with several local organizations to plan a Chicago "Play and Innovation Week."
She is also the founder of the TAGIEs, a gala centered around awarding toy and game inventors for their creations that is celebrating 10 years, as well as a host of other industry focused events year-round. Now, as a member of WiSTEM C5, Couzin is looking to take her business even further.
"I've mentored at Northwestern's Kellogg Innovation and Entrepreneurship Initiative and other programs, have an MBA and have been in business and an entrepreneur for many years, yet and the level of intense hands on learning and support in the WiSTEM program has brought what I'm doing to a new level. I am thankful for the opportunity!"
For a whole host of reasons, 1871 believes Chicago is the best place in the country for women entrepreneurs to start a business. Since its inception in September 2015, the WiSTEM program has helped more than 51 women-founded companies and 59 entrepreneurs through a 12-week, curriculum-based program that connects women to capital, community, and technology resources. Learn more