Many entrepreneurs skip the basics of marketing and struggle to find product market fit. 1871 member Solomon Thimothy is the co-founder of marketing intelligence platform Clickx and has helped hundreds of entrepreneurs and clients implement effective marketing strategies. There is no cookie cutter way to success, but Thimothy shares certain themes that have emerged from his experiences.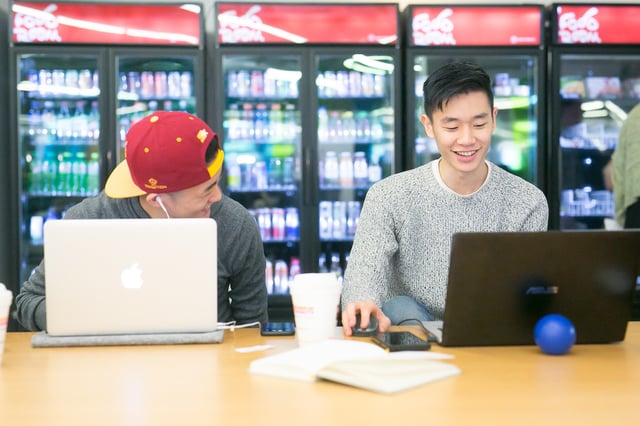 Guest Author: Solomon Thimothy, Clickx
The concept of marketing is simple.
Step 1: Create a product.
Step 2: Generate awareness.
Step 3: Make money.
Repeat steps 2-3.
In reality, the "generate awareness" step is the most confusing step and a big reason why many startups fail. Here are five ways a startup can acquire customers with marketing.
Hire a copywriter before you do anything else.
Nothing kills a marketing plan faster than a "I went to your website and still have no idea what your product does" statement. If I had the choice of hiring a designer to polish my website or hire a copywriter to get my product message out, I would hire the copywriter 10 times before the designer.
Do this exercise: Show the front page of your website to a person who has never heard of your company and don't show them any other pages. Give them about 15 seconds.
Then, ask them the following three questions:
1. What do we do?
2. What is the problem we are trying to solve?
3. Why would someone hire us?
If people don't understand what you do, then no marketing campaign is going to help you. Start here and forget everything else.
Focus on one channel at a time to bring the best results (Find it fast).
SEO, SEM, Social Media. Snapchat. Facebook. Instagram. Twitter. Youtube. Blogging. Email. Google Ads.
Each one of these channels and social media platforms are viable marketing platforms. The problem? Spreading yourself too thin won't help you get traction.
I've had clients who 95% of their customers are SEO and I've had some clients who get a majority of their customers through instagram influencers. It really all depends on your business, but you have to test all channels and focus on what works the best for your business.
The hidden marketing secret is that most results come from a small number of channels. The problem is finding those channels.
I highly recommend this book: TRACTION: How Any Startup Can Achieve Explosive Customer Growth. It focuses on identifying the 19 marketing channels and how you can find the channel that will get you to explosive growth.
Market the product before it's ready. Feedback is your #1 tool going forward.
Nobody wants to hear that their baby is ugly. I can understand the hesitation of bringing a product or service to market before it's ready, but the flip side is that you bring a product that's ready and nobody wants it.
We're all familiar with the lean startup model and agile development.
The same goes with marketing. Get to market as soon as possible.
Reverse engineer your growth.
In a blog post by Noah Kagan, he talks about how he grew Mint.com from 0 to 1 million users:
No matter what your goal, whether it's 10 new consulting clients, 10,000 people on your mailing list or 100,000 sign up to your new app, quant-based marketing can help.The key focal point to this strategy is to work backwards. Instead of starting with an intimidating zero playing on your mind, start at the solution and map your plan back from there. —Noah Kagan
Work backwards from your goal and stay dedicated to getting to that goal.
Too often, founders will dab in this and that with no real focus. Focus on what you want and how you can get there. This way you can find the channels that work for you and eliminate everything it out.
Don't underestimate the marketing value of building your personal brand through social media.
A marketing channel many founders forget about is themselves. Hate him or love him, Gary Vaynerchuk built his business on getting attention to his personal brand.
Attention to your personal brand drives attention to your company. This isn't scalable, but is often enough to get the company off the ground and get opportunities through the founder's hustle.
There are multiple channels to use depending on what your desired audience is.
I started a marketing video series for my marketing agency, Clickx. I've also started a new series about hustle on my personal Youtube channel.
In summary, marketing doesn't have to be a daunting task. Create a compelling marketing message for your customers, find your marketing channel, work backwards from your goal and most importantly, hustle!
About the Author: Solomon Thimothy is co-founder of Clickx, a marketing intelligence platform, and an 1871 mentor. He works with startups and business owners to help them achieve real growth. Catch up with Solomon and learn marketing tips by subscribing to his YouTube channel.
The opinions expressed here by 1871 guest writers are their own, not those of 1871.