Last month, Nirav Amin stood in front of a packed room at the new Apple Michigan Avenue. "How many of you are entrepreneurs or working on your own business idea?" he asked the crowd. More than half of the room raised their hands. Some had attended each event in the four-part "Accelerate Your Startup Idea" series aimed at educating, guiding, and supporting the Chicago community in pursuit of their entrepreneurial passions, and had finally arrived at this culminating session where they would soon have the opportunity to pitch their business ideas to a panel of judges.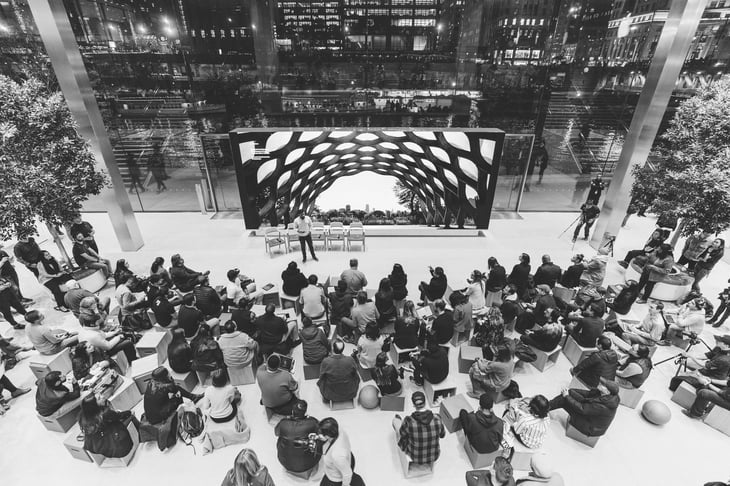 Nirav Amin, COO of Tidespin (photo credit: Chris Hurd)

From these, Apple would select one winner to receive a range of prizes, including one year of free membership to 1871 and startup resources from Apple.
The first part of the event focused on bringing a product to market and was moderated by Amin, COO of Tidespin, a subsidiary of Proctor & Gamble that provides on-demand laundry services powered by the Tide brand. Amin led the attendees through the necessary steps and considerations of selling and marketing a product for consumers. He touched on his experience at Tidespin and how they pivoted to a B2B2C (business-to-business-to-consumer) model after realizing the importance of targeting property managers who would promote Tidespin to tenants.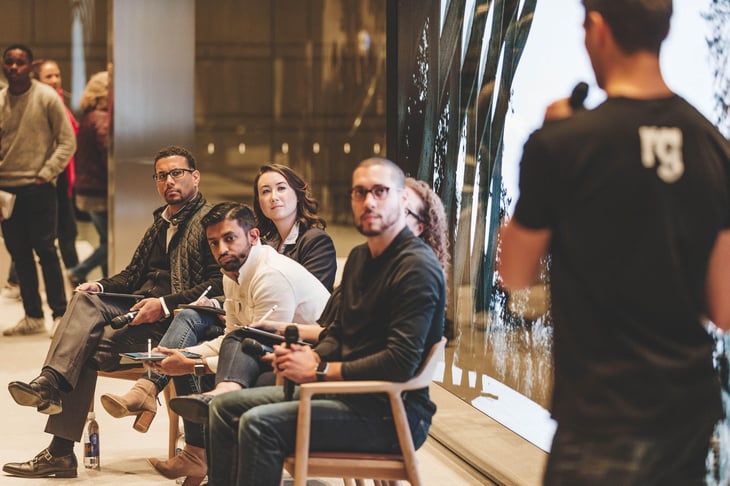 (left to right) Adam Wisniewski, ChristinaHecker, Nirav Amin, Amy Rosenow, Zak Kates (photo credit: Chris Hurd)
"This session is designed to let you know that you're not alone" said Amin to kick off the following panel. Four 1871 entrepreneurs - Zak Kates of FitLocal, Amy Rosenow of Jugl, Adam Wisniewski of EX3 Labs, and Christina Hecker of Wedmony - took the stage to describe their experiences of being an entrepreneur. Much of the discussion focused on their decision to take the leap into entrepreneurship and the resulting mental rollercoaster.
"I thought about which would be more painful to me. Looking back on this in a few years and knowing I've done it and failed, or looking back and knowing I had never tried. It became apparent to me that it would be much more terrifying to play the what-if game a few years down the road." —Amy Rosenow, Jugl
Following the decision to start their own business, the panelists faced a new set of challenges--the emotional volatility of entrepreneurship. "No, you're not mentally unstable. This is totally normal," Rosenow told the audience. "As an entrepreneur, your mood and energy will change every five minutes. You'll have these panic moments."
The audience also gleaned insights on the importance of being receptive to customer feedback. Flexibility and open-mindedness was a key theme discussed by all of the panelists.
"If you can really focus on your purpose, how you deliver success to that purpose will evolve." —Zak Kates, FitLocal
"When I finally shut up and let people tell me about what their problems are, that's when the real learning started." —Amy Rosenow, Jugl
Apart from challenges, the entrepreneurs also touched on the most gratifying part of striking out on their own. Wisniewski discussed the importance of giving back and described how EX3 Labs created a hologram of Martin Luther King, Jr. delivering his "I have a dream" speech.
"There were one hundred people there - people who lived through the civil rights era but had never seen Dr. King speak in person. To be able to recreate that experience as a hologram...there were people who were literally in tears. It gave me a tremendous amount of joy." —Adam Wisniewski, EX3 Labs
The session closed with eleven individuals who had attended the four-part series pitching their startup ideas to the panel of 1871 entrepreneurs. The ideas ranged from a Tinder-style debate app where individuals are matched based on their opposing viewpoints and encouraged to argue, to a program that integrates with Apple watches and coaches wearers on navigating stressful situations when it senses an increased heart rate.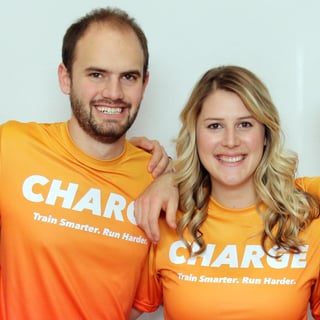 Not long after, the winning startup was announced: Charge Running, founded by Matthew and Julie Knippen. Charge Running allows users to stream and experience interactive, instructor-led running classes live from anywhere in the world. The platform connects users with fellow runners globally and facilitates real-time feedback and motivational instruction, and is available on iOS.
"The 1871 series at Apple was incredible. Learning about the logistical steps we needed to take in order to set ourselves up for success was of course hugely valuable, but hearing about other entrepreneurs' struggles and triumphs was inspiring. It's a great thing to feel like we're not alone in this journey, and that resources, people, and guidance are all available." —Matthew Knippen, Charge Running
1871 will provide one year of membership to Charge Running, who started at the incubator just last week. As part of their membership, Julie and Matthew will have access to over 30 workshops a month covering a range of business and entrepreneurship topics, office hours with over 600 volunteer mentors, as well as co-working space, events, and other resources.
"1871's collaboration with Apple was an opportunity to showcase our expansive startup resources and wide range of expertise. Over the course of four weeks, participants were exposed to the foundational elements of building a startup. Our hope is that we were able to empower participants to not only move toward starting their own company, but to also think of how their business can have a positive impact on our Chicago community." —Lakshmi Shenoy, Vice President of Strategy & Business Development, 1871
Previous sessions from "Accelerate Your Startup Idea Include":
"The Big Idea for Chicago," featuring a presentation by Howard A. Tullman and a business ideation brainstorm session led Emily Lonigro Boylan and Demetrio Cardona-

Maguigad

from LimeRed Studio
"Business Models and the Perfect Pitch for your Chicago Story," a session covering the Business Model Canvas and tips for pitching your business idea led by Emily Lonigro Boylan from LimeRed Studio
"Fast Track to Techie," featuring a Panel discussion with technical experts (Alex Castrounis, Carmen McDonald and Kate Samuels), moderated by 1871 Team Member, Lakshmi Shenoy and a hands-on exercise with Ed LaHood from Thyng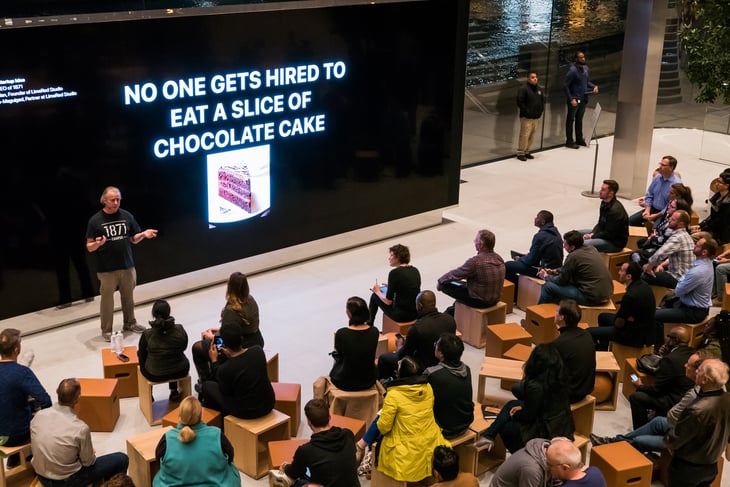 Howard Tullman, CEO, 1871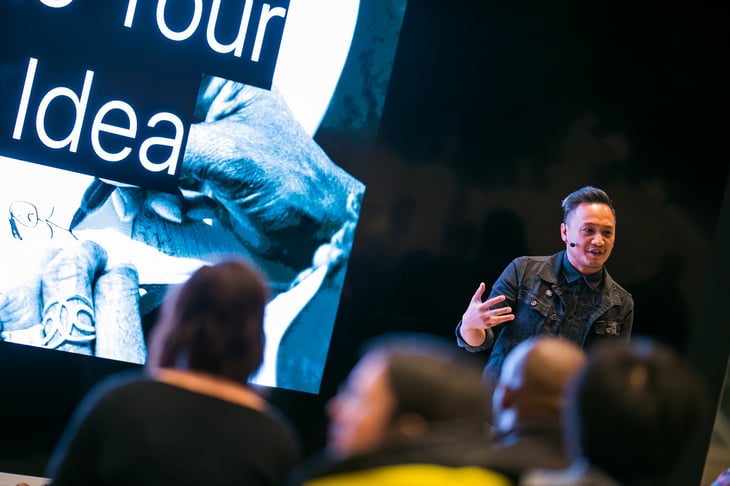 Demetrio Cardona-Maguigad, LimeRed Studio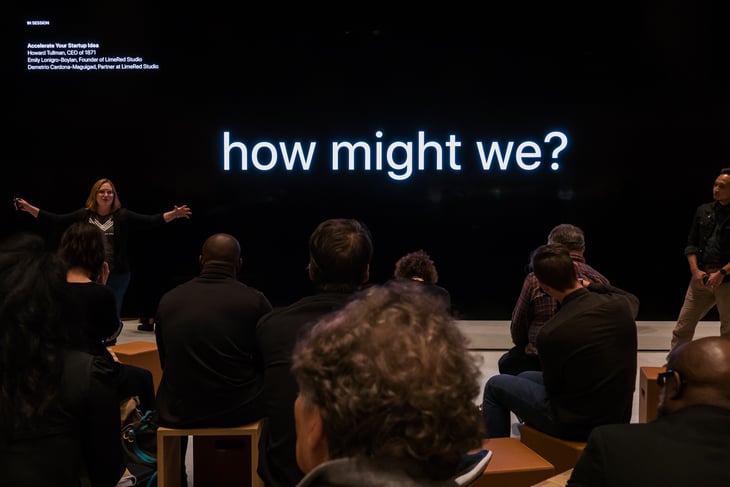 Emily Lonigro Boylan, LimeRed Studio
Learn more about the Today at Apple Series here.