Laura Brebner isn't a doctor, but she might end up saving lives. The co-founder and COO of Advocatia, a WiSTEM cohort company, has partnered with her brother to make local, state and national healthcare benefits much more accessible and transparent for hospital patients.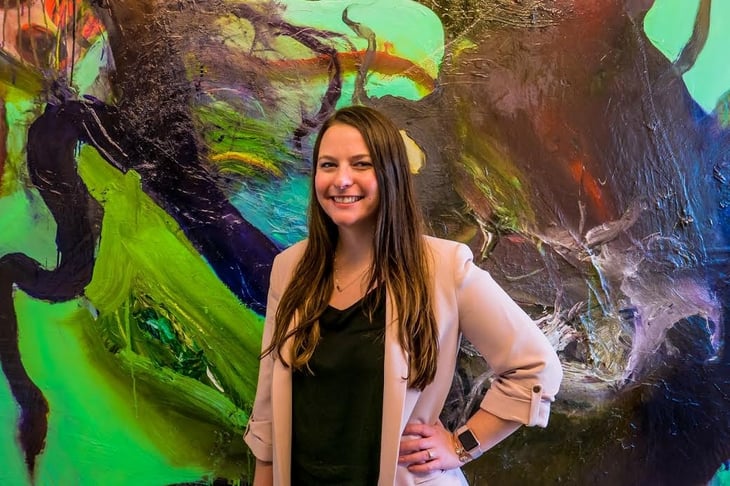 Laura Brebner, COO and Co-founder of Advocatia

The platform aims to decrease inefficiencies in the healthcare benefit enrollment process, and is now live in three different healthcare facilities in the Midwest. The platform overall was a result of solving a problem her brother, Ryan, a 14-year healthcare industry veteran, observed on the job.
"There has to be a better way," she said, recalling her brother's story of an elderly woman who sought medical care too late for a relatively routine issue that could have been treated. She said the woman was eligible for several programs, including Medicaid, but wasn't aware of her ability to receive aid.
So, she and Ryan -- who is the company's CEO --have worked since March of 2016 developing Advocatia, a suite of tools hospital and health care professionals can use to seamlessly check the eligibility of patients for available health care aid programs. The pen-and-paper, snail-mail application programs for hospital patients aren't currently cutting it, and the Brebners' platform aims to be the cure for the industry's need.
"More than 28 million people who are uninsured and 11.7 million of them qualify for health care programs, but they are just unaware. These people are probably eligible, and we are trying to get them to understand that."
Currently, the company is rolling out its trademarked Benefit Text program, which allows hospital patients to communicate via text with their platform to easily determine their eligibility for health care aid. On the hospital side, the company's Benefit Triage program hopes to make it easier for hospital staff to communicate benefits quicker and more effectively with their patients.
"Our early clients have found that documentation is so important," she said, adding that the company is working to further decrease the amount of time health care advocates spend bedside with patients determining benefit eligibility.
As for her participation in WiSTEM, Brebner said she's found a lot of value in the vision of the program.
"It's really nice having deadlines. WiSTEM really provides structure. It really pushes to make sure you have everything lined up to be successful."
For a whole host of reasons, 1871 believes Chicago is the best place in the country for women entrepreneurs to start a business. Since its inception in September 2015, the WiSTEM program has helped more than 51 women-founded companies and 59 entrepreneurs through a 12-week, curriculum-based program that connects women to capital, community, and technology resources. Learn more