Project Decibel founder and President Dr. Jenna Paley, Au.D., specializes in helping the music community preserve their hearing, but one thing she won't listen to is "no."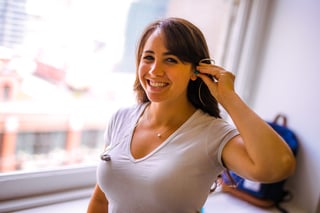 In college, while pursuing her doctorate in Audiology at Indiana University in Bloomington, she worked tirelessly to promote an event where a well respected audio engineer and mentor of hers was to give a lecture about hearing-loss prevention for the entire music department. The event was a success, with more than 90 students and faculty showing up -- during finals week no less.
Inspired by the crowd so interested to hear about a subject she was so passionate about -- musicians getting serious about protecting their hearing before damage is done -- she told her mentor she'd like to get involved in his mission. The response was unexpected.
"He said 'No one can do what I do,'" she said.
It wasn't a sentiment she took to kindly. Within a week, still in college and planning her residency, she'd filed articles of incorporation in the state of Indiana for Project Decibel, the project that she's currently working to build out and add some serious tech features to as part of WiSTEM's fifth cohort at 1871.
Paley and Dr. Drew Price, Au.D., another music industry Audiologist at Project Decibel, currently consult with musicians from around the country on all aspects of their hearing health, doing everything from hearing tests to measuring the noise at venues to supplying specialized earplugs to minimize sound exposure during gigs. Their client list consists of some names so big she's bound by confidentiality, but their work has been publicly touted by the likes of Dave Matthew's Band on Facebook, and she's the go-to Audiologist for artists such as Pretty Lights, as well as upcoming Lollapalooza acts Weathan and Louis the Child.
"I'm essentially a hearing doctor for rockstars," she said.
With WiSTEM, Paley said she plans to take Project Decibel a step further, developing an app that allows musicians increased access to Audiology tools including sound tests, hearing tests and the ability to connect with a licensed expert on the subject remotely. After taking a break to do her residency and work briefly in a hearing clinic, Paley has been working on Project Decibel full-time, and said she's happy to have found a program like WiSTEM that will help her develop the technical aspects of her platform.
"What really drew me to WiSTEM is talk about women in business in the entertainment space," she said, adding that working in the predominantly male entertainment industry can be a challenge, particularly for a female entrepreneur. "I just felt it would be really nice to be a part of a community that valued women in the space."
"I just felt it would be really nice to be a part of a community that valued women in the space."
Paley's path to the WiSTEM program is also an example of the connections 1871 has built within the larger business community. Having never heard of the WiSTEM program, she was referred by the Women's Business Development Center in Chicago, which 1871 partners with to provide a mutual pipeline of promising entrepreneurs.
So far, Paley said she's learning "a lot of what I didn't know" about growing a business, and has two main goals by the end of the 12-week program -- to find a rockstar co-founder and to hire some developers, with the ultimate hope being that she eliminates the current "costly and cumbersome" level of access musicians have to hearing care and puts it at their fingertips.
"I want to build my team here," she said. "I have a cool job. I get to work with awesome people, see a lot of live music, and save a lot of ears!"
For a whole host of reasons, 1871 believes Chicago is the best place in the country for women entrepreneurs to start a business. Since its inception in September 2015, the WiSTEM program has helped more than 51 women-founded companies and 59 entrepreneurs through a 12-week, curriculum-based program that connects women to capital, community, and technology resources. Learn more