Kim Foerster knows everyone is a character, and she has a patent-pending 26 point algorithm to back that up. Along with Co-Founder and COO Pete McEntegart, the WiSTEM member and CharacTour CEO is setting out to connect casual TV and movie watchers and superfans alike based on the characters whose personality traits they most match.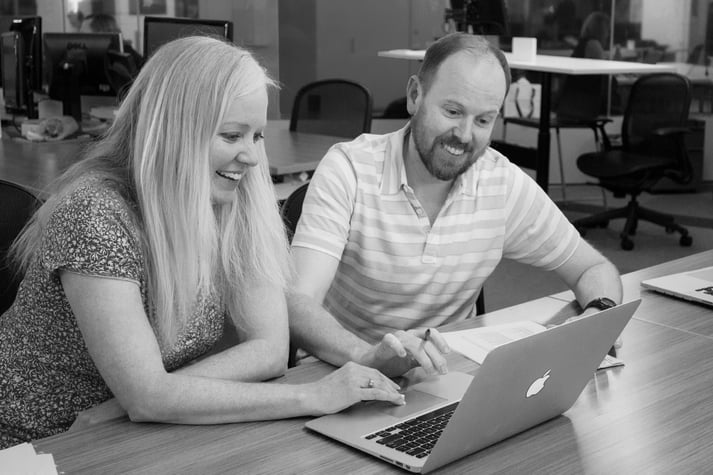 Co-Founders Kim Foerster (CEO) Pete McEntegart (COO) at 1871.
After signing up for the platform, users take a light-hearted personality test, ranking their habits and behaviors on a sliding scale. The company's advanced algorithm then matches them to TV, movie and book characters they have the most in common with -- and connects them to other users who share the same personality and entertainment interests.
"My lightbulb moment was, 'What if you treated users as if they were characters on a social media platform?'"
After pivoting and relaunching as a social network in February, the platform has begun matching like-minded users with content based on the pop-culture characters they relate to. With more than 5,000 character profiles on the platform, the matches can range from big-budget movie superheroes to waitresses from obscure Canadian sitcoms.
Foerster said she originally concepted the idea for CharacTour when serving on the board of a publishing company. With millions of titles, she thought it was hard to discover genres and new authors with the wealth of choices on shelves. If people found they closely resembled a character in a book, movie or TV show, couldn't that help them discover what they might like more easily?
"Characters are what keep us coming back – the reason we eagerly await a sequel to a favorite movie or book, why we tune in each week to a beloved TV show, why we re-watch our best-loved films again and again."
Foerster said she also hopes the platform can also help younger users navigate challenges though their lives. She admits to dealing with emotional and social issues in her own youth, and found TV and movie characters helped her through some tougher times.
"These young users are kind of coming of age. They have characters to look to in entertainment that serve as role models that can inspire them or guide them as they are going through different things in their lives."
For the past four years, she's been working with McEntegart to develop the algorithm that makes the matching possible, as well as amass a large community of users and raise about $1.1 million in funding from angel investors. Being one of the more mature companies funding-wise in this current WiSTEM cohort, she said she is happy to provide guidance to her fellow WiSTEM companies as they begin to fundraise themselves, but said she has also been learning a lot herself.
"I kind of wish we had this program when we first got started. The challenge is that we get so many ideas out of WiSTEM it makes it hard to sort through them all!"
For a whole host of reasons, 1871 believes Chicago is the best place in the country for women entrepreneurs to start a business. Since its inception in September 2015, the WiSTEM program has helped more than 51 women-founded companies and 59 entrepreneurs through a 12-week, curriculum-based program that connects women to capital, community, and technology resources. Learn more