Joshua York, a student who attends Trinity Christian College, participated in this year's Campus 1871 event as a student entrepreneur. In this article, he shares the importance of university partnerships for students who aspire to build their own businesses and launch their own companies.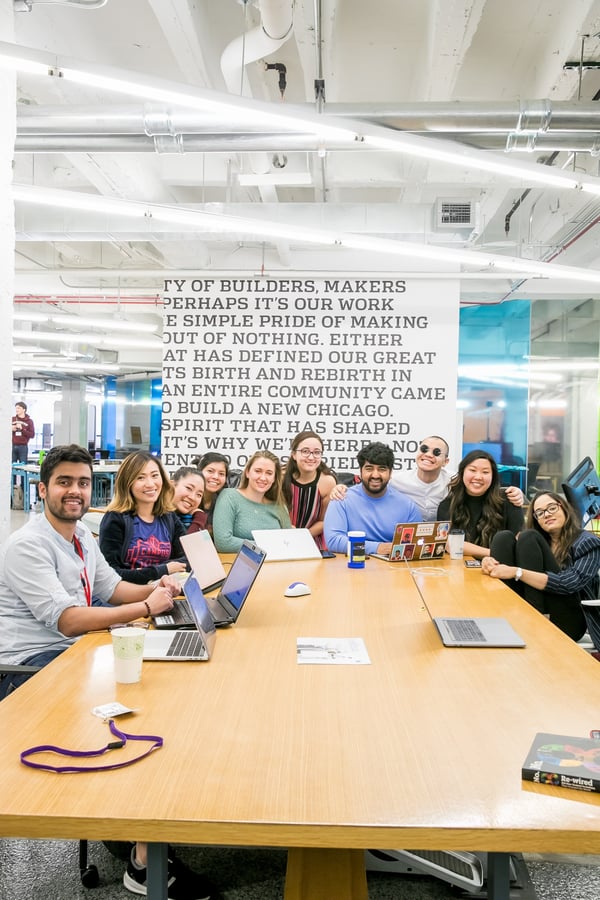 Aspiring entrepreneurs from Chicagoland's many universities participate in Campus 1871 to gain practical startup insights and experience.
Guest Author: Joshua York, Student, Trinity Christian College
There has long been a disconnect between innovation and higher education.
Academia has often seemed to reside within a realm that had fallen on the outskirts of innovation – that the classroom could adapt only as quickly as textbooks were produced. However, the times are changing. Hands on experience both in the classroom and in the workplace has proven more valuable than ever as innovation continues to progress at a rate faster than we once thought possible.
One of the ways that Trinity Christian, and numerous other universities throughout the Chicago area, have chosen to position themselves in the midst of innovation was by becoming a university partner of 1871.
As a current student who has been immersed in the startup culture, I've come to understand the significance of a partnership such as this. Below are three insights I believe are worth sharing to highlight the value that a university partnership provides.
A More Connected Learning Environment
One of the reasons that this partnership has so greatly influenced its students is because it acts as a supplement to build upon an already dynamic classroom setting. Students establish a solid foundation of problem solving and communication skills in the modern classroom that serve as a launch pad for continual learning, much of which is to be found through 1871. Events and mentorship allow students the ability to fine tune our skills, or acquire new ones, while learning from some of Chicago's best and brightest -- innovators who are shaping the tech landscape that is soon to come.
An Entrepreneurial Roadmap
The connections and resources offered through 1871 have made it easier than ever for students to develop their entrepreneurial ideas into real products and services. Success stories such as Mark Zuckerberg (Facebook) and Brian Chesky (AirBnB), have proven that people of all ages are capable of creating and sustaining businesses in any industry. 1871 leverages a larger network and provides an education that enables students to learn the fundamentals of starting and growing a business. Since becoming a university partner, Trinity has seen a rapid growth in the entrepreneurial culture on campus. Numerous students have founded startups and taken part in the programs offered by the non-profit accelerator, Future Founders, developing businesses in industries from tech to consumer products.
The entrepreneurial culture that continues to be shaped at Trinity traces directly back to the community that we've experienced at 1871. The events and mentorship provided offers a clear roadmap to entrepreneurship in a time that with so much access to information, has become more clouded than ever before.
Campus 1871 is the annual event that brings together some of Chicago's most creative minds from various universities throughout the Chicago area for a weekend to participate in an authentic startup experience. Students begin by pitching ideas and later collaborating with other individuals from different schools -- often with different skill-sets (wireframing, coding, and graphic design, to name a few) -- that allow them to create a comprehensive business plan to present in the form of a pitch contest at the end of the weekend. This initiative ties directly into the connected learning environment envisioned for modern education. Campus 1871 provides students with the hands-on experience that enables them to become better problem solvers and encourage innovation with the hope of making our world more connected and laying the groundwork for those who follow.
Read more about the lessons I've learned through Campus 1871 here.
University partnerships are a proven and valuable solution to continue closing the gap between innovation and higher education, all within one of the most exciting tech spaces in the world. I've come to learn that entrepreneurship is more than owning a business; instead, it's a mindset of continual development that enables people to better solve problems and innovate -- transforming our campuses, communities, and all that lies beyond. 1871 has established a dedication to developing the next generation of entrepreneurs through opening their doors and providing such opportunity to students who are willing to take part in it.
May we continue to find ourselves immersed in the opportunity that lies before us.
The opinions expressed here by 1871 guest writers are their own, not those of 1871. To learn more about Campus 1871, follow this link. To learn more about Trinity Christian College, follow this link.