CHICAGO (January 5, 2021) -- Relish Works, in partnership with Gordon Food Service and 1871, are kicking off their third cohort of Food Foundry, a growth accelerator for companies building the future of the food industry, in May 2021. Applications are now open.
The food industry is facing unprecedented challenges due to the COVID-19 pandemic, and innovation remains critical as businesses fight to adapt and survive. Food Foundry is searching for startups that are shaping a stronger future by taking fresh approaches to these challenges.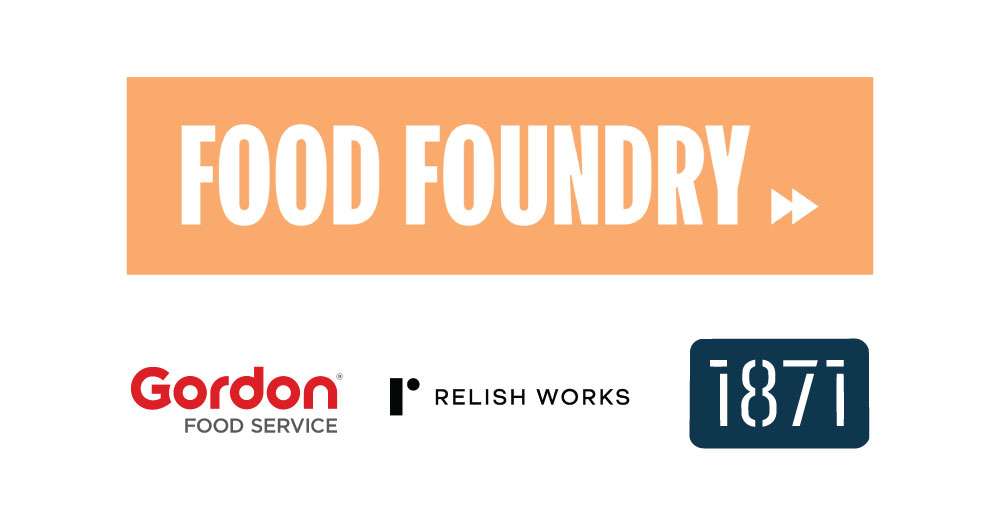 With over 120 years in the industry, Gordon Food Service is uniquely positioned to provide startup companies the knowledge and resources they need to build solutions for the future. In addition to industry expertise, Food Foundry also provides:
$75,000 in venture capital funding
Tailored curriculum, workshops, and mentorship from seasoned founders and advisors
Membership to 1871, including a world-class growth curriculum and exclusive perks
Access to Relish Works' co-investor network to raise capital for scaling operations
Ability to leverage Relish Works' experts in design, business operations, and branding
"Since participating in the second cohort of the Food Foundry program, we have been able to work closely with Gordon Food Service Canada to help independent restaurateurs with online solutions in response to COVID-19," Amina Gilani, COO of Sociavore.
In a competitive market, standing out among investors is difficult, leveraging industry expertise helps better position startups for these conversations. Food Foundry startups have raised more than $10 million post program.
"The Food Foundry team has been absolutely critical to our success in raising two significant rounds of venture capital, by providing great advice and access to an amazing network of investors, mentors, and partners to help us grow 86," Daniel Estrada, CEO of 86 Repairs.
While networking has become difficult to master in a digital environment, Food Foundry continues to place priority on keeping their community connected and strengthening ties in the virtual workplace.
"I am still close with many of the connections I made during the program, and it's been invaluable to be able to lean on this community throughout this pandemic," Keith Fix, CEO of RetailAware.
Interested startups are encouraged to apply now through February 12, 2021. The program will begin in May 2021.
###
About Relish Works
Relish Works is an innovation hub leading disruption in the food industry. Its purpose is to generate innovative solutions to the most pressing customer problems and unmet needs by creating partnerships, designing new solutions, and making strategic investments. Relish Works has deep professional expertise in human-centered design, customer experience, strategy, and early-stage investing. The office is located in the Merchandise Mart building in downtown Chicago.
About Gordon Food Service
Since 1897, we have delivered uncompromising quality and heartfelt service to our customers. We began as a simple butter-and-egg delivery service, and have grown to become the largest family business in the foodservice industry by upholding the same approach for more than 120 years—remaining passionately committed to the people we serve. Today, we serve foodservice operators in the Midwest, Northeast, Southeast, and Southwest regions of the United States and coast-to-coast in Canada. We also operate more than 175 Gordon Food Service StoreⓇ locations in the U.S. By partnering with organizations from across industries—healthcare to education, independent and chain restaurants, and event planners—we help our customers create food experiences that people choose, enjoy, and remember. To learn more about Gordon Food Service, visit gfs.com.
About 1871
1871 is Chicago's technology hub and the #1 ranked private business incubator in the world. It exists to inspire, equip, and support founders, growth-scalers and innovators in building extraordinary businesses. 1871 is home to ~450 technology startups, ~400+ growth stage companies, and ~1,500 members, and is supported by an entire ecosystem focused on accelerating their growth and creating jobs in the Chicagoland area. The member experience includes virtual and in person access to workshops, events, mentorship, and more. The nonprofit organization has 350 mentors available to its members, alongside access to more than 100 partner corporations, universities, education programs, accelerators, venture funds and others. Since its inception in 2012, more than 650 alumni companies are currently still active, have created over 11,000 jobs, and have raised more than $1.65 billion in follow-on capital.