What happens when three Chicago Public School teachers combine 60 years of experience? In Michelle Krumholz' case -- a tech startup. Evolved Educator was born out of solving a problem she and fellow teachers experienced when Common Core rolled out in public schools across the country: how to develop effective lesson plans efficiently to meet the changing requirements in the classroom.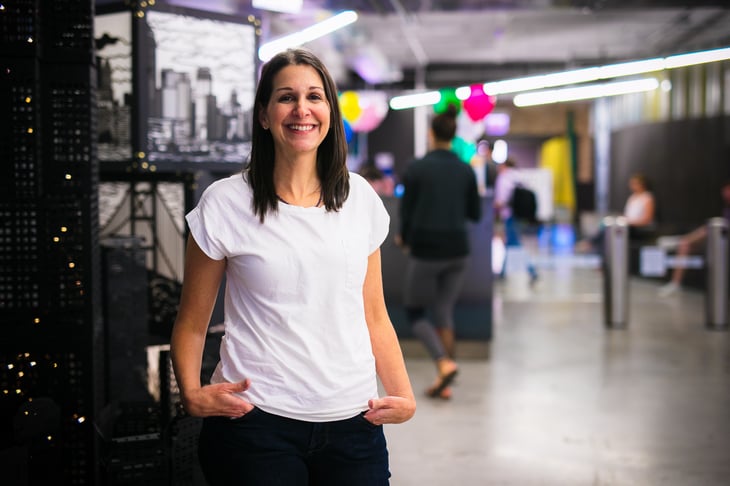 Michelle Krumholz, Founder of Evolved Educator
At its heart, Common Core is a standard set of guidelines for educators that outlines what students should have learned and should be able to do at the end of each grade level. The standards were released and adopted in most states following their release in 2010, sometimes with controversial and turbulent results during its rollout. "It turned lesson planning into a time consuming, total chore," says Krumholz.
But Krumholz, a member of WiSTEM's fifth cohort, isn't opposed to the way of teaching Common Core demands -- in fact, she said in her 20 years of teaching science and English in the classroom, she is a fan of the logic, critical thinking and problem solving skills it instills in learners. So she launched Evolved Educator, a robust framework for teachers to design high-quality lessons based on Common Core State Standards and Next Generation Science Standards. With this framework, teachers are better equipped to achieve Common Core principles and can spend less time on lesson planning -- which she said can exceed three-and-a-half hours for one hour of instruction.
Krumholz said she's spent serious time studying the Common Core requirements over the past year-and-a-half since she founded the company, and gathering content from two other teachers who are part of her team to launch the platform.
But launching a tech startup wasn't always in the cards for Krumholz. The idea began as a bit of a happy accident in 2015, when she entered an online "ideas competition" to pitch a business plan. To her surprise (she admits completely forgetting about entering the competition), she was chosen as a finalist and given $3,000 to ready her idea. In 20 days, she hired a developer, wrote a business plan and successfully pitched a room of five VCs, many of whom had positive feedback on her still early idea.
Now readying for the start of school again, Krumholz has joined WiSTEM to take her ideas to the next level, and has found a solid community of support.
"(WiSTEM members) are willing to say 'I haven't figured that out yet. There is not a lot of ego going on. I feel like I have found my people. I really do. There's a major support system and people aren't just here to help, they want you to succeed."
Krumholz said the platform is still in its very early stages, and just last week launched an early look for friends, family and educators that might want to test what her network offers. She said she's looking forward to building and growing her business and user-base as part of WiSTEM.
"Accelerator, that is no lie, things are going so fast," she said. "I feel like I am going to get through an entire year in these 12 weeks."
Check out this video about Evolved Educator from their website:
For a whole host of reasons, 1871 believes Chicago is the best place in the country for women entrepreneurs to start a business. Since its inception in September 2015, the WiSTEM program has helped more than 51 women-founded companies and 59 entrepreneurs through a 12-week, curriculum-based program that connects women to capital, community, and technology resources. Learn more