With the growing concerns of COVID-19, we want you to know that we are committed to doing our part to keep both our members, guests, staff, and community healthy. We are continuing to monitor the situation and are keeping a close eye on official information, including the Chicago, Illinois, and U.S. Departments of Public Health and guidance published by the CDC.
Effective immediately, access to 1871 is members-only. Everyone who enters must have their own badge: no public or visitor access will be permitted.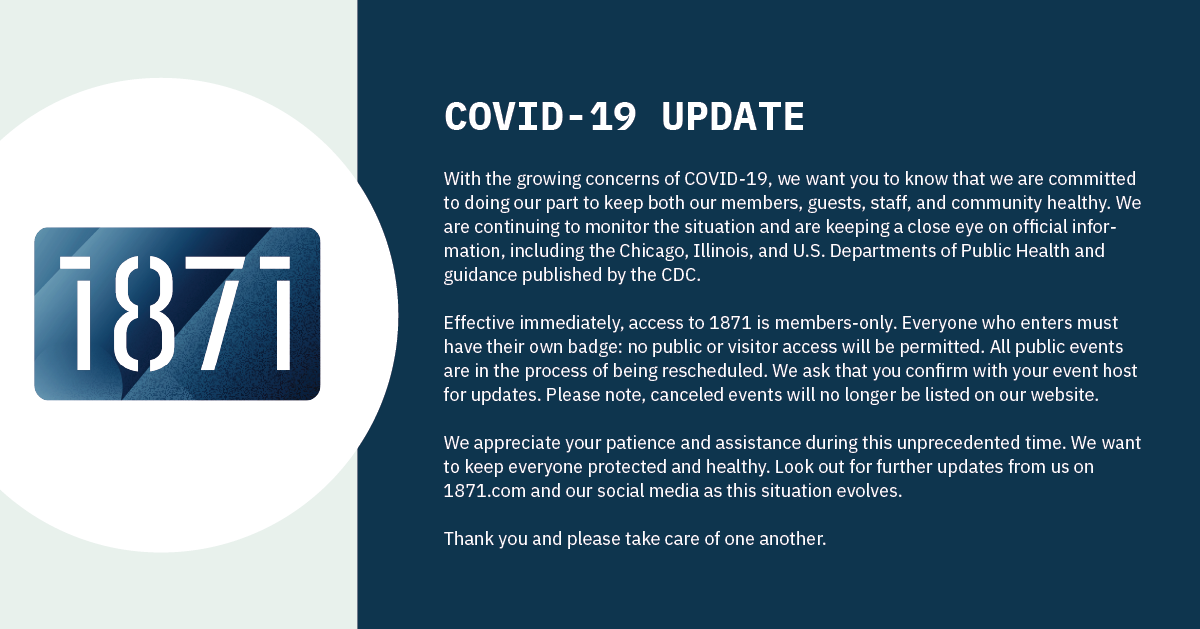 All public events are in the process of being rescheduled. We ask that you confirm with your event host and our events page (1871.com/events) for updates. Please note, canceled events will no longer be listed on our website.
To keep our community healthy, we have instituted the following:
No one will be allowed access to 1871 if they are experiencing sickness/cough, fever, shortness of breath or congestion
No one will not be allowed access to 1871 if they are returning home from a location with significant exposure (e.g., Level 2 or 3 country) for a 14-day window. We will be counting on self-management.
No one will not be allowed attendance into 1871 if they have been in contact with someone confirmed with Coronavirus for a 14-day window. We will be counting on self-management.
Access to 1871 is now restricted to badge holders only - no visitors or public access will be allowed.
All Members must access 1871 through the 12th-floor reception to ensure only those with badges are in the space. Entrance via Floor 13 or the alternative entrances on 12 will not be possible.
The 1871 Team will begin mandatory work from home on Monday, 3.16.20, aside from a skeleton crew of 2-3 staff (rotating) plus the cleaning crews likely through April 2nd.
All scheduled Membership 1:1's with our Membership Team will be conducted via call/video-in. Please email membership@1871.com with any questions.
Members of 1871 must try to limit their social distance while in the space, avoid sharing tables, and try to follow the CDC recommended 4-6 feet of distance between individuals.
All public events are canceled until further notice
Members asked to clean their work area with a disinfectant wipe before they leave.
There will be no greetings involving human touch
Please continue to wash your hands as soon as you enter 1871 and follow all CDC guidelines for personal hygiene.
Members and previous event attendees (post-March 2nd) are expected to report symptoms and confirmed cases; anonymized information will be relayed to the full community (report's privacy will be protected)
Based on CDC recommendations, leftover food from meetings will be disposed of instead of putting it out for others
Our space is sterilized on a nightly basis by a professional cleaning crew.
We appreciate your patience and assistance during this unprecedented time. We want to keep everyone protected and healthy. Look out for further updates from us on 1871.com and our social media as this situation evolves.
Thank you and please take care of one another.