1871 is proud to serve as a media sponsor for Blockchain in Chicago: Kickoff To 2018, an event hosted by the Chicago Blockchain Project to discuss blockchain technology and its impact on business and society. The event will be held on February 22, from 5 p.m. - 10 p.m. at Venue SIX10.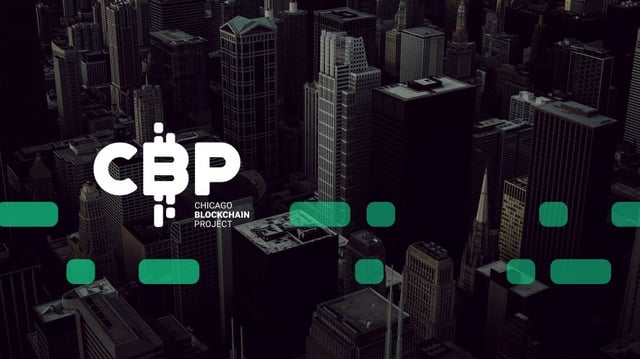 The Chicago Blockchain Project, founded by Joe Hernandez (commonly known as 'Disruption Joe'), will gather a number of local blockchain experts this February 22nd to discuss the current state of blockchain technology and offer a deeper look into the rise of crypto-assets. The event will focus on blockchain technologies in the first half and crypto-assets in the second half.
Blockchain in Chicago: Kickoff To 2018 will feature a full evening's worth of events. Beginning at 5 p.m., attendees will be able to participate in a series of panels, workshops, and networking opportunities. There will be designated networking areas for entrepreneurs during each workshop.
The full program will feature the following:
A welcome reception where guests can check-in and help themselves to snacks and refreshments (5:00 - 5:30 p.m.)
Kim Parnell, CEO and Co-Founder of

Blank

,

will hold her featured presentation,

Building Apps Without Code

.

Blank is a radical new way to build apps without using code, instead using AI technology to automatically generate beautiful user interface designs, smart contracts, tokens, and blockchain technology enabling interoperability of data, app features, or entire apps on a single network. (6:00 - 6:15 p.m.)
Security expert Jim Holcomb of

Evolve Security

will give his talk,

How to Not Get Owned by Hackers

. (6:45-7:00 p.m.)
Dan Novaes, CEO of

Current

, will hold his featured presentation,

Elevating Chicago as a Hub for Blockchain

. Current is creating a digital token and protocol that is a method of exchange for time, attention, and data in the digital landscape. You can follow Novaes' entrepreneurial journey across many social media channels, including

Instagram

,

LinkedIn

, and

Facebook

. (7:30 - 7:50 p.m.)
'Disruption Joe' Hernandez, Founder of the Chicago Blockchain Project, will take the stage to announce the winners of the Blockchain $1,000 Award Presentation. (7:50 - 8:10 p.m.)
Danny Johnson of

Pink Coin

will join David Carman of

Fintank

, 'Disruption' Joe Hernandez, and special guest Marguerite deCourcelle, also known as the

Coin Artist

, to wrap up the event by showcasing the top 50 coins followed by an audience Q&A. (8:10 - 10:00 p.m.)
Tickets for the event are currently on sale for $69. For 20% off the ticket price, apply the code '1871' at checkout. You can purchase tickets to the event right here.
Interested in Blockchain? Then don't miss 'Behind Bitcoin: Why Your Cash Is Going Digital,' a talk by Joe Hernandez, taking place from 6 - 7 p.m. at UNIQLO's Michigan Avenue flagship store on March 3rd.