Since April, 1871 has been excited to play host to an innovative partnership program in our space, which has paired mentors from BMO Harris Bank with some emerging Fintech startups in Chicago. Since then, Peanut Butter, Spring Four, Genivity, Medean, Wealth Pool and Tru Crowd have been working closely with the mentors in the 1871 space, refining their value proposition and scaling up to partner or pilot their technology with a large bank like BMO.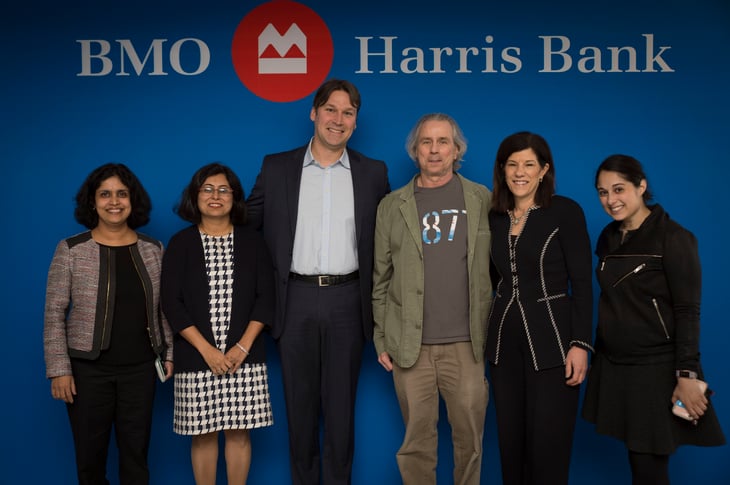 The BMO Harris team sponsors an 1871 TGIF networking event.
For BMO, this partnership is important to supporting Chicago's start-up innovators, and 1871 plays a critical and unique role in Chicago's entrepreneurial/technology ecosystem. The bank's commitment to continuously create opportunities that meet customers' evolving and increasing expectations through technology deployment is at the cornerstone of its agenda. This mentorship program allows the bank to learn from the startups as the efforts combined are better together to develop industry leading solutions that will ultimately lead to exceptional experiences for BMO's customers.
"Innovation is a crucial process for any business to succeed in today's business environment," said Alex Dousmanis-Curtis, Group Head, U.S. Retail and Business Banking. "We're partnering with 1871 to present new enhancements to our industry with the opportunity to refine our capabilities for our current and prospective customers of tomorrow and beyond."
The program thus far has been a huge success, and the participating Fintech startups have high-praise for the mentorship and support they have received during the program this summer.
"The BMO Harris/1871 Fintech Partnership program has been incredibly valuable to engage at such a high-level with senior leaders at BMO," said Rochelle Gorey, co-founder and CEO of SpringFour and an alumni of 1871's WiSTEM program. "Our mentors have really taken the time to understand our mission and business and have helped us move our value proposition forward."
The SpringFour platform provides consumers direct access to any available resources needed to create true and sustained financial stability, and has made more than 5 million referrals in its network.
"The program has given us the opportunity to have conversations with senior bank leaders about product and market fit that doesn't take place within the typical sales environment and that has really changed the dynamic and outcome of those conversations," —Rochelle Gorey, Co-Founder, SpringFour
The BMO mentorship has also been a benefit to Medean, a personal finance platform that allows users to compare their finances to people of a similar age, income and location.
"BMO has made it clear that this Fintech initiative is very important to their vision and strategy for the future of their brand," said Erik Skjodt, founder of Medean. "The effort and support from our mentors falls right in line with their "Here to help" promise that they give to their customers. Our mentors (Jason, Ramesh and Peter) have had a great impact on our business model and strategy with Medean."
With the BMO mentorship still ongoing, the participating startups are gearing up for the exciting conclusion of the program -- a chance to present their solution developed with help of their mentors in front of BMO executives. The companies will also showcase their businesses to be chosen to share a total cash prize of $50,000 for the program as well as the opportunity to pilot their solution for the bank.
"It's been incredible to see the level of engagement and growth these Fintech startups have had with their BMO mentors this summer," said Lakshmi Shenoy, Vice President of Strategy and Business Development. "Our partnership is an ongoing example of 1871's ability to bring together entrepreneurs with large corporations to produce real solutions, and we're thrilled to have BMO be a part of this."