Twelve Latinx-led startups joined 1871 in late October for a 12-week accelerator program co-facilitated by 1871 and the Illinois Hispanic Chamber of Commerce. As they progress through the cohort program and prepare for their Demo Day March 1, we'll be posting Q&As with each company on the 1871 blog to introduce them to the community. This week, Jorge E. Samayoa, CEO of Tripmate, talks about the travel platform he and his co-founders are building to help travelers experience Panama like a local.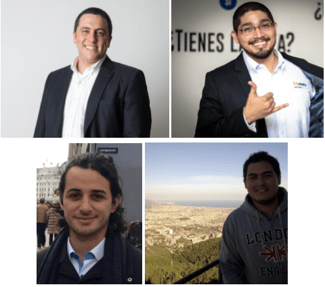 The Tripmate team and the countries they represent, from top left: Jorge E. Samayoa (Guatemala), Ulises Guelfi (Panama), Jose Lorenzo Rodriguez (Venezuela) and Alejandro Ibarra (Venezuela)
Tell us a little bit about your personal history and background.
I have a background as an industrial engineer, and graduated from Universidad Del Valle de Guatemala. I started working at Procter and Gamble as an Associate Brand Manager for Old Spice and three more brands when I was in my third year of school 10 years ago. P&G moved me to Panama to manage other categories, and that is where I met Ulises, Alejandro and Jose, my co-founders at Tripmate. Together we have over 40 years of combined experience on sales, marketing and software development.
Tell us a little about your company. What's your elevator pitch?
We help you explore Panamá as locals do. Tripmate is an easy online portal that allows users to search trips, experiences and events in Panamá that will help them experience their trip just as though they were from the country.
What has your experience been so far?
It's great. My peers are amazing. Their businesses are exciting, and I am learning from them every time I see them. Manny Ozaeta is a great leader. You can see how he puts you in the middle of each decision he makes. You don't see any missing detail at any moment. He is leading the cohort in a magnificent way.
What about the program do you think will help your business the most? How will it help your business?
It is helping us tremendously, and there are a great group of mentors. Recently we met Nick Delgado, a master in fundraising, and we benefited from a talk from 1871 COO Tom Alexander, who spoke about setting and achieving goals. Both speakers changed the way I was thinking and they shaped the way we want our company to work. I am positive that this program is making us grow as a business and individuals.
Where do you see your business at the end of the program, and what is your ultimate goal for your company after that?
We see a stronger business with a clear set of choices to do better for our communities. Our ultimate goal is to meet relevant investors who believe in what we are doing, and find the right business partner to scale our vision to help more communities.
What's the greater good your company is trying to accomplish? How will it impact the community? What problem does it solve?
We help the travelers to explore as locals do. When you come to Latin America, most of the travelers are afraid of the unknown. This forces them to only do the "main attractions" of the country, in our case the Panama Canal. We love the main attractions, but really, what you want to do when you travel is to learn more about the world. You want to know the culture, challenges they face, its uniqueness, etc. We help the traveler to have a safe companion along the process of exploring the country. We find and create local experiences that build memorable moments. We set someone on your side to answer your needs at any time, and for sure we are your mates in the country.
Give us a little insight into your perspective on diversity in the tech community. Why is it important? What do you hope to see?
Having a diverse group of individuals gives you different perspectives of life. Different aspirations for what a "better world" is gives you the chance to find more creative and impactful solutions. I believe diversity is important because we can find problems and solve them faster through different lines of thoughts. What I hope to see in the future is to stop thinking about diversity as a metric to fill your scorecards. I would love to see systems that make diversity happen naturally and to see all humans working together towards one goal, leveraging diversity to move faster and stronger.
Is there anything else you would like to add or say?
Are you planning to come to Panama? Come and write me at Jorge@gettripmate.com
Follow Tripmate on Facebook.